BWW Review: Horse in Motion's Immersive HAMLET in Stimson-Green Mansion Truly--and Triumphantly--Unique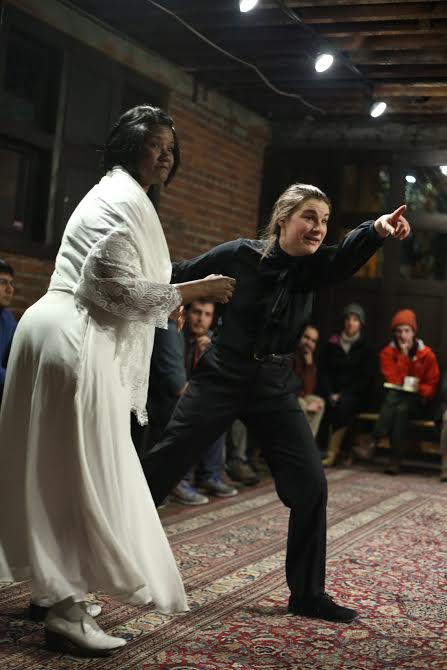 It did not surprise me in the least to discover that Horse in Motion's immersive "Hamlet" is completely sold out for the remainder of its run. On the evening of my attendance, the waitlist was twenty people deep. If you get lucky enough to see the production, whether from showing up at 6:30PM on the nose to put yourself on the waitlist or having bought your tickets in advance, you will not be disappointed. Complemented by some powerhouse performances, Horse in Motion's unorthodox locale--the century old Stimson-Green Mansion--makes seeing this production a wholly unique experience. Horse in Motion's transportive, intimate "Hamlet" makes those three hours go by all too quickly.
William Shakespeare's "Hamlet" focuses on one young Danish prince's slow spiral into madness as he grapples with the murder of his father. Said prince, Hamlet (Jocelyn Maher and Kevin Lin), wishes to avenge his father, after his father's ghost reveals that he was murdered by his own brother, and Hamlet's uncle, Claudius (Ian Bond and Ben Phillips).
Director Julia Sears very ambitiously coordinated two different productions of the play to run simultaneously throughout the mansion. Each evening, the audience is split into two "parties": the funeral party, and the wedding party. Though primarily separate, occasionally, the parallel performances weave together. Given the motifs of madness and existential dread in "Hamlet", incorporating two different Hamlets (or Ophelias, or Claudiuses, etc.) in a single scene makes a lot of sense. Sears uses this directorial technique the perfect amount, where it's not used so much that it feels cartoonish or put-on, but it's not used so little that it feels out of place. At times, one can hear the echo of the other group's performance, which make the mansion feel expansive, alive, and spooky.
There were not conspicuous, stylistic decisions made differentiating the two performances of the same character, so comparing the two breaks down to; 'Which performer did a better job?'. Jocelyn Maher's performance as Hamlet is manic, dynamic, and seductive. Maher is a powerhouse performer, and someone to watch out for. Though Kevin Lin has a commanding presence and phenomenal diction, the emotional range of his performance is a bit more one-note. That said, Maher and Lin play Hamlet AND Laertes, creating quite the dynamic in the final showdown between Hamlet and Laertes--distinguishing between the two becomes a lost cause, in a good way. Nic Morden's performance as Ophelia has a nice, linear transition from hauty to mad, effectively demonstrated through how they interact with a piece of string they carry around. Hannah Ruwe's Ophelia is more timid, though still effective, and Ruwe's performance as the faithful Horatio is even better. Ian Bond's' stoic performance as Claudius and his bordering on cheeky performance of the weather-worn Gravedigger are tonally disparate but comparably bold.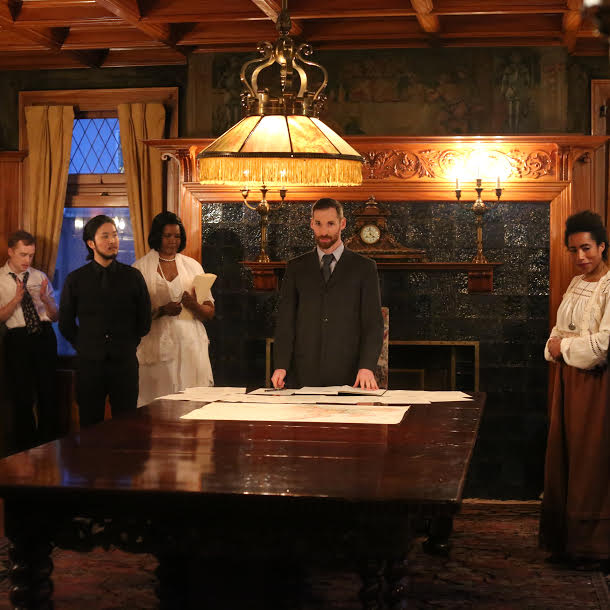 Stimson-Green Mansion itself is a delightful setting for "Hamlet"--the 10,000-square-foot Gothic-style manse feels like if Downton Abbey were haunted. The hallways are decorated with grandfather clocks, the cascading staircases are lined with creepy portraits of children, and most of the rooms have a roaring fire backlighting the action. Though this unusual and complimentary setting of "Hamlet" should get audiences in the door, the performances are what make you want to stay. For this truly unique production of one of the most popular dramas by one of the most popular playwrights, I give Horse in Motion's "Hamlet" a dazzled A. If it's even possible at this point, do everything you can to see this show!

Horse in Motion's "Hamlet" performs at the Stimson-Green Mansion in First Hill through April 29, 2018. For tickets and information, visit them online at www.thehorseinmotion.org.