EDINBURGH 2018: BWW REVIEW: MY LEFT/RIGHT FOOT, Assembly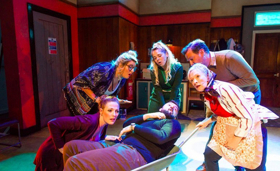 The Kirktoon Players are entering an annual theatre festival and this year they have learned that they will earn more points if they make their show inclusive. They settle on performing a stage version of My Left Right Foot and leading actor Grant feels that he is the right able-bodied man to follow in the footsteps of Daniel Day-Lewis.
As with all Birds Of Paradise productions, My Left Right Foot has integrated accessibility. Interpreter Natalie MacDonald introduces herself to the theatre company as someone who wants to practice her theatre signing and then signs the entire show as a character within the piece. There are projected subtitles on stage and musical director Gavin Whitworth gives audio descriptions of the set and when something significant happens on stage that doesn't have dialogue.
There is something that feels so very wrong about watching Grant (John McLarnon) 'crip up' for the role of Christy Brown. Director Robert Softley Gale consistently pushes the boundaries of what audiences are comfortable with and he does it so beautifully.
In usual Birds of Paradise style, the script is full of spectacular one-liners. One that particularly sticks in my mind is "but we're already inclusive- we've got soya milk in the fridge!".
The songs written by Scott Gilmour and Claire McKenzie are solid gold. The song "Spasticity" reminds me slightly of Billy Elliot's "Electricity". "Dazzling Cripple" is a big song and dance number that is equally wonderful and horrifying. All of the cast have superb musical theatre voices and I particularly enjoyed Dawn Sievewright as Gillian. Louise McCarthy is always a joy to watch and she delivers a big belting number full of the most spectacular swear words. I'm definitely going to need a cast recording.
Among all of the hilarity (and there is so much hilarity), there is a greater purpose. The original book by Christy Brown is adapted as a more accurate representation of his life rather than the 'inspiration porn' movie version. My Left Right Foot completely avoids being preachy or overly sentimental but it definitely gets its point across.
Inclusive, original and at times a little bit filthy. You'd be hard pushed to find something else quite this special at the festival.
https://tickets.edfringe.com/whats-on/my-left-right-foot-the-musical
Photo credit: Tommy Ga Ken Wan