SHOW
DATES
THEATRE

An Evening with Bruce Fummey and his Stories of Scotland


Scotland's comedy chieftain of history is back to work on his new show, casting his wry eye over past events that have helped form Scotland
1/29

Monkey Barrel Comedy
Monkey Barrel Comedy, 9-12 Blair Street, Edinburgh EH1 1QR
Edinburgh

Amy Matthews: Moreover, The Moon (Live Recording)


Amy Matthews: main character in her own life and flashback in yours. Amy has had a glittering arrival on the comedy scene. 'Moreover, The Moon'
2/5

Monkey Barrel Comedy
Monkey Barrel Comedy, 9-12 Blair Street, Edinburgh EH1 1QR
Edinburgh

The Edinburgh Revue Show


The Edinburgh Revue is a student group made up of students and young people across Edinburgh. Performing stand-up and sketch comedy featuring some new and
2/7

Monkey Barrel Comedy
Monkey Barrel Comedy, 9-12 Blair Street, Edinburgh EH1 1QR
Edinburgh

Tony Law: A Now Begin In Again


Fresh from a critically acclaimed run at The Edinburgh Fringe Festival, neanderthal Canadian-Trinidadian Norn Iron loon Law, is taking his half-baked thoughts on the last
2/10

Monkey Barrel Comedy
Monkey Barrel Comedy, 9-12 Blair Street, Edinburgh EH1 1QR
Edinburgh

Josh Pugh: Sausage, Egg, Josh Pugh, Chips & Beans (Live Recording)


Safe everyone. Dave's Edinburgh Comedy Award Nominee Josh Pugh. Star of Dave's Hypothetical and Question Team. Tour support for Joe Lycett and 'almost certain future
3/12 - 2/12/2023

Monkey Barrel Comedy
Monkey Barrel Comedy, 9-12 Blair Street, Edinburgh EH1 1QR
Edinburgh

John Hastings: Work In Progress


GREATEST COMEDIAN EVER PRESENTS NEW JOKES FOR OLD FRIENDS. Edinburgh Festival, Fresh Air, -Ed Fest Mag, '… a truly inspired show', - The Mirror 'Bold
2/17

Monkey Barrel Comedy
Monkey Barrel Comedy, 9-12 Blair Street, Edinburgh EH1 1QR
Edinburgh

Tom Ward: Anthem


Fresh from his celebrated debut on Live at the Apollo, Tom Ward embarks on his first ever national tour. A brand-new construction of offbeat observations
2/18

Monkey Barrel Comedy
Monkey Barrel Comedy, 9-12 Blair Street, Edinburgh EH1 1QR
Edinburgh

John Hastings: Do You Have Any Ointment My John Hastings?


The critically acclaimed Canadian comedian John Hastings launches his first UK tour with highly acclaimed hour of stand up: 'John Hastings: Do You Have Any
2/19

Monkey Barrel Comedy
Monkey Barrel Comedy, 9-12 Blair Street, Edinburgh EH1 1QR
Edinburgh

Chortle Student Comedy Award 2023: Edinburgh Heat


With previous winners and finalists including Joe Lycett, Jamali Maddix, Ed Gamble, Chris Ramsey, Laura Lexx, Iain Stirling, Simon Bird and Tom Rosenthal, the contest
2/21

Monkey Barrel Comedy
Monkey Barrel Comedy, 9-12 Blair Street, Edinburgh EH1 1QR
Edinburgh

William Thompson: The Hand You're Dealt


William Thompson (BBC New Comedy Awards Finalist 2021, as seen on Dave & Channel 4) is a stand-up comedian and rising star from Belfast. As
2/24

Monkey Barrel Comedy
Monkey Barrel Comedy, 9-12 Blair Street, Edinburgh EH1 1QR
Edinburgh

Adam Flood: Clayhead Remoulded (Preview)


'Ay up, it's me (fella doing the show). Look, it's gonna be good I reckon. Critics are already calling it 'how did you get this
2/25

Monkey Barrel Comedy
Monkey Barrel Comedy, 9-12 Blair Street, Edinburgh EH1 1QR
Edinburgh

The OTHER Show


From the utterly sublime to the unapologetically ridiculous, Monkey Barrel Comedy presents a night of comedy at the cliff's edge of surreal humour. Top Alternative
1/14 - 2/25/2023

Monkey Barrel Comedy
Monkey Barrel Comedy, 9-12 Blair Street, Edinburgh EH1 1QR
Edinburgh

Impatient at Monkey Barrel Comedy


As part of a new monthly Monday-night series, Mark Watson hosts a riotous selection of local and imported talent. Expect surprises both in the room
2/27

Monkey Barrel Comedy
Monkey Barrel Comedy, 9-12 Blair Street, Edinburgh EH1 1QR
Edinburgh

Simon Munnery: Trials and Tribulations


"I've been mugged three times and arrested once. What a night!" Twenty years ago, in Edinburgh, legendary comedian Simon Munnery was arrested for "being a
2/28

Monkey Barrel Comedy
Monkey Barrel Comedy, 9-12 Blair Street, Edinburgh EH1 1QR
Edinburgh

Marc Jennings: Original Sound


Scottish Comedian of the Year winner, viral video star and regular panellist on BBC Scotland's Breaking the News Marc Jennings, brings his show back to
3/3

Monkey Barrel Comedy
Monkey Barrel Comedy, 9-12 Blair Street, Edinburgh EH1 1QR
Edinburgh

Roast Battle


The show that turns smack talk into an art form! Roast Battle Edinburgh puts comedians head-to-head in a battle of verbal onslaughts. Not for the
3/7

Monkey Barrel Comedy
Monkey Barrel Comedy, 9-12 Blair Street, Edinburgh EH1 1QR
Edinburgh

The Edinburgh Revue Show


The Edinburgh Revue is a student group made up of students and young people across Edinburgh. Performing stand-up and sketch comedy featuring some new and
3/7

Monkey Barrel Comedy
Monkey Barrel Comedy, 9-12 Blair Street, Edinburgh EH1 1QR
Edinburgh

Josh Pugh: Ha Ha, Yeah Sound (WIP)


An hour of new ideas and jokes from Edinburgh Award Nominee and host of no podcasts Josh Pugh. "As seen on Mock the Week, Hypothetical,
3/10

Monkey Barrel Comedy
Monkey Barrel Comedy, 9-12 Blair Street, Edinburgh EH1 1QR
Edinburgh

BriTANicK


Stamptown proudly presents BriTANicK Following sold out runs at the Edinburgh Fringe and Soho Theatre, Emmy-nominated writers, BriTANicK return to the UK! Together they have
3/11

Monkey Barrel Comedy
Monkey Barrel Comedy, 9-12 Blair Street, Edinburgh EH1 1QR
Edinburgh

Liam Withnail: Work In Progress


Over 10 million views on TikTok and Instagram! New show from the award-winning smash hit comic. Winner of Amused Moose's Outstanding Show Award, Edinburgh Fringe
3/17

Monkey Barrel Comedy
Monkey Barrel Comedy, 9-12 Blair Street, Edinburgh EH1 1QR
Edinburgh

Olga Koch: Please Respond (WIP)


Star of Mock the Week, QI and Frankie Boyle's New World Order, Olga Koch, got a master's degree and she won't shut up about it
3/18

Monkey Barrel Comedy
Monkey Barrel Comedy, 9-12 Blair Street, Edinburgh EH1 1QR
Edinburgh

Ladies of Laughter


The Ladies Of Laughter are back, flexing their female funny muscles especially for you! This hit tour returns for a night made for everybody (whatever
3/19

Monkey Barrel Comedy
Monkey Barrel Comedy, 9-12 Blair Street, Edinburgh EH1 1QR
Edinburgh

The Edinburgh Revue Show


The Edinburgh Revue is a student group made up of students and young people across Edinburgh. Performing stand-up and sketch comedy featuring some new and
3/21

Monkey Barrel Comedy
Monkey Barrel Comedy, 9-12 Blair Street, Edinburgh EH1 1QR
Edinburgh

John Kearns: Varnishing Days


The Varnishing Days is the heart-stopping, glasses-dropping, hard-rocking, wig-shaking, levothyroxine-taking, knee-knocking, boot-licking, justifying, teeth rattling, digressing new show from stand up comedian to the stars
3/22

Monkey Barrel Comedy
Monkey Barrel Comedy, 9-12 Blair Street, Edinburgh EH1 1QR
Edinburgh

Louise Young: Far Out (WIP)


An hour of stand-up from a rising-star in the world of comedy, join Newcastle's hilarious Louise Young (Leicester Mercury Comedian of the Year 2020 nominee
3/24

Monkey Barrel Comedy
Monkey Barrel Comedy, 9-12 Blair Street, Edinburgh EH1 1QR
Edinburgh




Back to the Main Page | Browse Local Theatres
---
Latest Scotland Reviews
Review: ROAMING ROOTS REVUE, Glasgow Royal Concert Hall
by Natalie O'Donoghue - January 23, 2023
This is Celtic Connection's annual highlight-packed exploration of classic influences on contemporary music. Tonight's show revisits themes including tributes to The Women of Song, The Band, Bruce Springsteen, The Beatles' Abbey Road and the music of Laurel Canyon. Curated as ever by Glasgow's own R...
Review: Gàidhlig Ghlaschu, Glasgow Cathedral
by Natalie O'Donoghue - January 22, 2023
Within the dramatic setting of the iconic Glasgow Cathedral, experience the story of Gaelic Glasgow through songs, poetry and performance from the 1100s to the present day. With a particular focus on Glasgow's High Street you are invited to share in rich Gaelic stories from Glasgow's early beginning...
Review: BURNS, Edinburgh Playhouse
by Natalie O'Donoghue - January 21, 2023
Robert Burns is alive and well and living in the modern world! A genius with weakness? Yes. A womaniser, yes, but a cheat, no. Gifted, passionate and flawed, this farmer's son wants to make his father proud but is pulled between a life of duty and the calling of his creative destiny....
Review: Celtic Connections 30th Anniversary Concert, Glasgow Royal Concert Hall
by Natalie O'Donoghue - January 21, 2023
Tonight's opening gala celebrates that history with a panoply of artists who've featured prominently over the years, alongside those emerging from the vibrant folk scene - reflecting such Celtic Connections' multi-generational breadth, its Internationalism and collaborative, cross-genre spirit....
Review: NIGHT AFORE DISCO PARTY, Princes Street Gardens, Edinburgh
by Natalie O'Donoghue - December 31, 2022
The Night Afore Concert with Forth 1 presents a glittering evening of pop glamour to kick-start Edinburgh's Hogmanay 2022 celebrations. Join pop princess Sophie Ellis-Bextor and special guests Altered Images as we get the Edinburgh's Hogmanay party started at this all-new family event for disco diva...
Review: SNOW WHITE AND THE SEVEN DWARFS, Festival Theatre, Edinburgh
by Natalie O'Donoghue - December 22, 2022
This lavish production is packed full of music, magic, laughter, and fun for the whole family. Starring: Allan Stewart, Grant Stott, Jordan Young, Clare Gray, Liz Ewing, Brian James Leys, and Francesca Ross....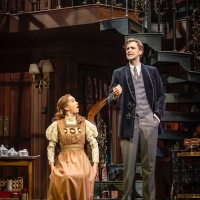 Review: MY FAIR LADY, Edinburgh Playhouse
by Natalie O'Donoghue - December 19, 2022
Following its critically acclaimed West End run, the Lincoln Center Theater's multi-award-winning production of My Fair Lady is coming to the Edinburgh Playhouse for four weeks only....
Review: RED RIDING HOOD, Citizens Theatre at Tramway
by Natalie O'Donoghue - December 12, 2022
A regular girl living in a regular home where she loves to read books about superheroes, adventures and, most of all, Christmas! But in the town where she lives, Christmas has been banned....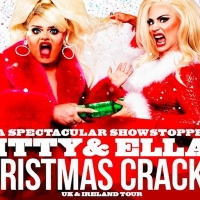 Review: KITTY AND ELLA'S CHRISTMAS CRACKER, Slay Glasgow
by Natalie O'Donoghue - December 12, 2022
You better watch out, you better not cry! The Divas of Drag Race and West End Stars from shows such as "Death Drop ", "Wicked" & "Book of Mormon", Kitty Scott-Claus and Ella Vaday are coming to town with a festive frenzy like no other, Kitty & Ella's Christmas Cracker UK tour. The pair will be makin...
Review: CINDERELLA, The Art Department, Paisley
by Natalie O'Donoghue - December 10, 2022
This Christmas, PACE Theatre Company is delighted to announce the return of its annual pantomime with festive favourite Cinderella. ...