EDINBURGH 2018: BWW Q&A- Offstage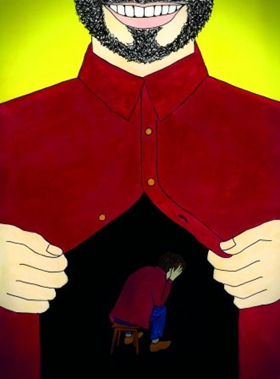 BWW catches up with Eyglo Belafonte to chat about bringing Offstage to the 2018 Edinburgh Festival Fringe.
Tell us a bit about Offstage.
OFFSTAGE is a devised physical theatre show that uses onstage and backstage as a metaphor for public and private lives.
It takes a look behind the curtain at loneliness and depression in a sensitive and timely exploration of suicide.

In a universe, where theatre is life and life is a dream we find two performers, Harley and Pedro. We capture their joys when they are onstage, facing the public with masks, hats and a beautiful smile on their faces. Out of the spotlight however, the mask comes off and they face their struggles. They do whatever they can to help each other through their show night after night.

OFFSTAGE will be on at Pleasance Jack Dome at 12:10 (60min duration), from 1st - 27th August (not14th). It is a fantastic way to kick off your Fringe day.
How do you ensure the subject is sensitively dealt with?
To develop OFFSTAGE we collaborated with SOAS Social Anthropology professor David Mosse, PAPYRUS - Prevention of Young Suicide and L.A.S - Life After Suicide.
Research on suicide formed the basis and foundation of our explorations. We interviewed those affected by suicide to build our narrative. People who have had contemplated suicide, suffering alone with thoughts or feelings of hopelessness. People, who went through the heartbreak of losing a loved one to suicide.
To maximise the impact of the work, we invited our collaborators and a group of people, who are affected by suicide to open rehearsals. We had a work-in -progress followed by a post show talk and feedback forms, to help us find solutions to address the issue suicide and to deliver a powerful performance. We also introduced the audience to a professional from PAPYRUS that would be open for a private chat after the show.
Eyglo and myself also did ASIST (Applied Suicide Intervention Skills Training) training. There we were trained in providing suicide first aid, recognising when someone may have thoughts of suicide and to support their intermediate safety.
During the devising process we did a lot of detailed work. We knew that we had the challenge to create a performance that could sincerely treat the subject suicide sensitively and with the respect it deserves. We were cautious and always kept in mind that we might have a person in the audience who has been affected by suicide. In that way, we had the care and help of our collaborators to create a content that wouldn't provoke a negative reaction in our audience.
Why is this such an important show to do?
Because OFFSTAGE responds to the subject suicide, which is often hidden behind the curtain in public life, not being treated with the respect that it deserves. A subject surrounded by stigma that usually enables people to talk openly about it, and to recognise and respond to suicidal behaviour.
We give a voice to those who suffer alone quietly and raise awareness on the social issue of suicide.
Unfortunately, it is still a taboo to talk about suicide. When we tell people what our show is about, people often have strange reactions, they seem not to be sure how to take it. But it is also at that point where we feel we make a difference, when we get the chance to show people another side to the subject.
Our vision is that suicidal feelings do not have to end in suicide. We need to break the stigma and talk through the taboo. Stigma promotes silence, which is killing people.
Thousands of people in the UK end their lives by suicide each year. A recent report from the Samaritans, states that suicide is the biggest killer of man and woman under 35 in the UK.
More than 55,000 suicides occur in the European Union each year, including more than 6,000 in the UK and Ireland. A far bigger number than that has been affected by suicide. People who went through the heartbreak of losing a partner/ex partner, family/extended family, friends/colleagues, clients/patients/costumers to suicide. Also people who have had contemplated suicide.
We have experienced that our project can changes peoples behaviour and mind towards the subject. A highlight to our process was when close friends got to know about our project and they started opening up about their personal experience with suicide and how liberating it felt to talk about it.
Who would you like to come and see it?
We are particularly interested in young adults and their parents. Through our work with L.A.S and PAPYRUS, we've learnt that it can be difficult to get parents involved in these type of conversation and also young adults to get to speak up about their feelings. It would be a game changer opening up that channel between parents and their children.
The show welcomes really well people who have been affected by suicide and people who live with depression. People who English is not their first language and D/deaf audiences.
We are also very interested in people who are looking for a unique experience, something original. People who are interested in physical and visual theatre.
What do you hope audiences take away from it?
We hope that whatever the audience gets from OFFSTAGE is connected to an optimistic message, a sensation and reflection of what a person who suffers quietly can go through. Something that can give them the urge to talk about the issue and to look the surrounding with more sensibility. An attention to the things that is usually imperceptible and ignored.