BWW Review: OUTLAWS & ANGELS at Florida Studio Theatre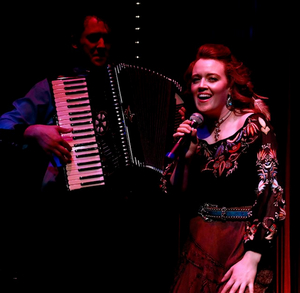 Entertainment options are endless in our town that is bursting with artistic performances. Florida Studio Theatre's latest Cabaret, "Outlaws & Angels," is billed as a rousing review that highlights and celebrates the "outlaws of country music and the angels who loved them." However, what you truly experience is an evening full of fun that will immerse you in the timeless country songs you have always loved. This Cabaret will entertain you and revive memories inside you that will put a smile on your face.
Under the direction of Catherine Randazzo and music director, Darren Server, this talented cast of six offers patrons a high energy performance with a few laughs mixed in along the way. Each play their own instrument and have their time in the spotlight to shine and showcase their immense talent.
The songs are carefully selected to carry an audience through a journey, showcasing classic favorites and bringing to memory some songs we knew but had probably forgotten. Nick Lerangis portrays the stereotypical country boy to a tee. From the moment he sings you are captivated by his smooth country style voice. His rendition of "It's Hard to Be Humble" was truly a memorable moment of the evening as Lerangis' character came to life as he reeled in his audience. Joe Casey and Rosie Weber were masterful storytellers, in addition to their stellar vocal performances. They both displayed a great sense of comedic timing that helped turned the show into a performance rather than just a concert.
Madalyn McHugh displayed a wide vocal range and from ballads to blues to pure country you are glued to your seat every time she steps up to the microphone. Her engagement with the audience and her fellow cast added an additional layer to the evening that brought a true synergy to every number. While Cat Patterson and J Vance's roles were not as prominent throughout the show, their roles in creating this masterpiece cannot be understated. Patterson was amazing on the fiddle and her solo performance in "The Devil Went Down to Georgia" made you wish her skills were showcased with a far greater frequency. J Vance was a pure country boy and while he was often not the feature performer, his instrumental and vocal support helped to round out what was a showcase of country music excellence.
From "I Walk the Line" to "The Wild Side of Life" and all the other songs that encompass this Cabaret, you will be transformed to your "happy place" as you enjoy some of your all-time country favorites.
"Outlaws & Angels" runs through April 12. Tickets and more information can be found at www.floridastudiotheatre.org or by calling 941-366-9000.
Photo Credit: Matthew Holler