Jacob Ruscoe
Dr. Jacob Ruscoe has been involved with local theatre in Sarasota for the last several decades. Jacob has spent time serving on the Board of Directors for Virtuoso Inc and Rise Above Performing Arts. As an Artistic Director, he has had the privilege of producing such shows as The Addams Family, Grease, Into the Woods, All My Sons, 13 the Musical, The Love Note and Joseph and the Amazing Technicolor Dreamcoat. Jacob is an educator for a local school system and has helped several schools in their development of a performing arts program. He also oversees multiple award-winning show choirs including one that was award Grand National Champions in 2018. In 2004, Jacob had his play, Outside the Box professionally produced before a national youth camp. He has written several scripts and monologues that have been performed nationwide. His love of writing began at an early age and has been awarded such honors as Best Overall Playwright and Best Political Commercial Script at statewide festivals. Jacob obtained his Doctoral degree in Administration and has a deep passion to see the growth and development of the performing arts throughout our community.
MOST POPULAR ARTICLES
LAST 365 DAYS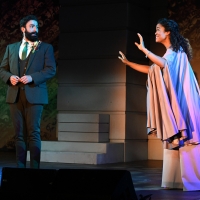 BWW Review: CAMELOT at Asolo Repertory an Artistic Masterpiece
Posted: Mar. 28, 2021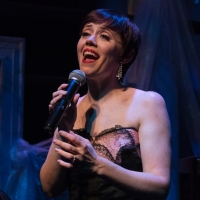 BWW Feature: VINTAGE POP! Comes to Florida Studio Theatre
Posted: Apr. 17, 2021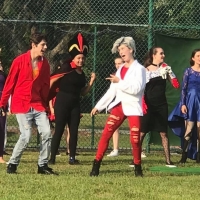 BWW Review: DISNEY'S DESCENDANTS at Ovation
Posted: May. 5, 2021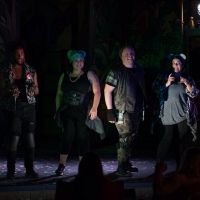 BWW Review: SHREK THE MUSICAL at Dingbat Theatre Project is Pure Entertainment
Posted: May. 11, 2021


BWW Review: SHREK THE MUSICAL at Dingbat Theatre Project is Pure Entertainment

May 11, 2021

In a time where many theatres have struggled to survive, there is a new face in our community that is reimagining theatre during these unusual times. Dingbat Theatre Project is currently in production of "Shrek the Musical," held at the outdoor theatre at The Bazaar on Apricot. The company has taken and innovative approach to a well-known show to produce what can only be described as pure entertainment.
---
BWW Review: DISNEY'S DESCENDANTS at Ovation

May 5, 2021

Ovation Theatre took to the stage, or in this case the field to produce an energizing production of Disney's Descendants. While the school's spring musical production is typically held indoors, due to the pandemic the show was performed outside in Lakewood Ranch. The change of venue did not stop this spirited cast from entertaining its audiences while performing a high-quality production.
---
BWW Feature: VINTAGE POP! Comes to Florida Studio Theatre

April 17, 2021

The entertainment world continues to slowly make its way back into the spotlight through innovative ways that create a safe environment for patrons. Florida Studio Theatre is currently presenting its production of "Vintage Pop!" which runs through May 16.
---
BWW Review: CAMELOT at Asolo Repertory an Artistic Masterpiece

March 28, 2021

Somedays it seems like the world may never return to normal. It has been a challenging year for everyone and one of the hardest hit industries has been those involving live entertainment. Audiences are craving a return to live theatre which made the Asolo's production of "Camelot" and even more welcome sight
---
BWW Review: Play Ball with DAMN YANKEES at MPAC

February 21, 2020

Spring is in the air which means the start of baseball season. Baseball is my all-time favorite sport. While many say it is boring, there is such a passion and purity to the American Pastime that its enjoyment and place in our culture cannot be ignored. So, when you take my favorite sport and combine it with my love of theatre, well there is the show I want to see. a?oeDamn Yankeesa?? at Manatee Performing Arts Center opened Thursday night and is sure to have that rare breed who love both sports and theatre in a?oeHeaven.
---
BWW Review: OUTLAWS & ANGELS at Florida Studio Theatre

February 20, 2020

Entertainment options are endless in our town that is bursting with artistic performances. Florida Studio Theatre's latest Cabaret, a?oeOutlaws & Angels,a?? is billed as a rousing review that highlights and celebrates the a?oeoutlaws of country music and the angels who loved them.a?? However, what you truly experience is an evening full of fun that will immerse you in the timeless country songs you have always loved. This Cabaret will entertain you and revive memories inside you that will put a smile on your face.
---
BWW Feature: WINTER FEST 2020 at SaraSolo

February 7, 2020

The 2020 SaraSolo Winter Fest is just around the corner, February 10-15. Now in its 6th Season, SaraSolo has evolved and will take place as 3 festivals this year all focusing on the power of the solo performance. The concept is unique as one does not often go to the theatre expecting to see a a?oeone man show.a?? The festival invites actors who perform in a variety of styles, bringing a range of perspectives, and myriad ways of illuminating the human condition.
---
BWW Review: MATILDA at MPAC a Treat for All Ages

January 23, 2020

The a?oeMatildaa?? hype is flying through our local community. A quick search of Music Theatre International's website will find five different venues within driving distance performing this show within the next year. However, Manatee Performing Arts has set a high bar with the Area Premiere of a show that is sure to be a true favorite for audiences of all ages.  
---
BWW Review: WHITE CHRISTMAS at Sarasota High School Kicks off the Holiday Season

December 16, 2019

Sarasota High School produced a heart-warming rendition of Irving Berlin's a?oeWhite Christmasa?? this past week. The show which is full of laughter, was engaging and entertaining, and another shining example of the incredible theatre productions our local schools produce.
---
BWW Review: THE SOUND OF MUSIC at Asolo Rep

November 22, 2019

The Asolo Repertory Theatre is starting the 2019-2020 season off with a marvelous rendition of Rodgers and Hammerstein's a?oeThe Sound of Music.a?? Any time you go to see a classic piece of musical theatre your past experiences and schema come into play. Expectations are high (or low) based upon what you think you know about the show. It can be difficult to change those perceptions and to not see what you expect to happen. While the songs and storyline are timeless as ever, Asolo's version, which is spectacular on many levels, offers you a new perspective that will make you feel like you are watching the show for the very first time.
---
BWW Review: ROUGH MAGIC at Booker High VPA

October 16, 2019

One of the joys of reviewing shows is when I am assigned to critique a production at one of our local schools. It is an opportunity for me to watch actors perform simply for the love of theatre. More times than not, the skill of these young actors and quality of the show will rival that of what you would find at one of our local community theatres. a?oeRough Magic,a?? presented by the Booker High School VPA Theatre Department continues the long-standing tradition of excellence in youth theatre here in Sarasota.
---
BWW Review: GREY GARDENS at Manatee Performing Arts Center

September 19, 2019

In a world of musical theatre shows you probably have never heard of it, Manatee Performing Arts Center presents a?oeGrey Gardens.a?? Based on the 1975 documentary of the same name, the story portrays the life of Edie and her mother Edith Bouvier Beale.
---
BWW Review: HARBOR at FSU/Asolo Conservatory nears perfection

August 23, 2019

I love going to the theatre to see a show I have never heard of before. I refuse to do any research prior to attending, not because I don't want to do my due diligence as a reviewer but because I love the magic of theatre. Seeing a show with no expectations and no preconceived notions about what is to occur often provides me with an authentic experience the cast and crew work so hard to deliver. a?oeHarbora?? running at the FSU/Asolo Conservatory delivers this goal to near perfection.
---
BWW Review: WEST SIDE STORY at Manatee Performing Arts Center a Classic Tale

August 15, 2019

As an educator, writer, and instructor of theatre, I have many opportunities to impart my views and share my experiences with others. One of the mantras I frequently express is a?oeGo see the classics!a?? Manatee Performing Arts Center's production of West Side Story under the direction of Rick Kerby provides you a chance to go see one of the most timeless musicals ever produced in this parallel of Romeo and Juliet.
---
BWW Review: URINETOWN at Venice Theatre is full of laughs

August 6, 2019

Summer Stock is alive and well at Venice Theatre. The annual training for young actors desiring to pursue a career in theatre delivered a sensational performance of Tony award-winning Urinetown: The Musical. With music and lyrics by Mark Hollman, Urinetown looks at a small town battling a drought that seems never-ending.
---
BWW Review: THE MARVELOUS WONDERETTES at Florida Studio Theatre Where the Good Times Roll

June 18, 2019

I think many of us go to the theatre to be entertained. We desire to escape our daily reality, and be whisked away to someone else's world - a place that can be carefree and full of joy. Musicals take on many forms and The Marvelous Wonderettes, currently playing at Florida Studio Theatre under the direction of Jason Cannon. succeeds in providing its audience with a worry-free stroll down memory lane.
---
BWW Review: SHREK JR. at The Players Centre For The Performing Arts

May 31, 2019

The Players Centre for Performing Arts concluded its Players Kids' Season with a hilarious production of Shrek Jr. This show was a prime example of the exceptional young talent that exists in our community. It is a marvelous thing to be able to go see a production of all young people and not be disappointed. Shrek Jr. certainly achieves this.
---
BWW Review: HONK at Venice Theatre Full of Family Fun

May 16, 2019

Venice Theatre is kicking the summer off right with its fun, energetic production of Honk. This Anthony Drewe and George Stiles musical based on the story of the Ugly Duckling, reminds us that it is alright to be different. Honk follows Ugly in his journey to find himself and a place of belonging. Seen as an outcast by his siblings and his father, Drake, Ugly is befriended by the Cat whose sole ambition is to eat Ugly.
---