Rita Moreno Opens Live At The Orinda 2019 Season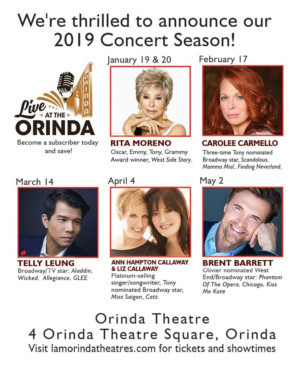 Live At the Orinda concert series, currently in its debut season of presenting world-renowned musical artists at the beautiful art-deco Orinda Theatre, announces the first half of their 2019 Season. This will also mark their One Year Anniversary Season. The season kicks off on Saturday, January 19, 2019 with legendary actor/singer Rita Moreno in her first Bay Area concert in many years, followed by a matinee performance on Sunday, January 20, 2019. The opening weekend performances will also serve as a fundraiser for the historic Orinda Movie Theatre to purchase permanent concert lighting for the venue to enhance the live music experience even further.
The season continues on Sunday, February 17, 2019 with three-time Tony nominated Broadway star Carolee Carmello (Scandalous, Mamma Mia!, Finding Neverland) making her long-awaited Bay Area concert debut. On Thursday, March 14, 2019, Broadway and TV star Telly Leung (Aladdin, Wicked, Allegiance, GLEE) comes directly from his starring role in Disney's Aladdin for his first Bay Area concert in many years. Platinum-selling singer/songwriter Ann Hampton Callaway ("At the Same Time") will reunite with Broadway star Liz Callaway (Miss Saigon, Cats)on Thursday, April 4, 2019 for their award-winning show Sibling Revelry. This also marks the first Bay Area duo concert by the Tony nominated sisters in several years. Live At the Orinda will celebrate the finale of the first half of the season, before a summer break, on Thursday, May 2, 2019, with Broadway and West End star Brent Barrett. This will also mark the Bay Area concert debut of the Olivier Award nominee and star of Phantom Of the Opera, Chicago and Kiss Me Kate.
The current season of Live At the Orinda will celebrate the holidays and its debut season finale on Sunday, December 16, 2018 with Broadway star and 12-time MAC Award winner Karen Mason (Mamma Mia!, Sunset Boulevard), coming directly from the National Tour of Andrew Lloyd Webber's Love Never Dies. Tickets for Karen Mason are available now.
All shows are presented in an intimate 180-seat theatre inside the Orinda Movie Theatre complex (2, Orinda Theatre Square, Orinda, CA). All seating is reserved, with most tickets from $55 - $100 and no ticket service-charges, nor food or drink minimums. Subscribers enjoy substantial ticket discounts and first choice of reserved seats for the season. VIP Subscribers and donors are also invited to the private post-show receptions with each artist at Ciné Cuvée Wine Bar, adjacent to the theatre. Information and tickets for the concert series are available at www.lamorindatheatres.com or 925-254-9065. Season subscriptions are on sale now. Individual show tickets for the 2019 season go on sale December 10, 2018.
The Live At the Orinda concert series was founded in early 2018 by producers Derek Zemrak and Michael Wiliams along with Zemrak/Pirkle Productions. Inspired by their mutual love of intimate cabaret-style concerts, theatre owner Zemrak and cabaret producer Williams decided to join forces. "Our goal has been two-fold: to bring world-class Broadway and jazz artists who excel in this intimate style of performing and who don't often perform in the Bay Area to the Orinda Theatre; and to create a sense of community among live music lovers. It's a beautiful community here and an untapped market, we've discovered." Located 17 miles east of San Francisco, the Lamorinda community (the towns of Lafayette, Moraga and Orinda) is anchored by the historic Orinda Theatre (built in 1941) and its landmark art-deco neon sign.
Live At the Orinda debuted in February 2018 with Tony Award winner John Lloyd Young, followed by Golden Globe winner Amanda McBroom, jazz singer Amanda King and Tony nominee Andrea McArdle. Rounding out the current season with Tony winner Lillias White, Franc D'Ambrosio, Lorna Luft, Maureen McGovern, and Karen Mason.
Information and tickets: www.lamorindatheatres.com or 925-254-9065