Photo Flash: Artist Jason Mecier Presents CELEBRITY TRASH Portraits - Lindsay Lohan, Pamela Anderson and More!
Renown SF Celebrity Mosaic Portrait Artist Jason Mecier presents CELEBRITY TRASH - New Celebrity Portraits - as part of his CELEBRITY JUNK DRAWER ongoing series. Check out a first look below!
The exhibit runs May 2 - 28, 2016 at 111 Minna Gallery - 111 Minna St., (btw'n. 2nd & New Montgomery Sts.) SF, 94105 (Montgomery St. BART). Opening Reception: Fri. May 6, 2016 - 5:00 pm - late. FREE - Open to the Public. Gallery Hours: 7:30 am - 5:00 pm (21+) Daily.
Celebrity Trash is a new series of portraits in which pop artist Jason Mecier glorifies Pop Culture Celebrities by salvaging their junk and trash: Pamela Anderson's laundry; Amy Schumer's dental dam's and Phyllis Diller's anti-itch creams - just to name a few. Jason sorts and inspects each item then assembles the collected detritus into a visual kaleidoscope / scavenger hunt for his portraits.
Celebrity Mosaic Portrait Artist Jason Mecier creates one of-a-kind outrageous mosaic portraits. He meticulously fabricates pop-culture celebrity masterpieces out of anything - from Kevin Bacon out of bacon, to Honey Boo Boo out of 25 lbs. of trash. Jason's artwork has been featured everywhere from Entertainment Weekly to The NY Times, on TV shows like Glee, Rachael Ray and TMZ, as well as music videos by Pink and Pitbull. His portraits are hanging in Ripley's Believe it or Not Museums, countless celebrity homes, and even in The Playboy Mansion!
This is a list of all Jason's celebrity clients who have either sent him their junk / trash, or own Jason's own artwork (not necessarily their own portrait).
Celebrity clients include: Margaret Cho, Phyllis Diller, Rosie O'Donnell, Farrah Fawcett, Hugh Hefner, Pink, Mary-Louise Parker, Bjork, Amy Sedaris, George Lopez, Parker Posey, Ricki Lake, RuPaul, Margaret Cho, Florence Henderson, Elvira, Theresa Caputo, Karen Black, Jennifer Tilly, Eli Roth, Scissor Sisters, the Go-Go's, Morgan Fairchild, Kathy Najimy, Barbi Benton, Kate Pierson, Tura Satana, Susan Tyrrell, Stepfanie Kramer, Joan Van Ark, Heidi Fleiss, Honey Boo Boo and Big Ang.
Jason Mecier is a San Francisco artist, and maintains an art studio on Guerrero St. located in SF's Mission district. jasonmecier.com
Celebrity Trash is a show featuring my latest "junk portraits". Most of the art pieces are made from the subject's actual junk donated to me for their portrait. I had a huge Pamela Anderson collection already, and a friend gave me a bag of her laundry and misc. things leftover from her yard sale... So her portrait is made from her paraphernalia, but not directly given to me from her. Also some friends sent me a collection of stuff from Karen Black's estate sale...so the same story there.
Jason's artwork is featured in the new Ripley's Believe It or Not! Book, "Prepare to be Shocked!", and Taschen's Illustration "Now Portraits!" Jason portraits and mosaics have been featured as "ads" in prominent national magazines including: Skittles, Jack Links, Glad Bags, Asics, Red Vines, Wrigley's, Ford, Quaker, Albertsons, The Food Network, Neiman Marcus, Aveeno, Corona Beer, MTV, W Hotels, Rolling Stone, Showtime, Entertainment Weekly, People, Harper's, Seventeen, Nickelodeon, Cosmo Girl, Details, Soap Opera Weekly, The Advocate, The Village Voice and The NY Times.
https://www.facebook.com/Jason-Mecier-57723348748/
https://twitter.com/JasonMecier
https://www.instagram.com/jasonmecier/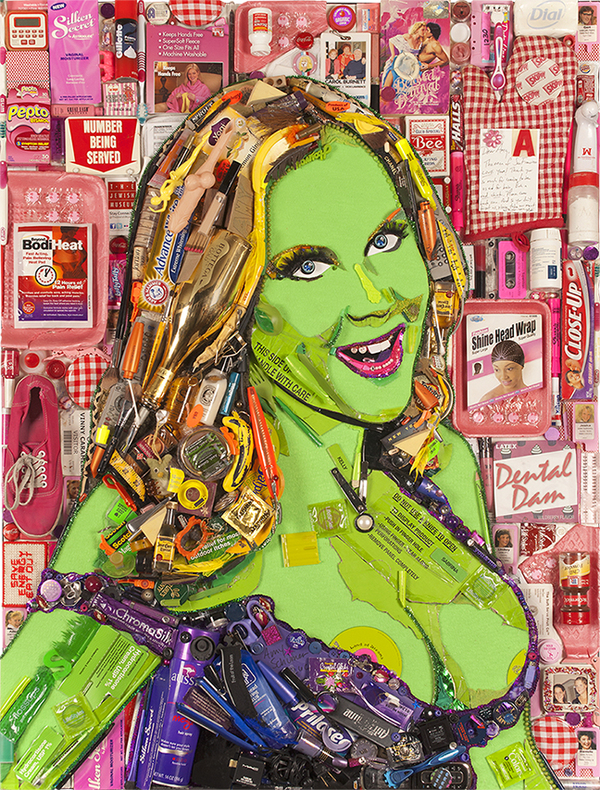 Amy Schumer

Amy Sederis

Florence Henderson

Lindsay Lohan

Megan Mullally and Nick Offerman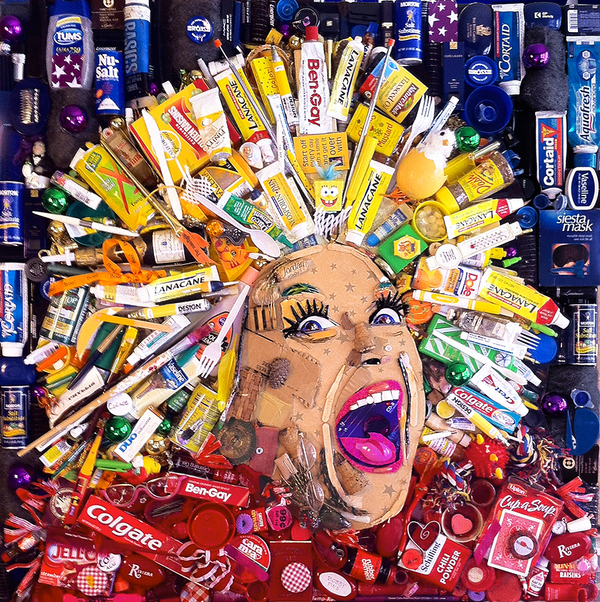 Phyllis Diller

Daniel Tosh

Pamela Anderson