Bess Wohl's SMALL MOUTH SOUNDS Tour to Stop at A.C.T. This Fall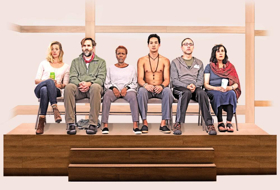 American Conservatory Theater (A.C.T.) continues its 2017-18 season with Bess Wohl's fresh, perceptive comedy Small Mouth Sounds (October 11­-December 10, 2017).
Under the eye of an unseen guru, six wildly disparate urbanites looking for life balance gather for a weeklong silent retreat in the woods. As they listen to their leader's ruminations (and struggle to meditate while clumsily fighting their most primal of urges), they learn that silence can indeed be golden. It can also be funny, frustrating, erotic, comforting, and profoundly passive-aggressive.
Selected as a "Best Of" Theater Pick by The New York Times, Time Out New York, New York Magazine, The New York Post, and The Hollywood Reporter, the A.C.T. production of Small Mouth Sounds is the first west coast stop of the highly anticipated seven-month national tour.
Performances of Small Mouth Sounds will take place at A.C.T.'s Strand Theater (1127 Market Street, San Francisco). Press nights for Small Mouth Sounds will be held on Thursday, October 26 and Friday, October 27, 2017. Single tickets (ranging from $14-$90) are available at the A.C.T. Box Office at 415.749.2228 or online at www.act-sf.org. Ticket prices are subject to change without notice.
Under the direction of Rachel Chavkin, a 2017 Tony Award nominee for Best Direction of a Musical (Natasha, Pierre & the Great Comet of 1812), Small Mouth Sounds features (in alphabetical order): Connor Barrett (Jan), Ben Beckley (Ned), Edward Chin-Lyn (Rodney), Orville Mendoza (Teacher), Brenna Palughi (Alicia), Socorro Santiago (Joan), and Cherene Snow (Judy).
Says A.C.T. Artistic Director Carey Perloff: "The mysteries, intricacies, and magic of being silent amongst a group of strangers come to life beautifully in Bess Wohl's hugely imaginative play. We fell in love with when it premiered in New York, and knew we had to bring it to Bay Area audiences, for whom mindfulness training seems ubiquitous and the longing to connect is pervasive, even as the tools to communicate faster and easier are forever at our fingertips. We are thrilled to bring this brilliant company, led by the inimitable Rachel Chavkin, to The Strand."
The original design team from the off-Broadway production of Small Mouth Sounds returns for A.C.T.'s production and includes Obie Award winner Laura Jellinek (Scenic Designer), Tilly Grimes (Costume Designer), Mike Inwood (Lighting Designer), Lucille Lortel Award nominee Stowe Nelson (Sound Designer), Andrew Schneider (Projection Designer), and Noah Mease (Prop Designer).
For tickets and more information, visit act-sf.org/sounds.
In connection with Small Mouth Sounds, A.C.T. will offer numerous InterACT events-many of which are presented free of charge-that will give patrons opportunities to get closer to the action while having an entire night out at the theater.
Visit act-sf.org/interact to learn more about subscribing to these events throughout the season:
• Bike to the Theater Night:
Wednesday, October 11, 6:30 p.m.
Providing a greener alternative to theater transportation, A.C.T. and the San Francisco Bicycle Coalition offer free valet bike parking, as well as a special discount on tickets, for these select performances.
• Tech Night:
Thursday, October 12, 6 p.m.
Join us at a neighborhood bar for a happy hour with hors d'oeuvres, drinks, and mingling with industry contacts and theatergoers before walking over to A.C.T.'s Geary Theater for the 8 p.m. performance.
• Prologue:
Tuesday, October 24, 5:30 p.m.
Before the curtain goes up, get a sneak peek at the artistic process at this fascinating preshow conversation with the director and artistic staff.
• Theater on the Couch:
Friday, November 3, following the 7:30 p.m. performance
Led by Dr. Mason Turner, chief of psychiatry at San Francisco's Kaiser Permanente Medical Center, this exciting postshow discussion series addresses audience questions and explores the minds, motives, and behavior of the characters.
• Audience Exchanges:
Tuesday, November 7, 7 p.m. | Wednesday, November 15, 2 p.m. | Sunday, November 19, 2 p.m.
After the show, stick around for a lively Q&A session with the actors and artists who create the work onstage.
• OUT with A.C.T.:
Wednesday, November 1, following the 7:30 p.m. performance
The best LGBT night in town! Mingle with the cast and enjoy free drinks and treats at this popular after-party.
• Wente Vineyards Wine Series:
Tuesday, November 14, 6:30 p.m.
Before the show, raise a glass at this wine-tasting event featuring the Bay Area's hottest local winery.
• PlayTime:
Saturday, December 2, 12:30 p.m.
Before this matinee performance, get hands-on with the artists who make it happen at this interactive theater workshop. Small Mouth Sounds was presented off Broadway at the Pershing Square Signature Center by Eva Price, Stacey Mindich, Betsy Bernstein, Ars Nova, Catherine Adler/Sean Hudock, Burnt Umber Productions, Amanda Dubois, Rebecca Gold, Sally Horchow, Iris Smith, Craig Balsam/Kurt Deutsch, and Eric Cornell/Jenna Segal.
Up next, A.C.T. presents the West Coast premiere of William Kentridge's acclaimed multimedia chamber opera, Refuse the Hour (November 10-11, 2017). The holiday season marks the return of the Bay Area's favorite holiday tradition, A Christmas Carol (December 1-24, 2017). Ringing in 2018, A.C.T. returns to the world of Harold Pinter for its first staging of his classic drama The Birthday Party (January 10-February 4, 2018). Next, A.C.T. will present Qui Nguyen's irreverent road-trip comedy Vietgone (February 21-April 22, 2018). In spring 2018, A.C.T. will present Simon Stephens's hit play Heisenberg (March 14-April 8, 2018). Hailed as a "masterpiece" by New York Magazine, A.C.T. will next present Father Comes Home from the Wars (Parts 1, 2 & 3) (April 25-May 20, 2018), Pulitzer Prize winner Suzan-Lori Parks's explosively powerful and lyrical new play set against the backdrop of the Civil War. Closing out the 2017-18 season, A.C.T. will present the world-premiere musical A Walk on the Moon (June 5-July 1, 2018), based on the 1999 movie of the same name.
Photo Credit: Ben Arons Photography