BWW Review: SAN DIEGO SYMPHONY: LATIN JAZZ MASTERS at San Diego Embarcadero Marina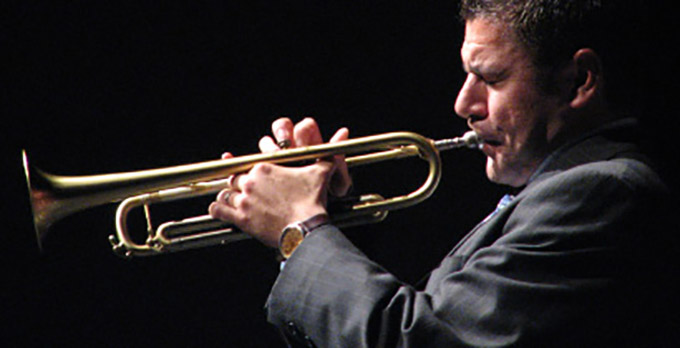 Latin jazz inspired the latest concert in the San Diego Symphony's Bayside Summer Nights series. Gilbert Castellanos, the creative force behind the Symphony's jazz concerts, assembled an all-star Latin band for a tribute to past masters such as Tito Puente, Celia Cruz and Mongo Santamaria. As usual, Castellanos's selection of talent from a huge network of jazz-world friends emphasized skill as much as national name-recognition. The band's lineup ran the gamut from baritone sax player Jean-Paul Balmat, perhaps more widely known outside of San Diego as a jazz educator, to three-time Grammy Award winner, pianist Oscar Hernández.
Castellanos introduced the concert by telling the audience there would be dancing in the aisles, but then opened with a sextet doing a couple of Hernández originals designed more for jazz listeners than Salsa dancers, Latin beat notwithstanding. Certainly good material well played, but unexpectedly boppish when much of the concert advertising featured a photo of a jubilant Tito Puente wailing away on timbales.
Three more horns were added for Hernández's up-tempo "Rumba Urbana." "Danzón for My Father," the only one of his ballads on the program, followed. It has one of those perfectly languorous, driving-along-a-beach-lined-with-swaying-palm-trees-on-a-summer-night melodies. The following Mongo Santamaria standard "Cuco y Olga" closed the opening set, at last delivering on the promise of "dancing in the aisles."
The second set picked up where the first left off with the final original by Hernández, the joyful, very danceable "Fort Apache." The band added virtuoso vibraphonist Nick Mancini and continued an infectious Salsa vibe with two numbers associated with Cal Tjader, "Viva Cepeda" and "Wachi Wara."
Castellanos's vocalist wife Lorraine appeared for the first time to take the program out with a creditable nod to the exuberant side of classic Latin singers. After "Quimbara," Mancini returned, and everyone was on stage. As Lorraine continued to channel La Lupe and Celia Cruz, the band played its enthusiastic role in a familiar Latin call-and-response pattern.
Percussionists Joey De Leon, Mike Holguin and Tommy Aros maintained a sophisticated Latin vibe throughout the concert, driving, swaying or bubbling as moods and tempos changed. Each instrumentalist had at least one or two strong solos spots. The evening's most consistently outstanding soloists were Justo Alamario on flute and Tenor sax, and Gilbert Castellanos on trumpet.
San Diego Symphony's Bayside Summer Nights series continues through September 3rd with stars such as Tony Bennett, salutes to Broadway and Hollywood, and more. For a calendar and ticket information visit SD SYMPHONY.