Ron Bierman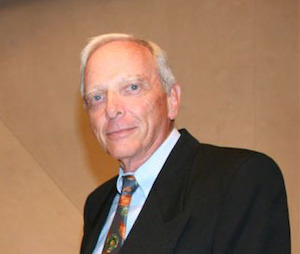 Ron Bierman has performed on saxophone and flute in several college and other orchestras. He graduated from the Massachusetts Institute of Technology where his studies included music theory as taught by Swiss pianist and composer Ernst Levy. His published work includes reviews of recordings, books, plays, films and live music performances for web sites and newspapers. He has an extensive library of books about music and over three thousand CDs. Now living in San Diego with his wife, he is the President of Advocates for Classical Music, an organization which has worked with local symphony orchestras to introduce as many as 15,000 young students to classical music. He and his wife enjoy visiting classrooms with CDs and instruments in hand.
MOST POPULAR ARTICLES
LAST 30 DAYS
LAST 365 DAYS
Review: SAN DIEGO SYMPHONY CONCERT at The Rady Shell

July 3, 2022

What did our critic think of SAN DIEGO SYMPHONY CONCERT at The Rady Shell?
---
BWW Review: SAN DIEGO SYMPHONY CONCERT at Rady Shell Amphitheater

May 25, 2022

Musical impressionism ruled the San Diego Symphony's early-evening Rady Shell concert this past weekend. First came conductor-composer Esa-Pekka Salonen's reaction to Nyx, a daughter of Chaos, the earliest Greek god. Nyx, rarely mentioned in extant ancient Greek-literature, is goddess of the night, mysterious but powerful. At one point in Homer's Iliad, even Zeus changes his plans for fear of making her angry, and I get that. She was the mother of Death and Sleep.
---
BWW Review: San Diego Opera's Production of AGING MAGICIAN at The Balboa Theatre Shows Off Magical Mystery

May 20, 2022

'What the hell was that?' an opera fan asked her friend as we shuffled into a parking-garage elevator. Not an easily answered question after a viewing of AGING MAGICIAN. Ambiguity abounds and reality is mixed with fantasy. The reality side is clear, mostly. Harold is a middle-aged watch repairman who lives alone. Although repairs pay the rent, they've been neglected because he can't stop thinking about the plot of a book he's been writing in which an aging magician worries his marvelous tricks won't outlive him. As he seeks a capable heir for his book of secrets, he collapses and is rushed to a hospital.
---
BWW Interview: Rafael Payare Music Director and Conductor of THE SAN DIEGO AND MONTREAL SYMPHONY ORCHESTRAS

May 11, 2022

The San Diego Symphony's Music Director and Conductor Rafael Payare took up the notoriously difficult French horn at the age of 13. During an hour-long Zoom interview while he was in Montreal, I asked how he had managed to become a soloist less than six months later! "I have to admit it was a little bit fast," he said. Not the haughty egotistical answer I might have gotten from film conductor-stereotypes. His local youth orchestra, a part of Venezuela's extensive El Sistema program, needed horns, so he joined a few weeks after first picking one up. "For a couple of classes, I could only play one scale, but somehow something clicked, and I just started playing more." Less than half a year later he passed an audition for the national youth orchestra, and later became Principal Horn with the prestigious Simón Bolívar Youth Orchestra, the one that first brought Gustavo Dudamel to the attention of the conducting world.
---
BWW Interview: Laura Reynolds of THE SAN DIEGO SYMPHONY at The Rady Shell And Jacobs Music Center

May 1, 2022

Can a symphony orchestra have a role in solving problems like homelessness and global warming? If you don't think so now, you might change your mind after a conversation with Laura Reynolds, the San Diego Symphony's recently appointed Vice President of Impact and Innovation. In 2015, while she was the Seattle Symphony VP of Education and Community Engagement, both the city and the county decided the increasing number of homeless people had reached a state of emergency. CEO Simon Woods asked her, 'What's our role in this? What should we do?''
---
BWW Review: San Diego Opera's Creative and Effective ROMEO AND JULIET

April 2, 2022

Gounod's overture introduces ROMEO AND JULIET with a prophetic mix of lyrical romance and tragedy. Yves Abel, the Principal Conductor of the San Diego Opera, is an expert in French opera and made sure that resonant brass and lush strings produced the mood a Parisian composer of the time would have favored. The quick pace was especially important in a five-act opera some productions turn into a turgid ordeal. No chance of that with Abel leading the San Diego Symphony.
---
BWW Review: THE LA JOLLA MUSIC SOCIETY PRESENTS JOSHUA BELL AND THE ACADEMY OF SAINT MARTIN IN THE FIELDS at San Diego Civic Center

March 18, 2022

When he was four-years old Joshua Bell's parents found him making music by plucking rubber bands stretched to different lengths on dresser drawers. Clearly, he needed a real instrument. Fortunately, they bought a violin rather than a guitar. Ten years later he was the youngest ever to solo with the Philadelphia Orchestra, and went on to become one of the most successful violinists in the world. The 'Gibson' Stradivarius has replaced dresser and rubber bands. In his most recent San Diego appearance Bell stood as soloist while conducting the acclaimed Academy of St. Martin in the Fields chamber orchestra in concertos by Bach and Samuel Barber. After intermission he conducted Beethoven's third symphony, the 'Eroica,' from the first violin chair.
---
BWW Interview: Yves Abel of SAN DIEGO OPERA'S ROMEO AND JULIET at San Diego Civic Center

March 14, 2022

Conductor Yves Abel arrived in San Diego from Europe a few days ago to begin rehearsals for Romeo and Juliet by French composer Charles Gounod. The Maestro does get around a lot, even for an internationally in-demand musician. His wife and boys five and eight sometimes travel with him when he conducts but remain at home in Italy this time. Perhaps Abel's wanderlust began in childhood. His family immigrated from France to French-speaking Quebec when he was young. His father couldn't find work there, so it was off to English-speaking Toronto where he spent most of his formative years. Next stop New York City for study at the Mannes School of Music, and after New York frequent work in Italy, then Germany. Abel's travel has resulted in fluency in French, English, Italian and German.
---
BWW Interview: SAN DIEGO SYMPHONY Concertmaster Jeff Thayer at The Conrad In La Jolla

March 6, 2022

Jeff Thayer was at the Dorland Mountain Arts Colony in Temecula when we spoke for an hour on Zoom. 'I'm usually here right before I have something big to do.' He was referring to upcoming performances of the ninth violin concerto of The Chevalier de St. George at The Conrad in La Jolla. As the San Diego Symphony's Concertmaster, Thayer has realized an ambition dating back to high school. To further his ambition, he went on to graduate from the Cleveland Institute of Music, the Eastman School of Music and the Juilliard School's Pre-College Division.
---
BWW Review: La Jolla Music Society Presents THE DOVER AND ESCHER QUARTETS at Baker-Baum Hall At The Conrad

March 1, 2022

The La Jolla Music Society has been bringing some of the world's best string quartets into the Baker-Baum Concert Hall at The Conrad. With a little over 500 seats and acoustics that allow you to hear off-stage whispers, it' a setting that could only be improved upon if the performing quartet visited your living room. But if The Conrad is a great place to hear one quartet, how about two at the same time? The Dover and Escher Quartets performed last weekend to prove, resoundingly, that is also a delight. Since they are two of the most highly praised string quartets in the world, the excellent sound and quality of playing was predictable, but good music for a string octet is rare compared to the cornucopia of quartets Available. Haydn, Mozart and Beethoven combined wrote more than 100 string quartets, but not one for string octet.
---
BWW Interview: Dana Zimbric of CLASSICS 4 KIDS at San Diego's Balboa Theatre

February 23, 2022

In its most recent season, Classics 4 Kids reached nearly 37,000 people at 256 San Diego County schools, two thirds of them in lower income areas. You'd think Taylor Swift or Justin Bieber was performing the way more than 1000 young San Diego students cheer at a Classics 4 Kids concert. Music Director and conductor Dana Zimbric gets audiences young and old excited about great music. In an email interview she explained to me how she does that and how she became a musician.
---
BWW Review: San Diego Opera's MOZART'S COSI FAN TUTTE at San Diego Civic Center

February 17, 2022

I admire the plucky inventiveness of the San Diego Opera. On an annual budget of roughly three percent of New York's Metropolitan Opera, it has managed to mount a consistently appealing and entertaining variety of productions, traditional and contemporary, in both good times and plague times. The latter even forcing an excellent performance of a much-edited La bohème in a hockey-rink parking lot with an audience seated in an armada of vehicles. But although it was an enjoyable performance over all, now and then I was glad to be wearing a California-mandated mask so that no one would know I was at the current Civic Center staging of Mozart's Cosi fan tutte.
---
BWW Interview: Reginald Smith, Jr. in SAN DIEGO OPERA'S COSI FAN TUTTE at San Diego Civic Center

February 10, 2022

'I'm just Reggie from Atlanta' baritone Reginald Smith, Jr. explained during our hour-long discussion on Zoom. That may be how he would like to view himself, but it's hardly how most others do since he's also a Grammy winning opera star who's performed at the Met. Until high school, neither opera, much less the Met were in his plans. Then when 13 he saw an Atlanta Opera production of Tosca. 'A classical voice was not new to me.' But the spectacle of unamplified voices together with theatrical staging, an orchestra, and eye-catching scenery was a revelation. 'I vividly remember the show going along, the tenor comes out, the soprano. But when Scarpia made his first big entrance, I thought Whoa, that's a different voice. It just went, boom, you know, like, like an arrow right into my heart. And I thought, what is this person?'
---
BWW Review: SAN DIEGO OPERA PRESENTS ARTURO CHACÓN-CRUZ at California Center For The Arts, Escondido

December 9, 2021

It seems variety is the spice of classical music and opera in San Diego. The city's symphony orchestra plans to appear in a dozen or more venues next year, and the opera company has used a different venue for each of its three recent recital concerts. The latest of these featured Mexican-born tenor Arturo Chacón-Cruz, and the operatic tenor's program choices continued the varietal spice. The first half began with five Italian canciones followed by four Spanish zarzuelas and concluded with two Puccini arias. But many in the audience were waiting for the all-mariachi second half. Their reward was 11 Mexican-Spanish favorites sung in front of the 10-piece Mariachi Continental de México led by musical director Silvano Chavez.
---
BWW Review: THE LA JOLLA MUSIC SOCIETY PRESENTS LEONIDAS KAVAKOS AND YUJA WANG at the Balboa Theatre

November 14, 2021

Although they don't fill stadiums violinist Leonidas Kavakos and pianist Yuja Wang are classical music's equivalent of huge pop stars. Wang is the better-known of the two partly because of the attention she's garnered by dressing like one, surely more conservatively than Lady Gaga and Cher, but still eye-catching compared to the usual classical style. On this evening she surprised a bit with a black dress, perhaps to match Kavakos's dark dinner jacket and the seriousness of the music to follow. The
---
BWW Review: The San Diego Opera Presents STEPHANIE BLYTHE IN RECITAL at the Balboa Theatre

October 26, 2021

The imposing mezzo soprano Stephanie Blythe is known for her roles in Wagner, Verdi and Stravinsky. Why would she begin a Balboa Theatre recital for the San Diego Opera with Johnny Mercer's 'Ac-Cent-Tchu-Ate the Positive?" Here's what she said in a recent interview, "I've been a great fan of Johnny Mercer's and I've been singing the music of his Great American Songbook for a very long time." Rather than a concert-hall recital, Blythe was doing cabaret, and doing it far better than most of the opera singers who try to crossover. Her main problem had to be choosing which songs to include in her tribute to Johnny Mercer. He wrote 1500 of them, most often sticking to lyrics in collaboration with the A-list melodic composers of his era. At one point in the 40s he had five of the top ten on the popular radio show "Your Hit Parade." (If you remember Snooky Lanson and Dorothy Collins, I wouldn't mention it in your dating app bio.) Mercer's honors include nineteen Oscar nominations with four wins. That got him a star on the Hollywood Walk of Fame.
---
BWW Review: SAN DIEGO SYMPHONY at Rady Shell, Jacobs Park

October 16, 2021

The Jacob's Masterworks Series has been the centerpiece of the San Diego Symphony's concert season for many years. But the pandemic put the series on hold and delayed the launch of Rafael Payare's first full season as music director and conductor. The opening of the outdoor Rady Shell has allowed the Series to resume without the masking or reduction in attendance that would be required indoors. And a successful host it has proven to be. Turnouts have been larger than can ever be accommodated at the Jacobs Music Center, and acoustics, electronically manipulated though they be, are in many ways an improvement on those of the hall.
---
BWW Review: THE SAN DIEGO SYMPHONY PERFORMS TCHAIKOVSKY at The Rady Shell

September 15, 2021

Classical music is supposed to be serious, difficult to understand, intimidating, right? Who are all these people laughing at what the conductor says, ordering bottles of wine, jumping up to applaud, even, gasp, clapping between movements. Was I amongst Philistines? Had I trustingly followed Waze to the wrong concert? Wait, let me see the program again. No, Tchaikovsky, Rimsky-Korsakov, Dvorak, that sounds right. OMG! It's gone too far. Now they're exploding fireworks louder than cannons above the orchestra and from ships in the bay right next to the audience. And the audience is actually on its feet cheering!
---
BWW Interview: David Bennett of THE SAN DIEGO OPERA

September 10, 2021

David Bennett is now six years into his job as general director of the San Diego Opera Association. When hired, he faced shaky finances, a loss of major donors, and huge turnover in the membership of the board of directors. The new board hired him with the understanding that downsizing and reinvention of the organization were his priorities. Then, after getting off to a surprisingly good start, Bennett had the forced restrictions of COVID-19 to contend with. Perhaps a biblical plague of locusts is next?
---
BWW Review: SAN DIEGO SYMPHONY'S OPENING CONCERT AT THE NEW RADY SHELL AMPHITHEATER in Jacobs Park

August 11, 2021

What was a makes-you-jump BOOM!! doing in Gershwin's Rhapsody in Blue? Had someone mistakenly lit an 1812 Overture cannon? Were we under attack?! Oh wait! It was just a bass drum resonating through the San Diego Symphony's spectacular new state-of-the-art sound system at the Rady Shell. And so, Rafael Payare's initial in-person public concert during his first full season as music director, though a year late because of COVID-19, was a booming success.
---