Ron Bierman - Page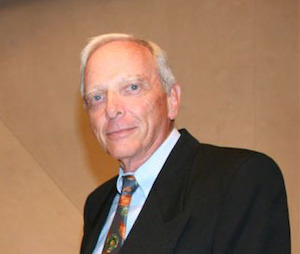 Ron Bierman has performed on saxophone and flute in several college and other orchestras. He graduated from the Massachusetts Institute of Technology where his studies included music theory as taught by Swiss pianist and composer Ernst Levy. His published work includes reviews of recordings, books, plays, films and live music performances for web sites and newspapers. He has an extensive library of books about music and over three thousand CDs. Now living in San Diego with his wife, he is the President of Advocates for Classical Music, an organization which has worked with local symphony orchestras to introduce as many as 15,000 young students to classical music. He and his wife enjoy visiting classrooms with CDs and instruments in hand.
BWW Review: THE SAN DIEGO SYMPHONY HONORS BRITISH COMPOSERS At The Jacobs Music Center

March 10, 2020

British guest conductor Bramwell Tovey led the San Diego Symphony Orchestra in authoritative performances of William Walton's Crown Imperial (Coronation March), Benjamin Britten's Violin Concerto and the Enigma Variations of Edward Elgar. Britannia indeed ruled on this night! In 1936 Walton was asked to write a ceremonial march for the coronation of King Edward VIII. And did he ever! Tovey pulled out all the stops (no pun intended) when a roaring organ joined pounding percussion, crashing cymbals and blaring brass in the work's thrilling climaxes, though the sound became a bit muddy with organ at full-blast.
---
BWW Review: THE BEL CANTO TRIO Kicks Off San Diego Opera's Detour Series in La Jolla

March 7, 2020

The San Diego Opera's first Detour Series performance this season belonged to the new Bel Canto Trio, starring tenor Joshua Guerrero, soprano Julie Adams, and bass-baritone Nicholas Brownlee. All are outstanding young award winners with impressive voices and resumes. Music director and pianist Christopher Allen was their accompanist.
---
BWW Review: THE SAN DIEGO SYMPHONY PRESENTS SIBELIUS at The Jacobs Music Center

March 4, 2020

Conductor Eun Sun Kim is the recently named musical director of the San Francisco Opera. In her debut with the San Diego Symphony she opened her program with Korean composer Texu Kim's playful Spin-Flip. Two hyperromantic works followed, the Sibelius violin concerto and Rachmaninoff's third symphony. In his program notes Texu Kim wrote, 'Spin-Flip is an eight-minute overture which is all about Ping-Pong: it conveys the driving energy of a (good) Ping-Pong match.'
---
BWW Review: THE SAN DIEGO SYMPHONY PRESENTS BEETHOVEN & SHOSTAKOVICH at Symphony Hall in the Jacobs Music Center

February 28, 2020

Beethoven was born 250 years ago. The San Diego Symphony's most recent birthday present in its celebration of the anniversary was an engaging performance of his violin concerto by violinist Stefan Jackiw. Conductor Rafael Payare, as though beginning one of Beethoven's powerful symphonies, put some heft into the work's long introduction right from the timpani's opening five drumbeats. That made for an even greater than usual contrast with the violin's unassuming entry, a contrast reinforced by Jackiw's sweet tone. As the performance continued the violinist proved he could call on anything from disarming sweetness to considerable power. And he has technique to go with that emotional range. High notes were solid and accurate, trills rapid and precise, multiple stops clear and strong.
---
BWW Review: UC San Diego Honors The Music And Influence Of Chou Wen-chung at the Conrad Prebys Music Center

February 24, 2020

Composer Chou Wen-chung, who died recently at the age of 96, was honored at the most recent 'red fish blue fish' percussion concert. Chou's works have been performed by major orchestras throughout the world, and he mentored many who have gone on to successful careers of their own. Tan Dun and Chen Yi are among his best known students. Tan once called him 'the godfather of Chinese contemporary music.'
---
BWW Review: San Diego Opera's Sly and Whimsical HANSEL AND GRETEL at the Civic Center

February 10, 2020

Engelbert Humperdinck's HANSEL AND GRETEL opened Saturday to an audience that included several dozen children, who followed their attention from beginning to end with color, movement, and singing backed by lushly orchestrated music. Even a five year-old girl sitting in front of me on a raised seat kept her eyes on the stage without a single fidget. Director Brenna Corner's playful production emphasized the fairy-tale nature of the story. During the overture a boy entered in front of the curtain, picked up a large book lying center stage and blew a cloud of dust from its cover. Fascinated, he dropped to the floor reading with a rapt expression while members of the San Diego Opera's children's chorus entered behind him, each with a letter on the front of their costumes. Once assembled the letters lit up to say, 'Once upon a time...,' and the story began. It continued after intermission with 'And then...' though not before a necessary rearrangement of the 'And...' brought a second laugh. The approving audience laughed again when the production closed with 'The end.'
---
BWW REVIEW: SAN DIEGO SYMPHONY: EDO DE WAART CONDUCTS BEETHOVEN at The Jacobs Music Center

January 30, 2020

Beethoven was born 250 years ago, and the world has been honoring the anniversary with a deluge of the great composer's music. The San Diego Symphony's celebration continued with strong, well-played performances of Beethoven's Egmont Overture and sixth symphony. Principal Guest Conductor Edo de Waart was once again at the podium. He was assigned most of the heavy lifting for this season's surfeit of Beethoven. The program also included Haydn's 92nd symphony, the 'Oxford.'
---
BWW Interview: Director Brenna Corner of San Diego Opera's HANSEL AND GRETEL

January 29, 2020

Brenna Corner started out with dreams of Broadway. It wouldn't be a big surprise if the versatile young director's dreams came true, but not in the way she'd originally pictured. I met with her to learn more about that and the San Diego Opera's upcoming production of Hansel and Gretel. 'Broadway was the original idea when I was very, very little. I grew up in the theater, my mom's a costume designer. My dad was a carpenter in the shop. I just grew up loving theater. I lived in a little town in southern Alberta with a community theater that did amazing shows that I got to see, and I started to understand what a wonderful thing storytelling could be for the community.'
---
BWW Review: SAN DIEGO SYMPHONY: EDO DE WAART CONDUCTS BEETHOVEN at The Jacobs Music Center

January 15, 2020

Wondering how to celebrate Beethoven's 250th birthday? Well, to paraphrase Julie Andrews, the air is alive with the sound of his music. Take a European riverboat cruise that promises performances of his string quartets, stream Immortal Beloved with Gary Oldman's intensely romantic portrayal of the gnarly uncompromising genius, or just buy tickets for the next all-Beethoven concert at your favorite concert hall, probably next weekend given the enthusiasm for the anniversary shown by most symphony orchestras. The San Diego Symphony, for one, is all-in with a a?oeBeethoven Festival.a?? A dozen concerts will feature at least one Beethoven work this season, perhaps too much of a good thing.
---
BWW Review: SAN DIEGO OPERA'S AMAZING NIGHT at At The Balboa Theatre

December 16, 2019

The San Diego Opera's first Detour Series performance this season was 'One Amazing Night' with Soprano Ailyn Pérez, tenor Joshua Guerrero and accompanist Abdiel Vázquez. All are outstanding young award winners with impressive resumes. The first half featured operatic arias, enjoyable and worth the ticket price on their own. But the second half was something different--and special. In it the artists performed classic popular Mexican songs they grew up with, and their passionate affection was obvious. Vázquez was born in Mexico. Pérez and Guerrero are American children of Mexican immigrants.
---
BWW Review: SAN DIEGO SYMPHONY: LING CONDUCTS PROKOFIEV & DVORÁK at At The Jacobs Music Center

December 11, 2019

The San Diego Symphony Orchestra's Conductor Laureate Jahja Ling returned again for multiple performances this season. In the first of these he was at the helm for Rimsky-Korsakov's Suite from The Snow Maiden, Prokofiev's third piano concerto, and Dvorák's eighth symphony.
---
BWW Review: PAYARE AND SAN DIEGO SYMPHONY CONTINUE BEETHOVEN CELEBRATION at The Jacobs Music Center

November 13, 2019

The programming for Rafael Payare's first season as the San Diego Symphony's music director and conductor anticipates next year's celebration of the 250th anniversary of Beethoven's birth. The schedule includes four symphonies, three concertos and an overture by that great composer. The entire second half of this Friday's concert was devoted to his third symphony, the a?oeEroica.a?? That symphony was preceded by Mozart's 35th, the a?oeHaffner,a?? and Mahler's orchestrations of five of his own songs.
---
BWW Review: RAFAEL PAYARE CONDUCTS BEETHOVEN AND TCHAIKOVSKY at The Jacobs Music Center

November 6, 2019

Rafael Payare's honeymoon with the San Diego symphony orchestra has barely begun, but I'm ready to predict a long and happy marriage. His energetic and emotional conducting brought unexpected excitement to even an ultra-conservative program of Schumann, Beethoven and Tchaikovsky. The opening Overture to Manfred by Schumann may have been the only piece quite a few regular concert-goers haven't heard often enough to be able to conduct themselves. Composed while Schumann was going through one of his bouts with mental illness, the overture is a stormy brooding affair, with romantic swelling waves of sound, perfectly realized in Payare's interpretation. The orchestra has never sounded better.
---
BWW Review: The San Diego Opera Brings a Thrilling AIDA

October 22, 2019

The San Diego Opera's AIDA served Verdi's marvelous score without the usual extravagant sets and throngs of spear-carrying tunic led Egyptian soldiers. Although that conceded a bit of excitement, especially during the triumphal march scene, exceptional singers and musicians held the audience's attention from the mood-setting overture to the exquisite beauty of the closing duet.
---
BWW Interview: Carl Tanner of SAN DIEGO OPERA'S AIDA at The San Diego Civic Center

October 17, 2019

Tenor Carl Tanner is in San Diego to sing Radames, the lead male role in Verdi's Aida, a role he's already sung 145 times before. We met to discuss his background and career just before he was due at a rehearsal. Tanner's is the most unlikely tenor in the history of opera.
---
BWW Review: Rafael Payare Conducts The San Diego Symphony Orchestra at the Jacobs Music Center

October 9, 2019

It's an exciting time for San Diego classical-music lovers. There are more concert choices than ever before, and performance quality has been impressive for everything from solo recitals to symphony concerts and operas. The La Jolla Music Society's $82 million dollar multi-stage Conrad Prebys Arts Center held its first concert early this year, and the San Diego Symphony has begun its own multi-million dollar project to turn its waterfront summer venue into a state-of-the-art amphitheater that will host year-round concerts and events.
---
BWW Review: MAINLY MOZART at the Balboa Theatre

June 26, 2019

Each year Mainly Mozart brings concertmasters and principal players to San Diego from the major symphony orchestras of Cleveland, Philadelphia, New York City, Los Angeles, Toronto, Dallas and elsewhere. They come for a month-long series that includes solo recitals, chamber music performances and orchestral concerts. The latter are performed by the 40 exceptional visiting musicians who comprise the Mainly Mozart Festival Orchestra. This year the Orchestra closed the month-long series with 'three masterpieces in one go' as the personable and talented conductor and music director Michael Francis described them. They were Mozart's Symphony No. 38, the 'Prague,' his 20th piano concerto, and Beethoven's sixth symphony, the 'Pastoral.'
---
BWW Review: THE SAN DIEGO SYMPHONY ORCHESTRA at The Jacobs Music Center

May 5, 2019

Jahja Ling was the San Diego Symphony Orchestra's conductor and music director for 13 years. During that time he was responsible for hiring the 70 new musicians who participated in a huge leap upward in the orchestra's precision and sound. Now the SDSO's Conductor Laureate, he has returned to appreciative warm applause in each of the two seasons since he retired as permanent conductor. For his second appearance this year he chose an all-French program: the Overture to Benvenuto Cellini by Hector Berlioz, Francis Poulenc's Concerto for Organ, Timpani and Strings, and the third symphony of Camille Saint-Saens, his 'Organ Symphony.' The guest organist was the talented Chelsea Chen.
---
---
BWW Review: MENOPAUSE THE MUSICAL at the Welk Resort Theatre

April 17, 2019

Menopause the Musical is set in New York's Bloomingdale's department store where four women with different backgrounds, but similar unwelcome symptoms of growing older, run into each other while shopping and begin to share their experiences. The musical's success depends on wry humor and nostalgia for pop songs from the 1950s through 80s. An overture precedes 23 tunes arranged as solos or for varied combinations of singers. Playwright Jeanie Linders left melodies intact, but rewrote the lyrics to fit the work's overriding theme: getting old is no fun, might as well laugh about what we can't avoid.
---