BWW Review: WHEN WE WERE COLORED Premieres at Sacramento Theatre Company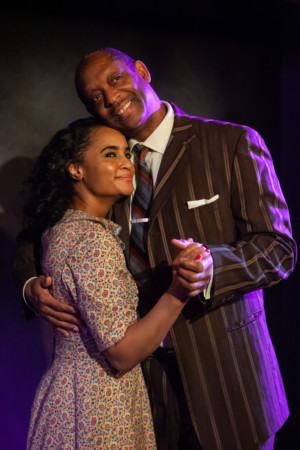 On the heels of Black History Month comes When We Were Colored: A Mother's Story, a play by Sacramento's own Ginger Rutland that is adapted from a memoir that her mother, Eva Rutland, wrote. The memoir was originally titled "The Trouble With Being a Mama" and was first published in 1964. It highlighted the fact that all mothers are the same when it comes to their children-indeed, Eva wrote it to show white mothers that her children were "just as precious and fragile" as theirs. What was not the same were the injustices that families like Eva's had to go through.
When We Were Colored: A Mother's Story begins in Sacramento with Ginger and Eva at an author's event at the public library. Nathalie Autumn Bennett is the older, blind Eva who can still captivate an audience in her 90s and Brooklynn Solomon is her doting daughter, Ginger. There to promote the same book, Eva sheds her dark glasses and cane and transforms into the beautiful young woman she once was as she retells her story. She first takes us through her courtship with Bill Rutland, played by the hilariously gruff Michael J. Asberry. As his career takes them from the south to Ohio and then Sacramento, Eva details the worries that only a "colored" mother can have. Segregation was a comfortable constant for Eva-there existed a hierarchy in her community that she was sure of. Moving to the West, into a supposedly fully integrated society, was an unknown. How would her children fare in schools with white children? How would she fit in with the other mothers? It is eye-opening to read Eva's words, "Integration in theory is a fine, high-sounding utopia. In reality I shivered as I watched my children shed the warm cloak of segregation."
Her fears were not unfounded, for the story continues with snippets of racially based disappointments-when Ginger was the only black person in her 5th grade class, when Elsie's white friend could not come over to play, or when Bill was refused service at hotels or restaurants despite being there in a professional capacity with white counterparts. An integrated society was confusing, for they had to rely on stratagem to buy a house in a desirable area and fight for Ginger's rightful place in an accelerated curriculum. Through it all, Eva handles everything, including blindness, with a grace and dignity befitting the educated woman that she was. She teaches her children not to hate, but to understand and empathize. She and Bill were not victims, but regular people who made a difference in changing attitudes by who they were and how they did things.
When We Were Colored plays as a success story. It is uplifting and inspiring peppered with moments of outrage and empathy. You will leave feeling that maybe you understand the plights of others a little more. You'll fall in love with the Rutland family and wish that you had known them, so that they may share their shine with you.
When We Were Colored: A Mother's Story plays at the Sacramento Theatre Company through April 28th. Tickets may be purchased at the STC Box Office at 1419 H Street in Sacramento, by calling (916) 443-6722, or online at www.sactheatre.org.
Photo credit: Charr Crail Photography
Related Articles View More Sacramento

Stories

Shows