Music Conservatory Of Westchester Presents Concert Debut Of Composition By Mary L. Bianco With Manhattan Chamber Players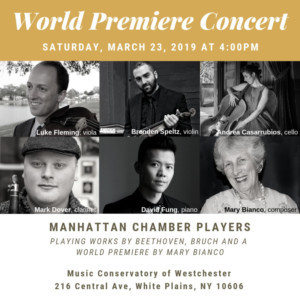 A world premiere musical performance comes to the Music Conservatory of Westchester this spring! On Saturday, March 23rd, 2019 at 4pm, the Manhattan Chamber Players will perform a new composition by former Scarsdale resident and Conservatory Board member Mary L. Bianco along with musical works by Ludwig van Beethoven and Max Bruch in the Conservatory's Recital Hall for this free, public concert.
Chamber music fans will enjoy this exclusive debut of Bianco's latest composition, a trio for clarinet, viola and piano, in addition to her celebrated work Alegre y Divertida (2017), Beethoven's String Trio in C minor, Op. 9 no. 3 (1798), and selections from Max Bruch's Eight Pieces for Clarinet, Viola, and Piano, Op. 83 (1908).
"The Manhattan Chamber Players are an exciting collective of outstanding young musicians with the versatility to perform both new and traditional repertoire. Mary's music is wonderful - complex, compelling, and emotionally rich," Conservatory Executive Director Jean Newton said. "This concert will be a thrilling experience to share with our students and for the whole community!"
Composing from the heart with her passion for music, Bianco's distinguished works have been performed around the world by renowned chamber ensembles including Salomé Chamber Orchestra, Symphony of the Vines, The Solera Quartet, and the Peninsula Trio. With classical and jazz influences, her accessible music exudes an ease both melodically and rhythmically.
Bianco has been composing for the Manhattan Chamber Players for several years, with performances in China, Israel, New York, Connecticut, New Orleans, and Columbus, Ohio. As a former student and active board member and supporter of the Music Conservatory of Westchester, the performance of these works is especially meaningful.
"I enjoy writing for musicians I have heard perform, thus writing for the Manhattan Chamber Players was a most enjoyable endeavor as I have by now developed a good sense of each one's unique style. They are superb musicians which makes composing for them a joyful challenge as there are no limitations on their understanding my purpose and intent," Bianco said. "I am honored to present my music at the school where I began studying piano at age 4 with Michael Pollon and at age 16 composing with Irwin Stall before entering Sarah Lawrence College and most recently graduating in 2015 with an M.A. in Composition from Mills College."
Of the 30 Manhattan Chamber Players members, the following musicians will perform in the concert on Saturday, March 23rd:
David Fung, piano
Mark Dover, clarinet
Brendan Speltz, violin
Luke Fleming, viola
Andrea Casarrubios, cello
World Premiere Mary L. Bianco with Manhattan Chamber Players Concert at Music Conservatory of Westchester
Saturday, March 23, 2019 at 4pm
Free Admission
216 Central Avenue
White Plains, NY 10606
914-761-3900