14th Annual Providence Improv Fest this September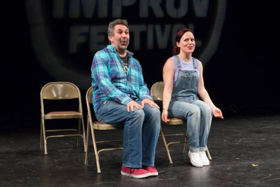 The 14th Annual Providence Improv FEST will be taking place at AS220 Black Box at 95 Empire St. and AS220 Main Stage at 115 Empire St., in downtown Providence on September 21-23, 2017.
This year's FEST hosts over 40 improv comedy troupes from across the country. As always, P!F will feature groups that present a variety of styles from the world of improv. Included in this year's line-up are headliners Orange Tuxedo and Trew +2, and acts from Los Angeles, New York City, Philadelphia, Chicago, Vermont, New Orleans, Boston, and, of course Rhode Island. In addition to past FEST favorites such as Crisis: An Improvised Comic Book and NYC's Airwolf (as well as a free family show), P!F 14 is particularly pleased at the number of all-female groups that will be participating.
This year's FEST will also feature local favorites like Improv Jones (Providence), The Bit Players (Newport) Bring Your Own Improv (Warwick) & Speed of Thought Players (Attleboro, MA) Wilbur, Wilbur, Nealbur of The Contemporary Theater (Wakefield), and Up in the Attic (Pawtucket).
According to Tim Thibodeau, P!F Producer, "The FEST is a great opportunity for people to see the expanding and thriving local comedy improv scene alongside some of the best national acts in the country. We are thrilled to have the talents of Craig and Carla Cackowski as Orange Tuxedo, headlining our Fest along with so many other new and returning acts to Providence. This festival is perfect for any audience--for those brand new to improv, as well as for people who have been an improv comedy fan for years!"
P!F 14's Family Friendly Show will be on Saturday September 23rd and will feature Warwick's Bring Your Own Improv and Boston's over 50 act Elderberry Jam. This show will be a Pay-What-You-Can event with all proceeds going to the Roll for Rob Fund and Manton Avenue Project.
As a testament to the growth of the local Improv scene, this year's FEST is sponsored by two Rhode Island Improv hubs: Pawtucket's new improv center, Wage House, brings Kate & Casey and Poolside to the FEST. Meanwhile, The Providence Improv Guild, which will be celebrating its 5th year, is showcasing acts such as Musical Improv from Large Mouth Bass, Seagull Related Fishfight, Fool's Pudding, Three Different Savers, Sow What?, Newspaper Podcast, The Tim Alan Show, Real Mature, and Starbucks Newest Secret Drink.
Tickets to the FEST are $10 per show, or $35 for a FEST Pass.
For more information, visit the PROVIDENCE IMPROV FEST website at www.providenceimprovfest.com.
Twitter and Instagram @pvdimprovfest.com