Triad Stage Joins Forces with Community Organizations to Reinvent SOUTH PACIFIC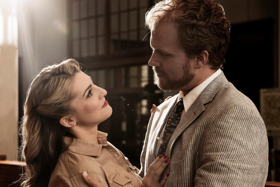 When the Broadway musical South Pacific premiered in 1949, its commentary on race and depiction of relationships between different ethnicities was such a striking departure from the genre that critics and audiences alike deemed it inappropriate. In similar fashion, the southeast regional professional theater Triad Stage seeks not just to repeat plays, but to reimagine them. And it is doing just that with South Pacific, which runs Sept. 17 - Oct. 15 in Greensboro, North Carolina.
According to founding artistic director Preston Lane, the theater's interpretation is intended to engage the community in discussion "...about race relations, right and wrong, sacrifices and conflict - the same issues that our society continues to struggle with as it did when South Pacific premiered nearly 70 years ago." "Triad Stage has a deep connection with the community," said Lane. "Sometimes the opportunity to engage with the community is as important as the play. We want audiences to come away asking these important questions." Staging South Pacific, which Lane considers "the greatest of all American musicals," is also an ambitious undertaking for Triad Stage. Most of the theater company's productions have casts of ten members or fewer, while South Pacific has a cast of 30, plus an eight-person orchestra. Triad Stage is committed to authentic casting, and Asian American actors will portray roles of Pacific Islanders in the production. Twenty members of the cast - and the orchestra - are comprised of alumni, students and faculty at the University of North Carolina at Greensboro (UNCG). While Triad Stage offers the opportunity for many UNCG drama, design, music and performance students to work on productions, the university is formally partnering with Triad Stage on South Pacific, as the season opener for UNCG's University Concert and Lecture Series. "UNCG students are getting the opportunity to work with professionals and to see what 'real life' in the theater is like," said Lane. "In similar fashion, the professionals are energized by the students' enthusiasm, creativity and questions, and it was sobering to them to realize that these students were the same age as many of the soldiers sent to the Pacific Theater of WWII." In addition, as a Blue Star Theatre, Triad Stage has partnered with military veterans in the area to bring the production to life and illustrate the show's relevance. At each of South Pacific's 29 performances, an active duty or military veteran will be honored. South Pacific will be staged at Triad Stage's Pyrle Theater in Greensboro September 17 - October 15. For more information and to purchase tickets, please visit
triadstage.org
. Triad Stage is a professional not-for-profit regional theater company founded in Greensboro, N.C., and produces original work in Greensboro and Winston-Salem featuring the best of local and national talent. Triad Stage recently announced its 17th season of producing professional live theater in the Triad. For more information about the upcoming season, please visit
www.triadstage.org/preview
. Triad Stage productions have been nationally recognized by The Wall Street Journal and by the
American Theatre Wing
, which named Triad Stage one of the top ten most promising theatres in the country as a recipient of the 2010
National Theatre Company
Grant. Triad Stage has also earned accolades including "Best North Carolina Production of 2010" for The Glass Menagerie by Triangle Arts & Entertainment magazine; "One of the Best Regional Theatres in America", New York's Drama League; "Best Live Theater" (fourteen years running), Go Triad/News & Record; and "Professional Theater of the Year" (2003, 2011),
North Carolina Theatre
Conference.