Theatre Raleigh Announces 2018 Season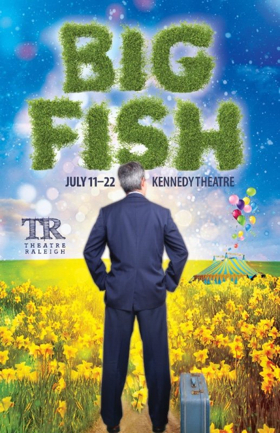 Get introduced to Triangle theatre's best kept secret as Theatre Raleigh announces their 2018 Season. Come see why Triangle audiences and critics alike have rave reviews for world class productions in downtown Raleigh. Driven by Artistic Director, Lauren Kennedy Brady, Theatre Raleigh reimagines classics, hosts new works, and always leads with artistic integrity. Join us and be reminded that theatre is an art form.
Season tickets are on-sale now starting at $155 and can be purchased at
http://www.theatreraleigh.com
. A discount for seniors and military is available. Theatre Raleigh's Summer Season: All shows in the Kennedy Theatre
Daddy Long Legs (May 16 - 27)
A heartwarming Cinderella story about a witty and winsome young woman and her mysterious benefactor, based on the treasured novel that inspired the classic 1955 film starring Fred Astaire. The classic "rags-to-riches" tale of newfound love.
Significant Other (June 13 - 24)
Jordan Berman would love to be in love, but that's easier said than done. So until he meets Mr. Right, he wards off lonely nights with his trio of close-knit girlfriends. But as singles' nights turn into bachelorette parties, Jordan finds that supporting the ones you love can be just as impossible as finding love itself. Big Fish (July 11 -22)
Big Fish tells the story of Edward Bloom, a traveling salesman who lives life to its fullest. Edward's incredible, larger-than-life stories thrill everyone around him - most of all, his devoted wife Sandra. But their son Will, about to have a child of his own, is determined to find the truth behind his father's epic tales. Overflowing with heart and humor, their affirming journey will change them and maybe you forever. Master Class (August 8 -19)
Inspired by world-renowned opera diva
Maria Callas
' magnificent JuiIliard master class series, the Tony Award-winning play spotlights the tour-de-force artist and vulnerable woman known as La Divina. Join Callas as she relentlessly coaxes, prods, and edifies her young students, motivating them to give the performances of their lives, while revealing her humor, her demons and her genius. Once (September 5 -16)
Guy meets girl in the smash-hit, multi-award winning musical including eight Tony Awards. On the streets of Dublin, an Irish musician and a Czech immigrant are drawn together by their shared love of music. Over the course of one fateful week, an unexpected friendship and collaboration quickly evolves into a powerful but complicated love story.
The mission of Theatre Raleigh, Inc. is to produce work with an artistic scope that includes musical theatre, drama, comedy, concerts, theatre for young audiences, as well as the development of new theatrical projects. Theatre Raleigh, Inc. will nurture a tradition of intimate, professional live performances while enhancing, stimulating and providing opportunities to our community, thus contributing to its vitality.
Theatre Raleigh, Inc. produces a critically-acclaimed Summer Series, Family Series and Concert Series. This umbrella institution operates with the goal of providing audiences diverse programming in the Duke Energy Center for the Performing Arts.
For more information please go to http://www.theatreraleigh.com.