BWW Review: FUN HOME: A Rich Blend of Laughter and Tears, at Portland Center Stage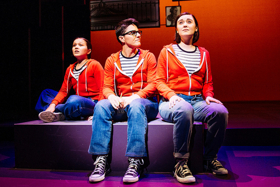 I was ecstatic when I heard that FUN HOME would be the musical opening Portland Center Stage's 30th anniversary season. I was jealous of all of the people I knew who'd seen it on Broadway. But after seeing the PCS production, I'm willing to bet that it was just as good!
FUN HOME, based on Alison Bechdel's graphic memoir of the same name, is in a league of its own. I can count on two fingers the number of musicals based on comic books, but only FUN HOME went on to win a handful of Tony Awards, including Best Musical. Composer Jeanine Tesori and playwright Lisa Kron were the first female writing team to with the Tony for Best Original Score. And FUN HOME is the only Broadway musical with a lesbian protagonist.
It's also in a league of its own for its emotional richness and its ability to use what might seem like a story with niche appeal to explore perhaps the most universal human experience: our quest to figure out who we are.
In the show, Alison revisits memories from her childhood and college years, when she discovered her sexuality. She's searching for answers to the mystery of her father, who killed himself a few months after she came out to her family and who, she discovers, had a string of affairs with men. By digging into her past, Alison starts to see her parents not just as parents but as people. She also comes to a greater understanding of herself.
FUN HOME is also the only musical I know of that features three actors in the same part who are sometimes all on stage together. There's Alison the adult (played by Allison Mickelson), Small Alison (Aida Valentine), and Medium Alison (Sara Masterson). The rest of the characters make up Alison's family, her first girlfriend, and a series of young men who draw her father's eye.
The cast is tops. As Alison's father, Bruce, Robert Mammana delivers a performance that will both tick you off ("Hey! Your daughter needs you!") and fill you with sympathy for a man whose perfect-on-the-outside life is starting to collapse. And Faith Sandberg (Alison's mom) will break your heart when she sings "Days and Days," about how her life passed her by. But my best performance nod goes to Sara Masterson as Medium Alison. She is so charmingly awkward, particularly during her coming out scene. She seems delightfully surprised by every word that tumbles out of her mouth, especially during her solo "Changing My Major," which was my hands-down favorite number.
Finally, scenic designer William Bloodgood and sound designer Alex Hawthorn did and awesome job at bringing the visual effects so brilliantly to life.
FUN HOME will make you laugh and it will make you cry, and you'll love every minute of it. Go see it. Also, dads, call your daughters.
FUN HOME runs through October 22. Details and tickets here.
Photo credit: Patrick Weishampel/blankeye.tv

Related Articles View More Portland

Stories

Shows