BWW Review: Becca Blackwell's THEY, THEMSELF and SCHMERM is a Perfect Blend of Humor and Compassion, at Artists Rep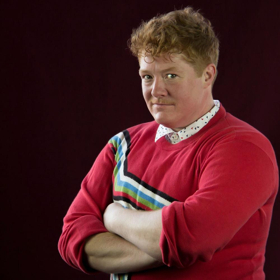 If there's a play that can help us see past our differences, it's THEY, THEMSELF AND SCHMERM, now playing as the first show of Artists Repertory Theatre's 2017/2018 Frontier Series and also part of PICA's Time-Based Art Festival. Blackwell's one-person show is bust-a-gut funny, make-you-cry moving, and one of the most compassionate pieces of theatre I've ever seen. It makes you just want to hug everybody.
Blackwell is an NYC-based trans actor, performer, and writer who created this show because, as they write in their artist's statement, "the only way I was going to see myself on stage was to write for myself."
The result is a show in which Blackwell is about as vulnerable as you get, as they explore growing up in Ohio, being sexually abused, using the men's restroom for the first time, getting involved with drugs, and more. Though none of these themes sounds particularly laughable, the show itself is very funny, which keeps it from ever falling into the trap of being trite or self-indulgent (a critique Blackwell has of many solo shows).
The humor also puts you off your guard and helps you absorb what I believe is the real message of the show, which is about having compassion for everyone with whom we share our world. Blackwell doesn't ask for compassion, they give it, abundantly. Male, female, trans, cis, queer, straight, liberal, conservative, and everyone in between - everyone is included in this big hug (except people who don't wash their hands after using the restroom, for obvious reasons).
You've got one more chance to see THEY, THEMSELF AND SCHMERM, tonight at 6:30. Take it - you'll have a great time and you'll leave the theatre a better person than you walked in.
Learn more about the Frontier Series and get your tickets here. Also check out the other offerings at TBA:17.
Photo credit: George Maracineanu