Pittsburgh Ballet Theatre Celebrates Robbins & Bernstein Centennial With WEST SIDE STORY Suite and More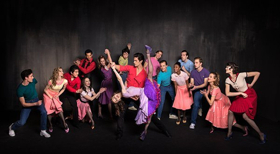 This spring Pittsburgh Ballet Theatre (PBT) joins in international centennial celebrations for choreographer Jerome Robbins and composer Leonard Bernstein with an all-Robbins program featuring three company premieres. "UPMC Presents West Side Story Suite + In the Night + Fancy Free" with the PBT Orchestra takes the stage May 4-6, at the Benedum Center.
Both Robbins (1918-1998) and Bernstein (1918-1990) would have celebrated their 100th birthdays in 2018, which has inspired a worldwide celebration of their work. The duo famously collaborated on a number of ballets and Broadway hits beginning in the 1940s.
Among the Robbins and Bernstein collaborations represented in PBT's centennial tribute are their first and most famous collaborations - "Fancy Free," which inspired the Broadway hit "On the Town," and "West Side Story Suite," which Robbins excerpted from the full-length "West Side Story."
"I had the privilege of working with Jerry when I was principal dancer and then ballet master for American Ballet Theatre. I'll never forget his genius for the details that make a masterpiece," said PBT Artistic Director Terrence S. Orr. 'West Side Story Suite' will push our dancers outside their comfort zones with its drama, its choreography and especially its singing scenes. I love its contrast with 'In the Night,' which shows us Robbins' classical side. And of course, 'Fancy Free' holds a special place in my heart. I had the privilege of learning one of the sailor parts from original cast member John Kriza and dancing the role for many years with ABT. We plan to do Jerry proud with this program."
The theatrical "West Side Story Suite" premiered in 1995 and samples iconic songs and Tony-winning choreography from the duo's Broadway musical (1957) - and Academy Award-winning film (1961) - with choreography by Robbins, music by Bernstein, lyrics by Stephen Sondheim and scenery by Oliver Smith. PBT company members will dance "Prologue," "Something?s Coming," "Dance at the Gym," "Cool," "America," "Rumble" and "Somewhere Ballet" and also sing some of the songs with support from five vocalists from Carnegie Mellon University's School of Music. A modern take on "Romeo and Juliet," "West Side Story" sets the love story on the streets of 1950s New York in the crosshairs of two feuding gangs: The Jets and the Sharks.
PBT also debuts in Robbins' claim to fame: his first ballet and Bernstein collaboration, "Fancy Free" (1944), which inspired the duo's Broadway hit "On the Town (1944)." Set on a hot summer night in New York City, "Fancy Free" follows the escapades of Three Sailors on shore leave. The irresistible "Fancy Free" captures the sights and sounds of World War II-era America and met with resounding success and 22 curtain calls at its 1944 premiere.
Rounding out the program is a more rarely seen Robbins masterwork: his classical "In the Night" (1970), which sets romantic pas de deux for three couples to four piano nocturnes (op. 27, no. 1; op. 55, nos. 1 & 2; and op. 9, no. 2) by Frédéric Chopin. The pas de deux represents love's various shades and stages from tenderness to infatuation.
Jerome Robbins was a dancer, choreographer and director - both in ballet and on Broadway. Leonard Bernstein was a prolific conductor and composer. They were born two months apart and both had their first big breaks by age 25. Bernstein gained fame when he stepped in on a few hours notice for the ailing Bruno Walter to conduct the New York Philharmonic in a nationally broadcast concert at Carnegie Hall. Robbins rose to prominence after choreographing his first ballet -and his first collaboration with Bernstein - "Fancy Free," which premiered at American Ballet Theatre while he was still dancing as an original company member.
The wildly successful "Fancy Free" soon gave rise to the duo's Broadway hit "On the Town." They went on to collaborate on "West Side Story" and other projects, including two more major ballets: "Facsimile" (1946) for American Ballet Theater and "Dybbuk" (1975) for New York City Ballet.
Starting in early March, PBT's education team, and an ensemble of PBT School graduate students, have been visiting area schools to illustrate excerpts from Robbins' work, highlighting his unique contributions to the art form and contextualizing his choreography as part of a continuum of classical and neoclassical styles. As part of these programs, PBT School students are performing Robbins' "Somewhere Ballet" from "West Side Story Suite" as well as excerpts from "Swan Lake," and PBT Principal dancer Yoshiaki Nakano's neoclassical ballet "The Symphony." PBT presented at the Western Pennsylvania School for the Deaf on March 7, CAPA on March 13, and 14, and will visit New Castle Junior/Senior High School on April 20. These programs are made possible by the Jerome Robbins Foundation and the support of an anonymous donor.