Click Here for More Articles on STUDENT CENTER - ELEMENTARY EDITION

Cast and Creative Set for Pittsburgh CLO's BEYOND THE MOON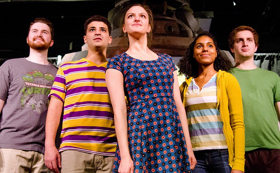 Pittsburgh CLO announces the cast and creative team of our new Gallery of Heroes production, BEYOND THE MOON, touring now - May 2019. BEYOND THE MOON was written by Joseph Domencic and Christina McCann, a husband and wife writing team who actually met while performing in a Gallery of Heroes show years ago. The Gallery of Heroes program takes area students on a journey through the pages of our nation's history with some of Pittsburgh's finest professional actors. Designed to bring musical theater into classrooms, this innovative program highlights the lives and accomplishments of significant historical figures through these 50-minute productions.
This year's production, BEYOND THE MOON, is an empowering and educational musical that compliments schools' STEM teaching goals. While learning about NASA, our female heroine and a multiracial cast work together to show students that if they study, persevere, pick themselves up after failure and work as a team, anything is possible. There are only a few performance slots left - Call 412-281-2234 to bring this musical to your school!
15-year-old Maya has big dreams of being the first person to set foot on Mars, but believes she is simply too ordinary to become an astronaut. Her view of what is possible transforms when actual NASA astronauts past and present, including Neil Armstrong, Mae Jemison and José Hernandez, take her on an amazing journey to discover that extraordinary feats are accomplished by regular people one step at a time. Through their simulated mission to Mars, our heroine gains confidence in herself and her dreams to bravely take the next generation beyond the moon.
THE CAST
GABE DeROSE (Man 2/José Hernandez) is a graduate of Point Park University with a BA in Musical Theatre. Favorite credits include Bye Bye Birdie (Conrad Birdie), Footloose (Chuck Cranston), The Hunchback of Notre Dame (Congregation/Phoebus U/S), Hairspray (Link Larkin) and The Drowsy Chaperone (Feldzieg).

SARAH DiFIORE (Maya) is making her professional debut in Beyond The Moon. Sarah studied at the National Theater Institute and the Chagrin Falls Academy for the Performing Arts. She recently performed at Carnegie Hall in New York Lyric Opera Theatre's Opera Showcase. She is also a playwright; her current project: The Happiest Place on Earth, A Musical Parody.
DANIEL KEITEL (Man 1/Neil Armstrong) is a graduate of Allegheny College with a BA in Theatre. Since graduating in 2017, he has performed in the American premiere of All Quiet on the Western Front as Müller at Prime Stage Theatre and performed in the ensemble of Sweeney Todd: The Demon Barber of Fleet Street at Lincoln Park Performing Arts Center where he also assistant directed their production of Ragtime.
SAIGE SMITH (Woman 1/Mae Jemison) graduated with a BFA in Musical Theatre from Point Park University. Her previous educational tour credits include The Shakespeare Show with TheatreSquared based in Fayetteville, Arkansas. Some Point Park Conservatory credits include, Big Love (Olympia), The House of Bernarda Alba (Poncia), The Bluest Eye (Frieda) and The Sea (Mafanwy). Last year she had the pleasure to perform at the 2018 New York Dramatists Guild Conference.
NATHANIEL YOST (Man 3/Robotics Scientist) is a Duquesne University graduate with a BA in Theatre Arts and Theology. He is currently training his voice with Maria Alsatti. He has played roles from King Oberon in A Midsummer Night's Dream to Happy in Death of a Salesman. Most recently, Nathaniel has been with the Duquesne Red Masquers in the titular role in Macbeth and with Prime Stage's Of Mice and Men as Carlson.
SARAH CHELLI (Female Understudy) is a recent graduate from Seton Hill University with a BFA in Musical Theatre. Sarah currently resides in New York City but was born and raised in Pittsburgh. Some of her favorite credits include Paula in Hair, Luisa in Nine, Pickles in The Great American Trailer Park Musical, Helena in A Midsummer Night's Dream and Hope Caldwell in Urinetown.
JARED PFENNIGWERTH (Male Understudy) has been acting professionally on stage and screen throughout the Pittsburgh area for the last 20+ years. When not performing, Jared can be found at Act One Theater School in the North Hills where he is an acting instructor, or at Little Lake Theatre in Canonsburg, where he is employed as the theater's Technical Director.
THE CREATIVE TEAM
JOSEPH DOMENCIC (Book, Music & Lyrics) wrote the musical, The Next Galileo, for Pittsburgh CLO's 2015 Gallery of Heroes tour and has composed music for the Gene Kelly Awards, The Glass Menagerie and Act One Theatre School. He's worked extensively as an actor and music director with companies including The Acting Company, Sundance Theatre Lab, Playwrights Horizons Theatre School and Pittsburgh's major professional theatres. A graduate of Carnegie Mellon, Duquesne University and The New Actors Workshop, Joseph now teaches at Seton Hill University.
CHRISTINA McCANN (Book, Music & Lyrics) first got involved with Pittsburgh CLO's Gallery of Heroes program as an actor, touring with six productions. Other Pittsburgh CLO credits include six years with A Musical Christmas Carol. She has also worked professionally with Pittsburgh Public Theater, Pittsburgh Opera, Jewish Theatre of Pittsburgh, St. Vincent Summer Theatre and The Theatre Factory. As an Elementary Education graduate of Penn State University, she is passionate about incorporating the arts into all areas of learning.
David Cabot (Director) has been a professional actor and educator for the last 25 years. He received his BA in Theatre Arts from Point Park University and his MFA in Acting from the University of Minnesota. He spent the '93-'94 season at the Guthrie Theater in Minneapolis appearing in Othello, Peer Gynt, A Christmas Carol and A Woman of No Importance. He spent 10 years in The Acting Company at The Children's Theatre Company appearing in over 40 productions. He was on the faculty of CTC's Theatre Arts Training program for nine years and taught voice & speech for three years at the University of Minnesota. Since returning home to Pittsburgh, he taught for six years at PPU and is about to start his 15th year teaching at Pittsburgh CAPA. David has been onstage at The Rep, barebones, Quantum Theatre, Pittsburgh Irish and Classical Theatre, Stage Right and St. Vincent Summer Theatre.
Kiesha Lalama (Choreographer) is an International Choreographer of Stage, Film, and Television. Credits include: Perks of Being a Wallflower, Sorority Row (Film), Outsiders (TV), The Jimmy Awards(Broadway), Jesus Christ Superstar (Kansas City Starlight), All Shook Up (North Shore Music Theatre), First Date, Judge Jackie Justice, A Grand Night for Singing, Pump Boys & Dinettes (Pittsburgh CLO Cabaret), Concert Dance Works for DCDC, Giordano Dance Chicago, Houston Met and Dance Kaleidoscope. Current positions - Pittsburgh CLO Director of Community Engagement & Strategic Initiatives, Point Park University Dance Professor, and SDC.
NICHOLAS F. DOYLE (Set Designer) is a North Hills Alumnus and Fine Artist and is currently Set Designer with Pittsburgh CLO and Vincentian Academy, Scenic Charge for CMU's School of Music, and a Scenic Artist for Lincoln Park. Scenic designs include: Vincentian Academy's: Oliver!, Fiddler on the Roof and Annie. Pittsburgh CLO Academy: 9 to 5 The Musical. Shows as Scenic Artist: Fulton Theater: Treasure Island. CMU's Operas: Zémire et Azor and Figaro. Lincoln Park: Sweeney Todd, The Addams Family, Miracle on 34th Street, Three Musketeers and Snow White.
MICHELLE NOWAKOWSKI (Costume Designer) is an independent costume designer working primarily with students and education projects in the Pittsburgh area. Recent projects include Smile and Annie for Pittsburgh CLO Academy, Arriba! Arriba! for Gallery of Heroes, West Side Story for CAPA, The Music Manfor Stage 62, Billy Elliot for Keystone State Music Theater main stage and Romeo and Juliet for Robert Morris University. Michelle also teaches costuming for the Pittsburgh Cultural Trust.
MARK DOMENCIC (Music Director) is a performer and music educator in the Pittsburgh area. He has worked with numerous organizations, including Pittsburgh CLO, Pittsburgh Musical Theater, and St. Vincent Summer Theatre. A graduate of CMU (BFA and MM in Piano Performance) and Boston University (post-graduate certificate in Music Education), Mark is on the faculty of Carnegie Mellon and the Community College of Allegheny County. He also serves as Executive & Artistic Director of Act One Theatre School.
DINO PANDOLFO (Video Designer & Music Arrangements) is returning to Pittsburgh CLO after interning many 'moons' ago. As owner of Imagine Audio & Media, he enjoys the privilege of using his video, audio, music and design skills on diverse creative projects in Pittsburgh and 'beyond.' For 25 years, his recording/video studio has served thousands of companies/artists/musicians including: Fred Rogers Company, Pittsburgh Opera, PPG, Pitt and Whirlpool. Duquesne Music Alum.
School performances of BEYOND THE MOON are not open to the general public. If you have questions about the schedule or are a community sponsor interested in visiting the recipient school in your neighborhood, please contact Patty Maloney at 412-281-2234 prior to the date of the performance.
Photo Credit: Archie Carpenter