Black Theatre Troupe Presents THE WIZ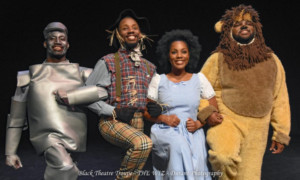 Black Theatre Troupe presents The Super Soul Musical version of "The Wonderful Wizard of Oz" September 28 - October 14 At Tempe Arts Center. This joyous, modern retelling of L. Frank Baum's classic children's story reflects contemporary African-American culture. After Dorothy gets swept up in a tornado, she finds herself in the fantastical world of Oz.

THE WIZ opened on October 21, 1974 at the Morris A. Mechanic Theatre in Baltimore, Maryland and moved to Broadway's Majestic Theatre on January 5, 1975. The show won seven Tony Awards, including Best Musical. A film adaptation of the same name was released in 1978, starring Diana Ross, Michael Jackson, Nipsey Russell, Ted Ross, Lena Horne and Richard Pryor. Most recently a live television production of the stage version, The Wiz Live!, was broadcast in December, 2015
THE WIZ is directed by David J. Hemphill, with musical direction by Brenda Hankins and choreography by Erika Moore and features Ashley Jackson as Dorothy, Pierre Brookins as The Lion, Tyree Ballard as The Scarecrow and Frederick Alphonso as The Tin Man.
Run dates: September 28 - October 14
Fri, Sep 28th, 2018 at 7:30 pm
Sat, Sep 29th, 2018 at 7:30 pm
Sun, Sep 30th, 2018 at 2:30 pm
Thu, Oct 4th, 2018 at 2:30 pm
Fri, Oct 5th, 2018 at 7:30 pm
Sat, Oct 6th, 2018 at 2:30 pm
Sat, Oct 6th, 2018 at 7:30 pm
Sun, Oct 7th, 2018 at 2:30 pm
Fri, Oct 12th, 2018 at 7:30 pm
Sat, Oct 13th, 2018 at 2:30 pm
Sat, Oct 13th, 2018 at 7:30 pm
Sun, Oct 14th, 2018 at 2:30pm
Tickets - $38
- Tempe Center for the Arts box office at 480 350-2822
- purchase online at: http://new-wp.blacktheatretroupe.org/box-office/

Venue PLEASE NOTE THIS SHOW IS *NOT* AT THE REGULAR BTT VENUE
Tempe Center for the Arts 700 W. Rio Salado, Tempe, AZ 85281
The Black Theatre Troupe, Inc. has been providing training, employment and performance opportunities for multi-ethnic and under-served artists since 1970 and acts to make significant contributions toward fostering the arts, specifically theater, within the State of Arizona. It operates to enhance the cultural and artistic awareness of the community by providing productions that illuminate the African-American experience and culture. It is our purpose and mission to educate, enlighten, and entertain a diverse, multi-cultural audience by using local, regional and national talent with the emphasis on providing exposure to black culture and ideology.
More Hot Stories For You