Theatre Horizon's 2018-19 Season Presents More Programming, More Choices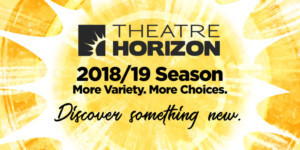 A new day is on the horizon at Theatre Horizon, a professional theatre company located 20 miles outside of Center City Philadelphia in Norristown, Pennsylvania. The company's 2018-19 season features more programming, more variety, and more choices for patrons of the award-winning company, including regional premieres and exciting events that highlight some of the best area talent. This season boasts a brand new model for Theatre Horizon, one in which four smaller, limited engagement events will be presented alongside two more traditional productions with longer runs. Combined, these six offerings will provide audiences programming all season long, and an opportunity to discover something new in Norristown.
"Theatre Horizon's season celebrates resilience, with two presentations of exciting plays and musicals plus four locally-grown, handmade stories conceived and created by Barrymore Award-winning Philly theater artists," said Artistic Director Erin Reilly. "By doubling the number of events in our year, next season propels us toward our goal of including a wider range of voices in our art, so we can provide unexpected encounters and build bridges."
Of note, the company will stage the regional premiere of THE COLOR PURPLE, the acclaimed musical based on Alice Walker's legendary Pulitzer Prize winning novel-turned-film, from November 8, 2018 through December 9, 2018. Theatre Horizon is proud to present the Philly-area premiere of this Grammy Award-winning musical, an intensely moving stage musical that's already become an American classic. Theatre Horizon's intimate staging of THE COLOR PURPLE will be directed by local director and Broadway performer (Mamma Mia!, Godspell) Amina Robinson, who makes her company debut with this production.
"I am honored to join the team at Theatre Horizon for this intimate journey into the hearts of these amazing characters," Robinson said. "The word 'love' comes to mind when I think about THE COLOR PURPLE. When it feels like you have nothing left, where can love be found? The show answers that question in the heart of Celie's story. The answer is that love is found in us all."
Earlier in the season, cast members from Theatre Horizon's original production of THE LARAMIE PROJECT (in fact, it was the company's first ever production back in 2005) along with new Philadelphia favorites will reunite for a 20th anniversary commemorative reading honoring Matthew Shepard's legacy, directed by Kathryn MacMillan. The staged reading, written by Moises Kaufman and Members of the Tectonic Theater Project, will be staged from September 28 through 30, 2018.
"Matthew Shepard was a person of great love and light," said MacMillan. "What a privilege to honor him again, 20 years later. It is a joy to revisit this gorgeous, limitlessly sympathetic play, one of my first shows as a director."
In 2019, Barrymore winner and Theatre Horizon favorite Jaylene Clark Owens brings Harlem KW Project, LLC's RENAISSANCE IN THE BELLY OF A KILLER WHALE to the stage on February 23 and 24, 2019. The work, co-written and presented by Clark Owens, Hollis Heath, Janelle Heatley, and Chyann Sapp, is a kaleidoscopic three-woman play of scenes, songs, and spoken-word poetry, capturing the poignancy and unexpected humor in a changing neighborhood. Winner of the 2012 AUDELCO Award for "Outstanding Ensemble Performance," RENAISSANCE IN THE BELLY OF A KILLER WHALE has been performed at the National Black Theatre in NY, the American Negro Theatre at the Schomburg Center for Research in Black Culture, and Harlem Stage, as well as venues and colleges across the country. The piece will be performed by Hollis Heath and Janelle Heatley. Clark Owens will also be be featured, and directs the performance.
In the spring, Theatre Horizon will present the regional premiere of award winning writer Samuel D. Hunter's THE FEW, featuring Steven Rishard and award-winning theatre artist Suli Holum, from March 14 through April 7, 2019. Directed by company co-founder Matthew Decker, the play is a surprisingly funny story of seething tensions and missed connections in 1999, when Y2K panic grips a remote Idaho town. An editor named QZ and her awkward, earnest assistant Matthew are pushing to get their small newspaper out on deadline when QZ's old flame, Bryan, walks in. Four years previously, Bryan had abandoned QZ and the paper they'd started together, a source of comfort and connection for truckers on the road. Bryan's unexpected return explodes long-simmering tensions and exposes everyone's carefully guarded secrets.
Later in the season, musical theatre lovers will have the chance to spend an evening in the company of one of Philadelphia's leading musical theatre performers, Barrymore Award-winner Rachel Camp. A beloved Theatre Horizon favorite, Rachel has appeared in ten Theatre Horizon productions including Into the Woods, Lobby Hero, A New Brain, and The 25th Annual Putnam County Spelling Bee. Now get to know the artist behind these many characters in her first autobiographical cabaret. Aptly called AN EVENING WITH Rachel Camp, the tune-filled celebration will be presented for a limited engagement in May 2019.
The season concludes in June 2018 with UNTITLED PROJECT #213, a heartfelt story of a man healing from tragedy and learning how to love again told through an enchanting mix of music, clowning, and dance. Co-created and presented by Barrymore award-winning artists Steve Pacek (A New Brain, The 25th Annual Putnam County Spelling Bee), Dan Kazemi (music direction: 11th Hour's Avenue X), and Jenn Rose (choreography: Black Nativity), the Broad Street Review called the performance "a rich and charming evening."
Theatre Horizon will offer a variety of subscription options for their patrons, including a Platinum option that allows subscribers to receive complimentary concessions and concierge services. Full details on the subscription levels can be found here: http://bit.ly/2tb4Hiq. Details on the season can be found at theatrehorizon.org.
SERVICE DETAILS
THEATRE HORIZON'S 2018-19 SEASON
401 DeKalb Street, Norristown, PA
The Laramie Project
By Moisés Kaufman and Members of the Tectonic Theater Project
Directed by Kathryn MacMillan
September 28-30, 2018
Featuring members of the original Theatre Horizon cast.
The Color Purple
Book by Marsha Norman; Music & Lyrics by Brenda Russel, Allee Willis and Stephen Bray
Directed by Amina Robinson
November 8 - December 9, 2018
Regional Premiere
Renaissance in the Belly of a Killer Whale
Presented by Harlem KW Project, LLC: Jaylene Clark Owens, Hollis Heath, Janelle Heatley, and Chyann Sapp
Directed by Jaylene Clark Owens
February 23-24, 2019
Featuring Jaylene Clark Owens, Hollis Heath and Janelle Heatley.
The Few
By Samuel D. Hunter, 2014 MacArthur "Genius Grant" Recipient
Directed by Matthew Decker
March 14 - April 7, 2019
Featuring Suli Holum and Steven Rishard.
Regional Premiere
An Evening with Rachel Camp
Limited Engagement, May 2019
Featuring Rachel Camp.
Untitled Project #213
Co-created and presented by Steve Pacek, Dan Kezemi, and Jenn Rose
June 2019
ABOUT THEATRE HORIZON: Theatre Horizon brings Philadelphia's finest professional actors and artists to Norristown to present compelling, contemporary theatre. Founded in 2005, Theatre Horizon has become a lauded contributor to the arts in Montgomery County, staging a critically-acclaimed season annually, reaching over 950 children each year through our drama classes and camps, and pioneering an autism drama program that inspires imagination and social development in individuals on the autism spectrum. These programs are the building blocks of our Theatre Horizon community in which all participants are encouraged to grow. Our offerings provide opportunities to understand unfamiliar perspectives, discuss common struggles, and simply enjoy a good story together. We produce professional productions of thoughtful and inspiring plays and musicals. "Top-quality Theater is no longer confined to Center City," proclaimed the Philadelphia Inquirer when we opened our new venue in 2012. In recognition of our work, Theatre Horizon was recently awarded a grant from the National Endowment of the Arts and received the American Theatre Wing's National Theatre Company Award-one of only twelve companies in the nation to be honored with this prestigious award from the organization that presents the Tonys each year. We invite you to join us for a performance and discover Theatre Horizon yourself. More at theatrehorizon.org.