Photos: Walnut's Independence Studio on 3 Explores Moral Grey Areas in A STEADY RAIN
Walnut Street Theatre's 2017-18 Independence Studio on 3 season continues with the hard-hitting and gripping A STEADY RAIN. Written by Keith Huff and directed by Fran Prisco, the production begins previews on February 20, opens February 22, and continues through March 25.
A STEADY RAIN follows two Chicago cops, Joey and Denny, who have been friends since kindergarten and are like brothers. Intensely loyal, they want to do right by the force, their family and each other. Joey is a loner with a bit of a drinking problem. Denny is a family man passed over for promotion one time too many. Their relationship is put on the line after responding to a domestic disturbance that takes a turn for the worse. Each man's harrowing version of the truth becomes a fight for their own survival. Where the moral grey area exists, A STEADY RAIN begins.
Set in the seedy Chicago streets, the two wrestle between their own beliefs and morals, all while walking the thin line between right and wrong. "I am thrilled to bring this enthralling story to life at the Walnut," noted Director Fran Prisco. "The Independence Studio on 3 is the perfect place for this intimate but blistering story of two friends and police officers who struggle to balance temptation with justice."
A STEADY RAIN was produced by Chicago Dramatists in 2007 before transferring to the Royal George Theatre in February of 2008. That production won the Joseph Jefferson Awards for Best New Work, Best Actor, and Best Production. The show then went through a series of staged and table readings, including an Off-Broadway workshop, before opening at the Schoenfeld Theatre on September 29, 2009. That production starred Hugh Jackman and Daniel Craig (in his Broadway debut). The 12-week engagement broke the record for the highest weekly gross of a non-musical production on Broadway. It received several rave reviews and was named one of the Top 10 Plays of 2009 by TIME Magazine's Richard Zoglin.
Playwright Keith Huff spent more than 20 years working for a medical journal by day and writing plays by night. After A Steady Rain opened on Broadway in 2009, his writing career rocketed. He received an offer to write for the Emmy Award-winning AMC series, Mad Men and wrote and co-produced several episodes with the series. In 2013, he began work developing the Netflix series House of Cards. He worked on the show as a writing producer-creating outlines, character arcs, and storylines for each episode. In 2014, Huff worked as a consulting producer for the TV show Helix. In 2015, he was the executive producer of the TV show Full Circle and, until 2016, he was the supervising producer of the show American Crime. Huff is currently working on developing A Steady Rain for the silver screen.
Fran Prisco returns to the Independence Studio on 3 to direct A STEADY RAIN. Previous directing credits at the Walnut include the world premiere of Dino, and the brand-new production of My Way: A Tribute to Frank Sinatra. A Walnut stage veteran of over 30 productions, Prisco has been seen on stage at the Walnut in numerous productions, including Annie, A Funny Thing Happened on the Way to the Forum, Saturday Night Fever, Last of the Red Hot Lovers, and The Wizard of Oz.
The Walnut welcomes two actors in their Walnut debuts. Keith J. Conallen plays the inhibited bachelor, Joey. Conallen is a Philadelphia native and a Wilma HotHouse company member. His Philadelphia credits include When the Rain Stops Falling (Wilma), Funnyman (Arden), Red Speedo (Theatre Exile), and Don Juan Comes Home from Iraq (Wilma). Joey's hot-headed "family-man" partner, Denny, will be played by Marc D. Donovan. Donovan's regional credits include: Lights Out: Nat 'King' Cole (People's Light), Million Dollar Quartet (Las Vegas), Fat Pig (12 Miles West), Crazy for You (Ogunquit Playhouse), and Carousel & Urban Cowboy (West Virginia Public Theatre). His film and television credits include Boardwalk Empire, Blue Bloods, Zero Hour, The Trust, The Young and the Restless, and All My Children. In addition to these, he has appeared in or lent his voice to over 40 television and radio commercials.
The set for the show will be unique in its configuration, allowing the audience to sit on either side of the stage. Transforming the Independence Studio on 3 into an interrogation room will be Set and Lighting Designer Thom Weaver (Vincent in Brixton, Prescott Method, Doubt). The sound will be designed by Christopher Colucci (The Humans, Laughter on the 23rd Floor, Peter and the Starcatcher). Colucci and Weaver will be joined by Costume Designer Jill Keys in her Walnut Street debut.
The 2017-18 sponsor for the Independence Studio on 3 season is the Independence Foundation. Media season sponsors are Philly Weekly and WRTI Radio. Tickets are $35-$40 and are now available at 215-574-3550 or 800-982-2787. Tickets are also available at walnutstreettheatre.org or Ticketmaster.com.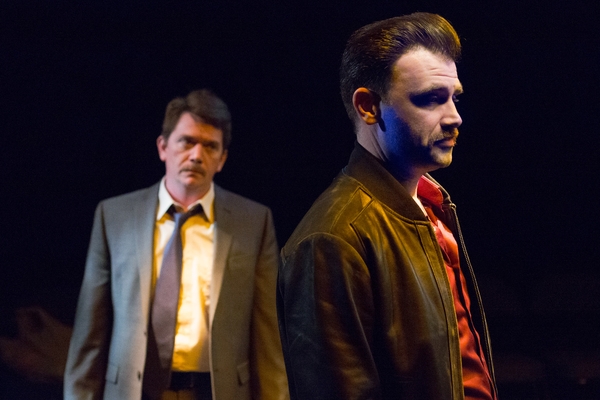 Marc D. Donovan and Keith J. Conallen in A Steady Rain in Walnut Street Theatre's Independence Studio on 3. Photo by Mark Garvin.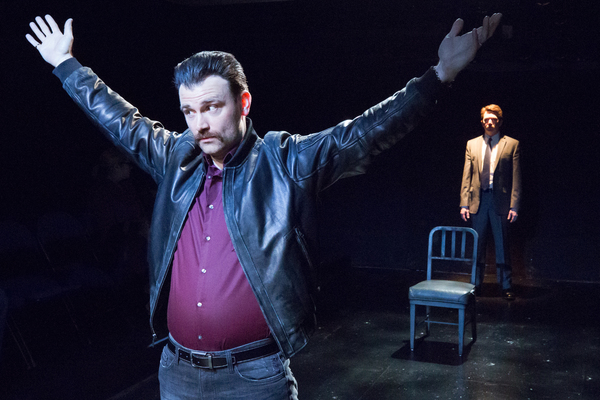 Marc D. Donovan and Keith J. Conallen in A Steady Rain in Walnut Street Theatre's Independence Studio on 3. Photo by Mark Garvin.