Latest News on Reji Woods
Reji Woods News
Review: A RAISIN IN THE SUN at Susquehanna Stage
by Jason Davis - Jun 20, 2022
What did our critic think of A RAISIN IN THE SUN at Susquehanna Stage?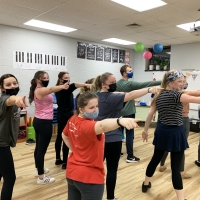 Servant Stage Announces Pay-What-You-Can Theatre Classes
by Stephi Wild - Mar 24, 2022
Beginning with a simple mission of making outstanding theatre accessible for everyone by offering touring, pay-what-you-will productions, Servant Stage, now in their tenth season, has grown dramatically to become "a major player in the local theatrical market.'
Servant Stage Presents AMAZING GRACE
by A.A. Cristi - Sep 15, 2021
The inspirational Broadway musical Amazing Grace comes to Lancaster in a dynamic concert experience, presented by Servant Stage Company. This marks the first production of the show since its Broadway run at the Nederlander Theater in 2015 and subsequent national tour. The production runs October 1 through 17 with performances in the auditorium at Lancaster Bible College.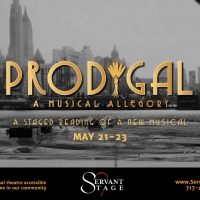 BWW Review: PRODIGAL at Servant Stage
by Marakay Rogers - May 30, 2021
A video of the live workshop performances of this new musical invites you to send feedback as if you were at the workshop
Jennie Harney-Fleming, Phillip Attmore and More Bring Incarcerated Artists' Work To Life In Virtual Collaboration Event
by Chloe Rabinowitz - May 7, 2021
Shining Light, a non-profit organization that brings arts and personal development programs to prisons and jails throughout the country, has partnered with Broadway actors, professional musicians and dancers, and independent filmmakers to produce 10 original creative works written by men and women in prison.
Original Musical PRODIGAL to be Presented by Servant Stage
by Chloe Rabinowitz - Apr 28, 2021
Servant Stage is presenting a staged reading of a brand-new original musical called Prodigal by composer and playwright Tyler D. Hoover. The community is invited to attend and be part of the development process of this musical with a limited number of in-person tickets available to the public.
VIDEO: Daphne Rubin-Vega, Lauren Molina, Jelani Remy & More Featured in 'Enough Already' Get Out the Vote Music Video
by Chloe Rabinowitz - Sep 30, 2020
Mario Lopez and Daphne Rubin-Vega lead a stalwart Broadway group of performers lending their voices to a non-partisan a?oeGet Out the Votea?? music video a?" hashtag: #enoughalreadyvote a?" which has been re-released in anticipation of the November 3rd election.
Servant Stage Announces Online Summer Theater Classes
by A.A. Cristi - Jun 15, 2020
Servant Stage Company is launching an online theater training program called The ConSERVANTory, offering virtual theater classes for students ages 10-18, in place of their usual summer theater camps.
Unifying Music Lands In Lancaster For the Holidays
by Chloe Rabinowitz - Nov 29, 2019
The Temptations. The Jackson 5. The Supremes. Their music (and more) takes the stage at Prima Theatre in Lancaster, PA for three weekends in December. Motown shattered barriers and continues to inspire every generation to move to the same beat. Fill your soul with the spirited music of 'Hitsville USA' in this exciting concert celebration, featuring a seven-piece band and ten powerhouse performers.

Piano Men Concert Ushers in Lancaster's New Theater
by Stephi Wild - Nov 13, 2018
An energetic Piano Men concert opens the new 200-seat downtown Lancaster theater with free on-site parking.
Reji Woods Videos
VIDEO: Daphne Rubin-Vega, Mario Lopez, and More Broadway Stars Urge People to Vote With 'Enough Already' Music Video
by Stage Tube - Oct 16, 2018
A music video has been released, featuring many Broadway favorites, urging people to get out and vote. Mario Lopez and Daphne Rubin-Vega lead the performers lending their voices to the song, called Enough Already.