Latest News on Jerri Shafer
Jerri Shafer News
Photos: Inside New Vision Dance Company hosted the inaugural NEW ALBANY DANCE FESTIVAL
by Jerri Shafer - Aug 4, 2022
New Vision Dance Company hosted the inaugural NEW ALBANY DANCE FESTIVAL at the stunning Charleen & Charles Hinson Amphitheater in New Albany, Ohio on Saturday, July 30, 2022. This event was a collaboration of dance, music, health, and wellness.
Photos: First look at Westerville Parks & Recreation Civic Theatre's THE SOUND OF MUSIC
by Jerri Shafer - Jul 28, 2022
The final collaboration between Rodgers & Hammerstein was destined to become the world's most beloved musical. Featuring a trove of cherished songs, including 'Climb Ev'ry Mountain,' 'My Favorite Things,' 'Do Re Mi,' 'Sixteen Going on Seventeen' and the title number, The Sound of Music won the hearts of audiences worldwide, earning five Tony Awards and five Oscars. The inspirational story, based on the memoir of Maria Augusta Trapp, follows an ebullient postulate who serves as governess to the seven children of the imperious Captain von Trapp, bringing music and joy to the household. But as the forces of Nazism take hold of Austria, Maria and the entire von Trapp family must make a moral decision. Music by Richard Rodgers, Lyrics by Oscar Hammerstein, book by Howard Lindsay and Russel Crouse, Directed by Michael Ruehrmund and Katey Munger, featuring the Westerville Symphony. Performances run July 28 - 30, 2022 at Alum Creek Park North Amphitheatre, 221 W. Main St., Westerville, OH 43082. For tickets or more information, visit: https://www.westerville.org/tickets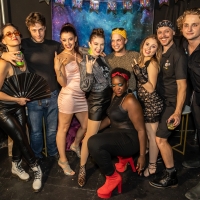 Photos: Inside Short North Stage's ROCK OF AGES OPENING NIGHT GALA
by Jerri Shafer - Jul 27, 2022
Short North Stage opens its 2022-23 Season with the epic rock musical ROCK OF AGES. It's the tail end of the big, bad 1980s in Hollywood, and the party has been raging hard. Aqua Net, Lycra, lace, and liquor flow freely at one of the Sunset Strips last legendary venues, a place where sex machine Stacee Jaxx takes the stage and scantily clad groupies line up to turn their fantasies into reality. Amidst the madness, aspiring rock star (and resident toilet cleaner) Drew longs to take the stage as the next big thing and longs for small-town girl Sherrie who is new to Hollywood with stars in her eyes. However, the rock 'n' roll fairy tale is about to end when German developers sweep into town with plans to turn the fabled Strip into just another capitalist strip mall. Can Drew, Sherri and the gang save the strip – and themselves – before it's too late? Only the music of hit bands Styx, REO Speedwagon, Pat Benatar, Whitesnake and more hold the answer. Come join the party this summer! We know you wanna rock!
Photos: First look at Ohio University Lancaster Theatre Department's RENT
by Jerri Shafer - Jul 24, 2022
It's Show Week for Jonathan Larson's 'RENT' at OHIO University Lancaster.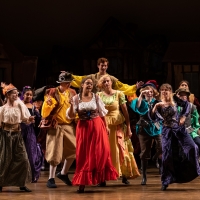 Photos: First look at New Albany High School Theatre's SOMETHING ROTTEN!
by Jerri Shafer - Jul 23, 2022
This summer, New Albany High School Theatre Department is producing the musical comedy Something Rotten!, a hilarious mash-up of sixteenth century Shakespeare and twenty-first century Broadway about two brothers who set out to write the world's first musical. Check out photos from the production!
Photos: First look at Imagine Productions' CABARET
by Jerri Shafer - Jul 23, 2022
In a Berlin nightclub, as the 1920's draw to a close, a garish Master of Ceremonies welcomes the audience and assures them they will forget all their troubles at the Cabaret. Check out photos from the production!
Photos: First look at Evolution Theatre Company's GENTLY DOWN THE STREAM
by Jerri Shafer - Jul 21, 2022
See photos of Evolution Theatre Company's GENTLY DOWN THE STREAM. Beau, a pianist expat living in London, meets Rufus, an eccentric young lawyer, at the dawn of the internet dating revolution. After a life spent recovering from the disappointment and hurt of loving men in a world that refused to allow it, Beau is determined to keep his expectations low with Rufus.
Review: Hilliard Arts Council is K-ra-zy for CRAZY FOR YOU
by Dylan Shaffer - Jul 18, 2022
What did our critic think of CRAZY FOR YOU at Hilliard Arts Council?A celebration of arts and community for the Hilliard community; who could ask for anything more?
Photos: First look at Hilliard Arts Council's CRAZY FOR YOU
by Jerri Shafer - Jul 15, 2022
Hilliard Arts Council is proud to present our annual large stage summer musical: Crazy For You. This Tony award winning musical will showcase the efforts of a large cast of talented actors, singers and dancers hailing from the greater Columbus area in a production featuring lavish costumes, big production numbers, a full pit orchestra and of course the high-quality community theatre you expect from a Hilliard Arts Council show. Billed as "The New Gershwin Musical Comedy", Crazy for You is a romantic comedy musical about a well-to-do young New Yorker, Bobby Child, who is sent to Nevada to foreclose on a theatre owned by the family business. Falling in love with the local postmistress, Bobby decides to produce a show to save the theatre. Performances run July 15, 16, 8:00 pm & July 17, 3:00 pm at Hilliard Darby HS Performing Arts Center, 4200 Leppert Rd, Hilliard, OH 43026. For more information or to purchase tickets, visit: https://www.hilliardartscouncil.org/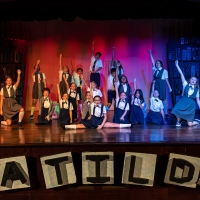 Photos: First look at Worthington Community Theatre's MATILDA THE MUSICAL
by Jerri Shafer - Jul 14, 2022
Matilda is a little girl with astonishing wit, intelligence and psychokinetic powers. She's unloved by her cruel parents but impresses her schoolteacher, the highly loveable Miss Honey. Over the course of her first term at school, Matilda and Miss Honey have a profound effect on each other's lives, as Miss Honey begins not only to recognize but also appreciate Matilda's extraordinary personality. Matilda's school life isn't completely smooth sailing, however – the school's mean headmistress, Miss Trunchbull, hates children and just loves thinking up new punishments for those who don't abide by her rules. But Matilda has courage and cleverness in equal amounts, and could be the school pupils' saving grace! Performances are July 15, 16, 22, & 23 @ 7:30 PM and July 17 and 24 @ 2:30 PM at McConnell Arts Center, 777 Evening St. Worthington, OH 4308. Tickets https://www.worthingtoncommunitytheatre.com/