YOU WOULDN'T EXPECT Begins Previews Tomorrow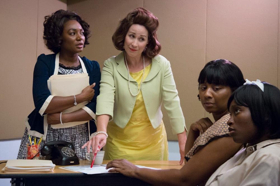 American Bard Theater Company presents the New York City premiere of You Wouldn't Expect, a play written by Marilynn Barner Anselmi examining the staggering truths about the coercive influence of the government-sponsored eugenics program and its direct focus on poverty and race. Cezar Williamsdirects a cast of eight, including Cherie Danielle, Adiagha Faizah, Carl Fisk, Erin Gilbreth*, Ross G. Hewitt, Malikha Mallette, Okema T Moore*, and Atiya Yanique Taylor. Fifteen performances will be staged at The Chain Theater, 312 West 36th Street in New York City, from September 19-October 7, 2018.
You Wouldn't Expect unfolds at a local Eugenics office in 1960's North Carolina where we see the cat-and-mouse workings of the two women who work there. Here, four African-American woman are pressured to be sterilized, part of a racist practice sanctioned by our government for over a decade. We are also brought to the squalid shack of a pedophile father angling to get his daughter "fixed" so that he won't have to deal with outcome of his actions, the offspring. The North Carolina Board enabled county departments of public welfare to petition the Board to sterilize their clients. The majority of these sterilizations were coerced, and academic sources have observed that this was not only an ableist and classist project but also a racist one. Of the 7,686 people who were sterilized in North Carolina after 1933, 5,000 were Black. The Board remained in operation until 1977.
Tickets are $10 for previews, $25 for general admission, and $20 for seniors and students. Visit https://www.americanbard.org/.
You Wouldn't Expect is produced by American Bard Theater Company. Costume Design: DeShon Elem; Costume Assistant: Ty Anderson; Sound Design: Caroline Eng;Lighting & Projection Design: Elizabeth Mak; Set Design: Jamie Larson; Prop Master: Liana Jackson; Production Stage Manager: Belynda Hardin; Graphic Designer: Samantha Hewitt; Marketing: Lily Warpinski; Box Office Manager: Cheri Wicks.
Notes from the playwright, Marilynn Barner Anselmi:
I didn't know anyone touched by the horror of eugenics; however, after learning of it, it haunted me. So I researched the topic and met many of the victims (in print and in person)-and the characters in You Wouldn't Expect stepped out of this shameful (and largely unrecorded) chapter in our nation's history. To date YWE has been performed around the country and the short film version has been around the world. Theatrical performances include: The National Black Theatre Conference, The DC Black Theatre Festival, The August Wilson Center, and several universities including North Carolina State University, University of NC Pembroke, Barton College, NC Wesleyan College and Wellesley College. This is the NYC premiere.
Direct ticketing link: https://www.eventbrite.com/e/you-wouldnt-expect-tickets-49150405185
Photo Credit: Basil Rodericks/faceitfoto
Related Articles View More Off-Off-Broadway

Stories

Shows
More Hot Stories For You