The Muse Project In Association With The Tank Presents MUSINGS At The Flea Theater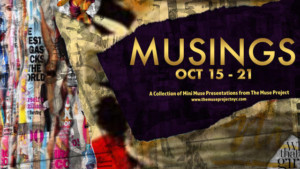 The Muse Project, in association with The Tank, will present Musings: a collection of Mini Muse presentations at The Flea Theater as a part of their Anchor Partnership. Musings showcases the exciting, fresh, paradigm-shifting storytelling that New York's leading actresses have developed through intensive workshops. The Muse Project gives women performers the time, space, and opportunity to experiment with and explore their fantasy projects. Veteran performer Lynn Cohen will be investigating previously unexplored terrain with collaborator Lewis Black in his piece Dottie's Home. Recent Lucille Lortel nominee Vanessa Aspillaga and Obie winner Jessica Frances Dukes, alongside acclaimed directors José Zayas and Seret Scott, will dig into long hungered-for solo work.
In total, The Muse Project is developing 5 Mini Muses this year. The presentations will give audiences an inspired taste of what these women actors are working on, and each presentation will be followed by a talkback.
Vanessa Aspillaga will be presenting from a piece that incorporates music and her visual art, a creative memoir of sorts - with collaborator José Zayas; Lynn Cohen will be presenting from a piece that reimagines Dorothy from The Wizard of Oz - with collaborators Lewis Black, Ronald Cohen, and Ian Morgan; Jessica Frances Dukes will be presenting from her first solo show exploring a complex familial lineage of race, class, and identity in America - with collaborators Taylor Barfield and Seret Scott. Déa Julien will be presenting from a piece that seeks to tell the story of a young Syrian refugee and her relationship to the wealthy American woman who sponsors her for a year - with collaborators Kylie Brown and Megan Sandberg-Zakian of Maia Directors; and Kyra Miller will be presenting from a new piece exploring puppetry, Gaslight, and Bluebeard - with collaborators Noel Allain and Katie Pearl. Actresses Chelsea Dee and Zainab Musa are 2018 Muse alternates.
Additionally, The Muse Project will present their inaugural Tea Time event and a Mini Gala at The Flea. Tea Times are a one-of-a-kind Muse pilot program. A veteran stage actress opens the event with a story about her experiences building her career. It's an opportunity for attendees to network & to become more acquainted with the life-and-times of a singular stage actress. The Mini Gala is a small, tailored intimate gala event, where guests get to mingle with the Muses and other special guests at The Flea. Tickets ($15 - $50) are available for advance purchase here, via The Flea Theater's website: theflea.org.
The Muse Project (Jocelyn Kuritsky, Producing Artistic Director) seeks to disrupt the imbalance of opportunity and ownership of work for women actors through the development of challenging, actor-driven theater works and focused research into their participation in American theater. The company shifts the theater paradigm through the empowerment of women actors as creators and content generators. With The Muse Project, actresses choose the role they want to play and the story they want to tell, and then a creative team is built around the actress's vision.
The first test of The Muse Project model took place in 2013. The selected actor was Tina Benko. Benko, along with collaborator Mia Rovegno, delved into a piece that explored universal questions and concerns about female identity. This workshop paved the way for what The Muse Project now calls the Mini Muse workshop; and in October 2015, The Muse Project officially launched as a brand new, actress-focused theater company.
Founder Jocelyn Kuritsky's own Muse Project began development in 2015 with a Mini Muse workshop, and this development culminated in a successful, extended world premiere production of Stet at Abingdon Theatre Company in June 2016. Stet was written by Kim Davies, directed by Tony Speciale, and it starred Kuritsky.
The 2017 Season saw three additional women become Muse actors: Lynn Cohen, Jessica Frances Dukes, and Déa Julien.
Partner organizations for The Muse Project include Abingdon Theatre Company, The Flea Theater, New Georges, The New Group, The Pit, The Tank, Theaterlab, and Torn Page. www.themuseprojectnyc.com.
The Tank is a non-profit arts presenter serving emerging artists engaged in the pursuit of new ideas and forms of expression. We serve over 1,000 artists every year in over 400 performances, and work across all disciplines, including theater, comedy, dance, film, music, public affairs, and storytelling. Our goal is to foster an environment of inclusiveness and remove the burden of cost from the creation of new work for artists launching their careers and experimenting within their art form. The heart of our services is providing free performance space in our 98 seat proscenium and 56 seat blackbox that we operate in Manhattan, and we also offer a suite of other services such as free rehearsal space, promotional support, artist fees, and much more. We keep ticket prices affordable and view our work as democratic, opening up both the creation and attendance of the arts to all. Since its founding in 2003, artists who have come through The Tank include Alex Timbers, Amy Herzog, Lucy Alibar, Mike Daisey, Reggie Watts, Kyle Abraham, Andrew Bujalski, We Are Scientists, and tens of thousands of others. www.thetanknyc.org.
The Flea Theater, under Artistic Director Niegel Smith and Producing Director Carol Ostrow, is one of New York's leading Off-Off-Broadway companies. Winner of several Obie Awards, a Special Drama Desk Award for outstanding achievement and an Otto Award for political theater, The Flea has presented over 100 theatrical, musical and dance performances since its inception in 1996. Past productions include premieres by Steven Banks, Thomas Bradshaw, Erin Courtney, Bathsheba Doran, Will Eno, Karen Finley, Amy Freed, Sarah Gancher, Sean Graney, A.R. Gurney, Jennifer Haley, Hamish Linklater, Enrique Gutiérrez Ortiz Monasterio, Itamar Moses, Anne Nelson, Qui Nguyen, Adam Rapp, Jonathan Reynolds, Kate Robbins, Roger Rosenblatt, Elizabeth Swados, and Mac Wellman. Successes include Drama Desk nominated She Kills Monsters, These Seven Sicknesses, Restoration Comedy, The Mysteries and ten World Premiere productions by A.R. Gurney, including the WSJ Best New Play of 2013, Family Furniture. www.theflea.org.