Photo Flash: Page 73 Productions' CREATURE (Part 2)
Page 73 Productions (Liz Jones and Asher Richelli, Executive Directors) and New Georges (Susan Bernfield, Artistic Director; Sarah Cameron Sunde, Associate Director) will present the world premiere of Heidi Schreck's riveting new play "CREATURE," directed by Leigh Silverman. This Off Broadway engagement will be performed at the Ohio Theatre, 66 Wooster Street (between Spring and Broome Streets). Previews begin on Wednesday, October 28, and the official Opening Night will be Monday, November 2 at 7:00 p.m. Performances will run through November 21.
In 1401, a gorgeous young beer-brewer named Margery Kempe sets about trying to become a saint. Seduced by a vision of Jesus Christ in robes of purple - her favorite color - she battles her family, the church, and an intense appetite for earthly pleasures in an improbable bid for salvation. In "CREATURE," contemporary and medieval imaginations collide; it's a very funny, a little bit scary new play about faith and its messengers.
Heidi Schreck is a playwright and an OBIE Award-winning actor. "CREATURE" will mark her New York City full-length playwriting debut. Her other plays include Backwards into China, Stray, Mister Universe, Memorial Day, and Spirit Lake. Her work has been produced or developed by Soho Rep, Vineyard Theatre, New Georges, The Foundry, Rattlestick, Printer's Devil, FronteraFest, the UNO Festival, Consolidated Works, and National Public Radio. She is the 2009 P73 Playwriting Fellow and was a member of the 2006 Soho Rep Writer/Director Lab. She has been a finalist for the Eugene O'Neill Playwrights Conference and the Bay Area Playwrights Festival. Her play Stray was published in The Manifesto Series, an anthology of new work edited by Erik Ehn, and her plays Backwards into China and Memorial Day are published through Rain City Projects. Heidi writes about new plays for The Brooklyn Rail and worked as a journalist in Russia in the late 1990's. Her newest play There Are No More Big Secrets is partially inspired by the years she spent working in Siberia and St. Petersburg. As an actor Heidi has worked with Playwrights Horizons, New York Theatre Workshop, Actors Theatre of Louisville, Clubbed Thumb, Theatre of a Two-Headed Calf, 13P, Karinne Keathley, The Foundry, Soho Rep, The Talking Band, Sundance Theatre Institute and others. She was named one of Time Out New York's favorite NYC actors in 2007, and in 2008 she received an OBIE for her work as an actor in Two-Headed Calf's Drum of the Waves of Horikawa at HERE Arts Center. Concurrently with the run of "CREATURE" she will be performing in Annie Baker's newest play Circle Mirror Transformation at Playwrights Horizons.
Leigh Silverman directed Lisa Kron's Tony Award-nominated Best Play Well on Broadway and will be directing Kron's upcoming new play at CTG/Berkeley Repertory Theatre later this season. Her recent New York world premieres include: Coraline (MCC/True Love); From Up Here (Manhattan Theatre Club, Drama Desk nomination); Yellow Face (Center Theater Group/The Public Theater, The Huntington Theater, and ACT, San Francisco); Blue Door (Playwrights Horizons and Seattle Repertory Theatre); Oedipus at Palm Springs (New York Theatre Workshop); The Treatment (The Culture Project); Jump/Cut (Wooly Mammoth Theatre/Theater J and Women's Project); Big Times (W.E.T.); and Finder's Fee (Rattlestick). She also directed the New York revival of Danny and the Deep Blue Sea (Second Stage Theatre), a production of Wit for London's West End (Vaudeville Theatre), and has directed extensively in regional theaters across the U.S. Currently she is represented in New York City by The Retributionists at Playwrights Horizons.
The six member cast will include: Marylouise Burke (Juliana of Norwich), Darren Goldstein (John), Sofia Jean Gomez (Margery), Tricia Rodley (Nurse), Will Rogers (Asmodeus/Jacob), and Jeremy Shamos (Father Thomas). Ms. Burke is a Drama Desk Award-winner for her role in David Lindsay-Abaire's Fuddy Meers, and also received a Drama Desk nomination for appearing in his Kimberly Akimbo. Her Broadway credits include: Into the Woods, Inherit the Wind, and Is He Dead? In film she's been seen in: Sideways, A Prairie Home Companion, Mona Lisa Smile and the upcoming films Rabbit Hole, An Invisible Sign of My Own, and I Love You Phillip Morris. Mr. Goldstein's New York credits include Mouth to Mouth, Terrorism, Abigail's Party (Lortel nomination, Featured Actor), all with The New Group; Bloody Bloody Andrew Jackson at the Public, An Upset (E.S.T. Marathon), Gutenburg! The Musical at the Actor's Playhouse, Mary Rose at the Vineyard, and St. Crispin's Day at Rattlestick. Ms. Gomez is a graduate of the Yale School of Drama. She has appeared in Mary Zimmerman's Arabian Nights as Schererazade (at Berkeley Rep) and Argonautika (at Berkeley Rep, the McCarter Theatre, and Shakespeare Theatre, D.C.), as Athena. In addition to her extensive work at the Yale School of Drama she has appeared as Kitty Duval in The Time of Your Life at the Shakespeare Theatre of NJ, and in Trying at the Portland Stage Company. Ms. Rodley's recent projects include Karinne Keithley's Do Not Do This Ever Again, Kristen Kosmas' Hello Failure, and Bird Eye Blue Print with Lisa D'Amour and Katie Pearl. She co-founded Printer's Devil Theatre in Seattle and performed in several company productions, including Stray, Hedda Gabler and Free Will and Wanton Lust. MR. Rogers' New York credits include: Chair at Theatre for A New Audience, From Up Here at Manhattan Theatre Club, 100 Saints You Should Know at Playwrights Horizons, and Columbinus at New York Theatre Workshop. Mr. Shamos has appeared on Broadway in Lincoln Center's production of The Rivals and in the Manhattan Theatre Club's revival of Reckless. Off-Broadway he won an OBIE for his performance in the Theatre for a New Audience production of Engaged. Other New York credits include: Animals Out of Paper at Second Stage (Drama Desk nomination), 100 Saints You Should Know at Playwrights Horizons; Hunting and Gathering at Primary Stages; Race and The Alchemist at Classic Stage Company; and Gutenberg! The Musical.
The sets will be designed by Rachel Hauck, the costumes by Theresa Squire, the lighting by Matt Frey, and the sound by Katie Down.
Page 73 Productions (www.p73.org) develops and produces the work of early-career playwrights and ushers their work from initial draft to production-ready script to full production. Page 73 recently developed and produced the following new plays: the world premiere of Pulitzer Prize finalist Elliot, A Soldier's Fugue by Quiara Alegria Hudes (directed by Davis McCallum); the New York premiere of 1001 by Jason Grote (directed by Ethan McSweeny); and Sixty Miles to Silver Lake by Dan LeFranc (directed by Anne Kauffman in a co-production with Soho Rep). The company's principal programs are the P73 Playwriting Fellowship, a year-long program; "Interstate 73," a writing group composed of six to eight early-career playwrights who meet regularly to discuss and work on their new plays; the Page 73 Summer Residency @ Yale, a week-long summer residency on the Yale campus; and an annual world or New York premiere of a new play by an early-career playwright.
New Georges (www.newgeorges.org), the OBIE Award-winning downtown theater company founded in 1992, has included among its notable productions the following: Eisa Davis' Angela's Mixtape; Jenny Schwartz's God's Ear; Wendy Weiner's Hillary: A Modern Greek Tragedy With a (Somewhat) Happy Ending; Susan Bernfield's Stretch (a fantasia); Sheila Callaghan's Dead City (a winner of the 2007 Susan Smith Blackburn Prize); Deb Margolin's Three Seconds in the Key (winner of the 2005 Kesselring Prize); Lisa D'Amour's Anna Bella Eema; Jenny Lyn Bader's None of the Above; and Carson Kreitzer's Self Defense, or death of some salesmen. The company, in addition to producing regular seasons, is a play and artist development organization, providing essential resources and opportunities to a community of venturesome artists.
The complete schedule for "CREATURE" (October 28 through November 21) will be: Mondays through Saturdays at 8:00 p.m. The opening night performance on Monday, November 2 will start at 7:00 pm. There will be one additional performance on Saturday, November 21 at 3:00 p.m. The ticket price will be $25.00 for general admission (including students and seniors), with a $35.00 reserved premium ticket also available. Monday night performances and Halloween, October 31, are "pay-what-you-will" at the door only. TDF vouchers will be accepted. The box office number for reservations is 866-811-4111 or www.theatermania.com. For more information and group rates call 646-336-8077.
Photo credit: Jim Baldassare

Darren Goldstein and Sofia Jean Gomez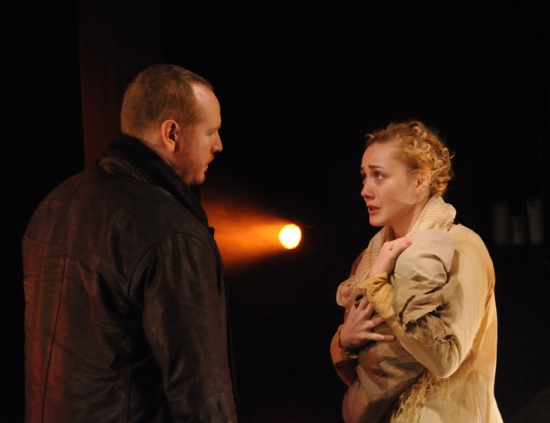 Darren Goldstein and Sofia Jean Gomez

Will Rogers and Sofia Jean Gomez

Tricia Rodley, Jeremy Shamos and Sofia Jean Gomez

Jeremy Shamos and Sofia Jean Gomez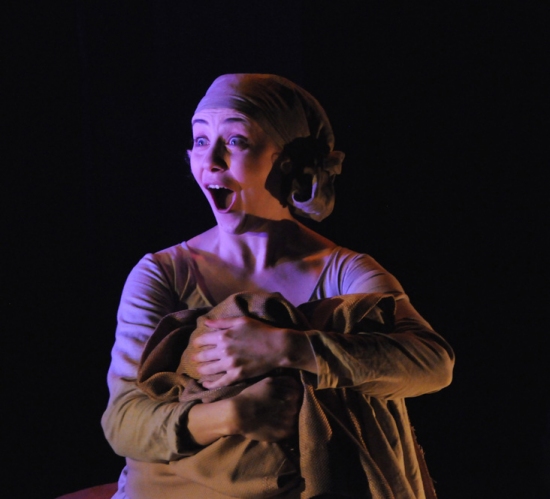 Sofia Jean Gomez

Sofia Jean Gomez

Darren Goldstein and Sofia Jean Gomez

Darren Goldstein and Sofia Jean Gomez

Jeremy Shamos and Sofia Jean Gomez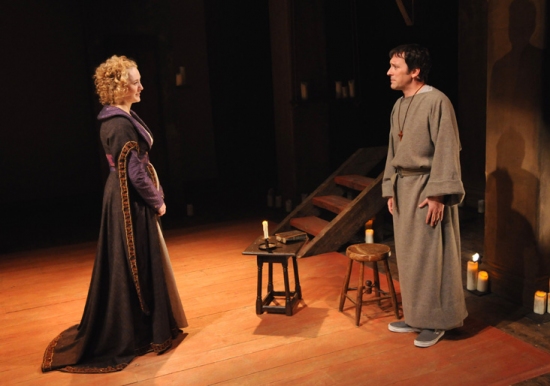 Sofia Jean Gomez and Jeremy Shamos

Sofia Jean Gomez and Jeremy Shamos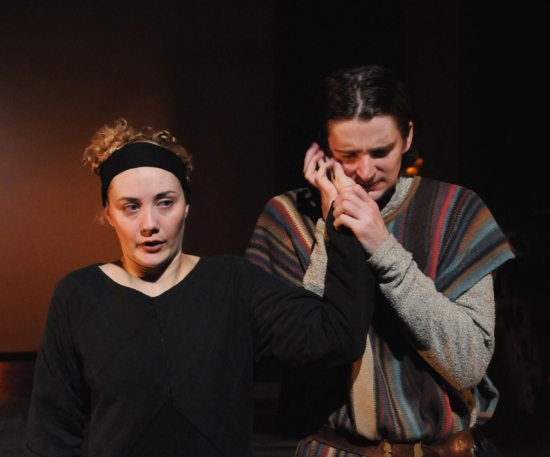 Sofia Jean Gomez and Will Rogers

Tricia Rodley