Photo Flash: First Look at B N B: BREAK NONE OF HIS BONES at MITF
B N B: Break None of His Bones will play Wed., July 24 at 6pm -- Sat., July 27 at 7:30pm -- Sun., July 28 at 5:45pm at the Dorothy Strelsin Theatre, 312 West 36th St -- 1st Floor, NYC as part of the Midtown InterNational Theatre Festival. Scroll down for a first look at the cast in action!
Joanne de Simone's dark study about how peer pressure can turn social media into a murder weapon premieres this week as part of John Chatterton's 2013 Midtown InterNational Theatre Festival. Written & directed by Ms. de Simone, this play mirrors the story of Leopold and Loeb, the murderous socialites of the 20s - now obscured by history. In this incarnation, two pampered prep-school boys turn their psychology lab project into a game of cat-and-mouse with another lab partner - unaware that he is no longer part of the team but part of the experiment.
The cast includes Brandon Fox, Emilio Evans, Hunter MacNair, Mihee Lucia, William D. McAndrews, Martha Ghio, and making his dramatic stage debut is Ryan Bertroche. Ryan has appeared on many other stages as an international fashion model for - amongst others - Calvin Klein.
Prod. Manager: Joanna V. Barbaro; Technical Design: A.G. Liebowitz.
Tickets: $14.00 (discounts available). Reservations:
www.midtownfestival.org
.
Photo Credit: A.G. Liebowitz/WrightGroupNY

The Cast of B N B: Break None of His Bones

The Cast of B N B: Break None of His Bones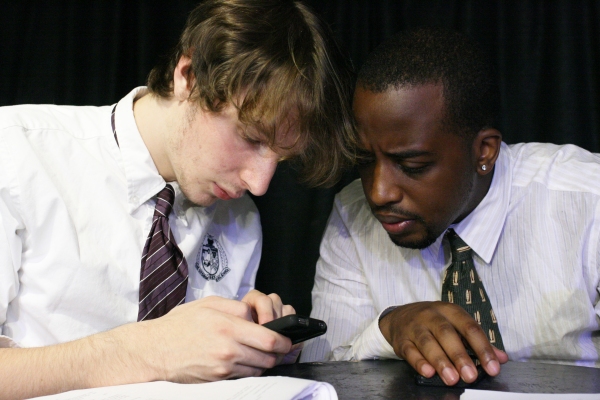 The Cast of B N B: Break None of His Bones

The Cast of B N B: Break None of His Bones