New Georges to present Two Sound-Driven Plays In Rep at The Flea 2/14-3/4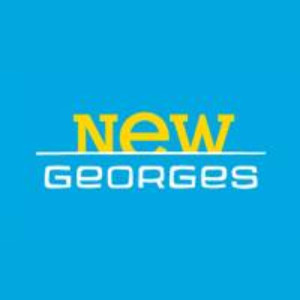 New Georges (Susan Bernfield, Producing Artistic Director; Jaynie Saunders Tiller, ManagStaff Board 5ing Director) will present two experimental plays in which sound design is intrinsic to story, text and theatrical landscape in rep together at The Flea Theater (20 Thomas Street between Church Street and Broadway), February 14-March 4. The rep will feature the World Premiere of Sound House, written by Stephanie Fleischmann (Red Fly, Blue Bottle at HERE; Eloise & Ray with New Georges), directed by Debbie Saivetz (Our Dad is in Atlantis with Working Theater) along with the World Premiere of This is the Color Described By the Time, conceived and directed by Lily Whitsitt and created by Door 10. Tickets (starting at $25) are available for advance purchase at www.newgeorges.org.
"I saw both of these plays in workshops in 2016," said New Georges Artistic Director, Susan Bernfield. "I left both presentations unexpectedly exhilarated -- by sound as a more compelling theatrical element than we'd ever confronted before, bringing us so much closer than we ever expected to the heightened experience of the characters on stage. While both plays are utterly and sonically original, there's a conversation to be had between them; we are eager to take part in it, and we have an absolutely overwhelming desire to share."
SOUND HOUSE is inspired by the haunted and often funny sound worlds of idiosyncratic 20th century British composer Daphne Oram, inventor of Oramics, a precursor to the synthesizer. This multi-strand sound-generating machine serves as a structural model for an architectonic play in which disparate eras, worlds and time signatures collide as Daphne's present-day alter ego, Constance Sneed, investigates the condition of invisibility that plagues her, too, and envisions a world in which old ladies do not die alone or forgotten.
The collaborators have developed the play not only as text but as a "multidimensional object" -- precisely constructed yet constantly shifting -- in which sound not only carves out story, but functions as an experiential road map to the distortions of time and space that are central to Oram's ideas. Their mission: create a true "sound house," an immersive sonic experience.
The design team for Sound House will include Sound Design by Tyler Kieffer and Brandon Wolcott (After the Blast at LCT3; The Profane at Playwrights Horizons), Set Design by Marsha Ginsberg (Master at The Foundry Theater; Angel Reapers with Signature Theater), Costume Design by Olivera Gajec (God's Ear with New Georges/Vineyard Theater; This Was the End at The Chocolate Factory), Lighting Design by Kate McGee (The Hunger Artist at The Tank; My Lingerie Play at Rattlestick Playwrights Theater), and Movement by Brendan Spieth (Those Lost Boys: 10 Year Reunion at Ars Nova).
In THIS IS THE COLOR DESCRIBED BY THE TIME, collaboratively created by the performance laboratory Door 10, audience members wear individual headphones to drop inside the imagined unconscious of avant-garde writer Gertrude Stein. Through this intimate approach, the audience experiences Stein's repeated and unusual phrases as layers of thoughts, voices and memories interwoven into a rich soundscape.
THIS IS THE COLOR DESCRIBED BY THE TIME is a fractured journey through Stein's daily routine in France during World War II as she struggles with writer's block, listens to the radio, shares a meal with Alice B. Toklas, and confronts her own mortality. Dramatizing her friendships with Vichy official Bernard Faÿ and humanist playwright Thornton Wilder, the piece examines Stein's forgotten politics and raises questions about the inextricable link between the political, personal, and artistic.
Door 10 (Lily Whitsitt, Artistic Director) is a laboratory for performance, art and ideas which creates original live performances combining unexpected forms with adventurous content. This is the Color Described By the Time will include Sound Design by Ben Williams (Elevator Repair Service) and Jim Dawson (The Wooster Group), Costume Design by Alice Tavener (PIONEERS#goforth at Jack; I'm Bleeding All Over at LaMama), Lighting Design by Reza Behjat (Tear a Root from the Earth at the New Ohio) and Set Design by Amy Rubin (Miles for Mary with The Mad Ones/Bushwick Starr; How to Live on Earth with Colt Coeur) with Associate Director Jim Dawson and Door 10 line producer and co-founder Sarah Peterson. www.door10.org
New Georges, founded in 1992, is one of New York City's premiere downtown theaters, a strategically small company with a national reputation as a hub and a launchpad for the most adventurous theater artists (who are women) working today. Through productions of boundary-pushing new plays, several varieties of play development programs, and our indispensable workspace, The Room, we support the largest ongoing working community of women theater artists in New York City and have launched an unprecedented generation of women playwrights and directors. Honors for New Georges, its plays and its people include 3 Obie Awards, The Lilly Award, the Susan Smith Blackburn Prize and the Kesselring Prize, and New York Magazine has called New Georges an "important, risk-taking organization."
Notable productions include Hilary Bettis' Alligator, directed by Elena Araoz, the first production in The Sol Project; Kate Benson's 2015 Obie Award-winning A Beautiful Day in November on the Banks of the Greatest of the Great Lakes, directed by Lee Sunday Evans; Marielle Heller's The Diary of a Teenage Girl, directed by Sarah Cameron Sunde and Rachel Eckerling; Eisa Davis' Angela's Mixtape, directed by Liesl Tommy; Jenny Schwartz's God's Ear, directed by Anne Kauffman; Heidi Schreck's Creature, directed by Leigh Silverman; Sheila Callaghan's Dead City, directed by Daniella Topol; and Lisa D'Amour's Anna Bella Eema, directed by Katie Pearl; we have provided critical early-career opportunities to additional playwrights and directors who include Lucy Alibar, Rachel Bonds, Rachel Chavkin, Rachel Dickstein, Portia Krieger, Maria Mileaf, Lila Neugebauer, Jen Silverman, Diana Son, Kathryn Walat, Tracey Scott Wilson, Anna Ziegler and many more. www.newgeorges.org
Related Articles View More Off-Off-Broadway

Stories

Shows
More Hot Stories For You