Click Here for More Articles on NEW YORK CITY
Spiderwoman's 40th Anniversary Celebration Held Tonight at La MaMa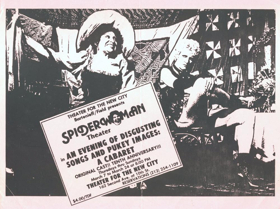 A number of prominent names from the alternative and avant-garde theatre worlds have been added to the roster of the 40th anniversary benefit for Spiderwoman Theater at La MaMa tonight, September 19.
This colorful and impassioned one-night celebration of Spiderwoman - the world's longest-running Native American theatre company, and one of America's longest continuously active feminist performance collectives - is presented by La MaMa in association with Spiderwoman Theater, and produced by Loose Change Productions.
Joining the previously announced line-up of indigenous-feminist performers, bands and performance art groups are: Bette Bourne and Paul Shaw of London's groundbreaking drag theatre group Bloolips; the outrageous lesbian cross-cultural Carmelita Tropicana; radical indigenous Coatlicue Theatre activists The Colorado Sisters (Hortencia & ElVira Colorado), and, from a younger generation, extended electronics violinist Laura Ortman (founder of Coast Orchestra, and all-Native ensemble, and a member of Brooklyn's Stars and Fleas).
Other additions include the folk-country Thunderbird Sisters, the Leaf Arrow Theatre, and Oneida-Oswegan singer Lacey Hill.
The Spiderwoman 40th anniversary celebration, entitled "Lu! Lu! Lu! Lu! Spiderwoman Theater Celebrates 40 Years: A Theatrical Benefit" takes place at the Ellen Stewart Theatre at La MaMa, 66 East 4th Street, on Tuesday September 19 -- with a concert-show at 7:30pm and a rollicking alcohol-free dance-party with live music (at 10:30pm) headlined by acclaimed First Nations electronic group A Tribe Called Red (the darlings of this year's iHeartRadio Much Music Video Awards with their powwow step song R.E.D., winner of Video of the Year and Best Director).
The main show program will also include performances and tributes by Taylor Mac, noted actor/singer/composer Soni Moreno, La MaMa Safe Harbors Indigenous Collective director Murielle Borst-Tarrant, and Kevin Tarrant and The SilverCloud Singers, among others.
The celebration will also feature sets by Obie Award-winning experimental groups Talking Band and Split Britches' Lois Weaver and Peggy Shaw.
Sharing MC duties will be Louis Mofsie, Peggy Shaw and the Carmelita Tropicana. Also appearing are: Alessandra Belloni, Henu Josephine Tarrant, Lois Weaver, Monique Mojica, PJ Rose, Randy Reinholz, ShaRon Day, Sid Bobb, Soni Moreno, and Steve Elm. In addition to a number of video tributes, the evening will include excerpts from live theatre works and a 2002 video of "Persistence of Memory" from Spiderwoman's archives. "Lu! Lu! Lu!" will culminate with a scene from Spiderwoman's "Material Witness," seen at La MaMa last spring, which the NY Times described as "poetic... rowdy and playful, displaying an enormous sense of energy, strength and good will."
Spiderwoman first came onto the New York Theatre scene in 1976, when Muriel Miguel was joined by a diverse group of women, including her sisters Gloria Miguel and Lisa Mayo, to form a theater collective concerned with freely exploring gender and race identity, and questioning the deep-rooted inequities on many levels of the prevailing culture. Hailed by Public Theatre director Oskar Eustis as "one of the most influential Native Theatre companies in the history of the country," Spiderwoman Theater continues to develop their signature creation process -- "storyweaving," which layers personal experiences with elements of comedy, dance, and popular culture -- as well as to make bold forays into the realms of gender roles, stereotypes, and family relationships. Succeeding generations of downtown theater icons like Bloolips, Taylor Mac and the Colorado Sisters have sited Spiderwoman as a seminal influence.
Lu! Lu! Lu! Lu! Spiderwoman Theater Celebrates 40 Years: A Theatrical Benefit at the 299-seat Ellen Stewart Theatre at La MaMa, 66 East 4th Street (between 2nd Avenue and The Bowery), begins at 7:30pm; the after-party featuring A Tribe Called Red at 10:30pm. Events are separately ticketed. Tickets for the show start at $35. A Tribe Called Red's alcohol-free after-party is just $20. Combine both events for $50. Tickets are available at www.spiderwomantheater.org.