Belarus Free Theatre Featuring Pussy Riot, Charles Ludlam Festival and More Slated for La MaMa's 56th Season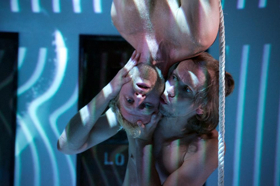 Over 50 productions of local and International Artists will visit the stages of La MaMa during the 2017-2018 season. La MaMa's 56th season highlights artists of different generations, gender identities, and cultural backgrounds, who question social mores and confront stereotypes, corruption, bigotry, racism, and xenophobia in their work.
"I feel an urgent need for the voices of the artists in our 56th Season to be heard now." says Mia Yoo., La MaMa artistic director. "Storytelling is powerful. Reality is often too complicated and stories give us a way to process, question, and shape how we think."
For the first time in La MaMa's 55 year history its landmark building at 74 E. 4th Street is being fully renovated and restored. Ultimately all four buildings of La MaMa's New York campus will undergo ambitious renovations. This project re-imagines the organizations reach. La MaMa is committed to ensuring future artists and audiences will continue to have a home here in New York City. The first phase of this comprehensive multi-year capital project begins this year at 74 East 4th Street, the company's first permanent home, which houses the First Floor Theatre and Club venues.
The 56th Season will take place in The Ellen Stewart Theatre, The Downstairs and the newly created Lounge space all located at 66 East 4th Street.
Highlights of La MaMa's 56th season:
KINGDOM OF EARTH. From Cape Town South Africa comes a rare revival of Tennessee Williams' savage, sexy and darkly comic play. As rain falls and the river threatens to flood the land, three lost souls engage in a brutal power play for the possession of all they've ever known. KINGDOM OF EARTH is directed by Fred Abrahamse with original music by Charl-Johan Lingenfelder. October 4 - 8, 2017
BURNING DOORS. The NY Premiere of BURNING DOORS devised and performed by Belarus Free Theatre featuring Maria Alyokhina of Pussy Riot. Belarus Free Theatre is the leading refugee-led theatre company in the United Kingdom and the only theatre in Europe banned by its own government on political grounds. BURNING DOORS examines how art persists under oppression through the prism of persecuted artists who will not be silenced. October 13 - 22, 2017
CONQUEST OF THE UNIVERSE. On the 50th Anniversary of The Ridiculous Theatrical Company and 30 years since Ludlam's death, La MaMa celebrates the artistry of Charles Ludlam. The centerpiece of the Ludlam Festival is a fully produced revival of Ludlam's early masterwork CONQUEST OF THE UNIVERSE OR WHEN QUEENS COLLIDE directed by Everett Quinton. CONQUEST OF THE UNIVERSE is an epic collage inspired by Marlowe's Tamburlaine the Great that is as outrageous and timely today as when first performed in 1967. November 2-19, 2017
UNEXPLODED ORDNANCES (UXO) after a workshop presentation last season, Split Britches (Peggy Shaw and Lois Weaver) presents the world premiere of UNEXPLODED ORDNANCES (UXO). Created through conversation and collaboration with an array of elders and artists UNEXPLODED ORDANCES (UXO) is an exploration of ageing, anxiety, and 'doomsday.' The performance is set with an imposing roundtable, echoing Stanley Kubrick's Strangelove's War Room. January 4 - 21, 2018
PANORAMA PART 1. Italy's Motus Theatre returns to La MaMa to direct and devise a new work, in collaboration with Great Jones Repertory Company, centered on issues of immigration and race. As immigration rises to the fore of national and global debate, PANORAMA PART 1 delves into the heart of this political issue by revealing a human narrative of departure and remembrance. The performance is an open reflection upon the human need to be in movement and the right to migration. December 28, 2017 - January 21, 2018
IT'S ALL TRUE Brooklyn-based Object Collection operates within the intersecting practices of performance, experimental music and theater. Their newest piece, IT'S ALL TRUE, locates the agitated state that surround moments of impact, and lingers there - never releasing from impending catharsis. IT'S ALL TRUE is created from 1000 hours of concert recordings from a single post-hardcore band cut up and arranged to ignite the ecstatic peak of limitless potential. January 25 - February 11, 2018
TIME NO LINE. Renowned performance artists John Kelly will perform the World Premiere of TIME NO LINE. The performance utilizes themes and details of John Kelly's personal history as a survivor of a generation of artists that was decimated by the AIDS pandemic. This solo performance work integrates movement, song, live drawing, and interactive projection as the components of a live dramatic autobiographical narrative. February 22 - March 11, 2018
DISTANT OBSERVER: NEW YORK/TOKYO CORRESPONDENCE is written and directed in collaborative partnership by American playwright John Jesurun and Japanese playwright Takeshi Kawamura. Each artist will alternate writing a ten-minute section, in their native language, in response to each other's writing. Each section is translated into the other language so that the playwrights can respond. DISTANT OBSERVER: NEW YORK/TOKYO CORRESPONDENCE is both directly connected to and observing from a distance the cities of New York and Tokyo. March 15 - April 1, 2018
SEAGULLMACHINE. Smashing together two iconic riffs on Hamlet, Anton Chekhov's The Seagull and Heiner Muller's Hamletmachine, SEAGULLMACHINE explores what it means to become trapped in your own illusions and the radical transformations needed to break free of them. This genre-breaking project, conceived by The Assembly's Nick Benacerraf, dramatizes the role of the troubled activist-intellectual who revolts against social paralysis. April 12 - 29, 2018
La MaMa's 56th season also features several works and events that focus on issues of indigenous persons as part of the Safe Harbors Indigenous Collective including:
· ALAXSXA/ALASKA. The NY Premiere of ALAXSXA/ALASKA directed by Ping Chong and Ryan Conarro weaves puppetry, video installations, recorded interviews, and yuraq (Alaska Native Yup'ik drum and dance) in a collage of striking contemporary and historical encounters between indigenous Alaska Native communities and newcomers to the Great Land. October 12-29, 2017
· DON'T FEED THE INDIANS. Indian show business meets the Doctrine of Discovery in the World Premiere of Safe Harbors Indigenous Collective's DON'T FEED THE INDIANS. Written and directed by Murielle Borst-Tarrant, DON'T FEED THE INDIANS is a comedic look at the marginalization and appropriation of Indigenous cultural and intellectual property. Based on Dante's Inferno, DON'T FEED THE INDIANS, is a raucous political satire putting the language of the Discovery Doctrine into framework of the groundbreaking 14th century poem.November 2-19, 2017
· SPIDERWOMAN THEATRE'S 40th ANNIVERSARY - one night only celebration of the work of Spiderwoman Theatre including samples of the company's "storyweaving" and a dance party by First Nation's electronic group A Tribe Called Red. September 19, 2017
· INDIAN MARKET - offering a unique shopping opportunity for visitors to purchase traditional and contemporary works-including silver and semi-precious jewelry, ceramics, fine apparel, handwoven baskets, traditional beadwork, dolls, paintings, prints, and sculpture-by some of the finest Native American artists from across the Nation. December 1 - 3, 2017
· A New Work by Heather Henson and Ty Defoe from IBEX Puppetry. February 8 - 19. 2018
Ellen Stewart PRESENTS. To celebrate the publication of the new book, Ellen Stewart PRESENTS by Cindy Rosenthal, La MaMa presents an exhibit this fall showing a collection of posters from the last fifty years of the theater complex at its 66 East 4th Street location. The Exhibit captures the irreverence and the aesthetic of the Off-Off-Broadway power house over its first five decades and will fascinate anyone interested in the history of Off-Off-Broadway, the cultural history of New York City, or visual culture from the '60s to the present. October 18 - December 31, 2017
LA MAMA MOVES! The Company's 13th annual dance festival features multiple generations of choreographers from different backgrounds, whose work deals with the day-to-day political, social, and ecological challenges facing our world. This season LA MAMA MOVES highlights the freshly-experienced narratives of emerging queer and trans choreographers of color. May 2018
La MaMa's wildly popular family series LA MAMA KIDS returns this season with a line-up of Family Friendly productions and workshops from artists including a show by Heather Henson and Ty Defoe in February; Jane Catherine Shaw back with a new puppet performance in September; Winter Wonderland , a site-specific holiday performance in December; an adaptation of Don Quixote by Loco 7 Dance Puppet Theatre, directed by Federico Restrepo in April; Perry Yung and Slant Performance Group'sFamily Play Date in June as well as workshops throughout the season by artists such as Potri Ranka Manis and CultureHub.
COFFEEHOUSE CHRONICLES La MaMa's COFFEEHOUSE CHRONICLES, the Saturday afternoon educational performance series exploring the history and development of Off-Off Broadway, continues this season with topics including: Maria Irene Fornes, Charles Ludlam, Mario Montez, Jeff Weiss, Kenneth Bernard, Tom O'Horgan and the history of La MaMa's theatres at 74A East 4th Street.
CULTUREHUB the art and technology incubator, founded by La MaMa and Seoul Institute of the Arts, return with their CoLab series, an intensive educational summer program offered to local teens. As well as ARTCADE CON, an interactive exhibit of independent video game art; and distance workshops.
LA MAMA SQUIRTS. Returning for a 6th year, a collection of the brashest new voices of the queer stage peek into the future of underground, revolutionary queer art-making. Feb. 15 - 25, 2018
POETRY ELECTRIC La MaMa's popular poetry reading series will return this season with timely words and solo performances from women and other artists who support the vision of the Women's March and its focus on equality, justice, diversity, inclusion, and acceptance.
La MaMa's ongoing EXPERIMENTS PLAY READING SERIES, returns this season. Titled "Parts for Meryl Streep," this the season is focuses on playwrights whose work features a dynamic leading character worthy of the "best actress of her generation." Nasser will select work based on the themes Meryl has championed throughout her career: empathy, diversity and activism. Artists invited to participate include: Justin VivIan Bond, Alan Cumming, Erin Markey, Jill Pangallo, Michael Schulman, and ReGina Taylor.
LA MAMA ARCHIVES. La MaMa has received a generous grant of $100,000 from the National Historic Records and Publications Commission. This funding will support a collaborative project to expand access to archival video footage that document the work performed on La MaMa stages in the 1970's. La MaMa continues its Archive Open Houses on the first Thursday of each month allowing audiences to tour the La MaMa Archives beginning on October 5th from 5:30 - 7pm.The digital collection can be accessed at catalog.lamama.org.
La MaMa's 56th season also includes new works by: Alessandro Sciarroni (part of Crossing the Line Festival), Karole Armitage, Dario D'Ambrosi, Pioneers Go East Collective, Tony Whitfield, Kinetic Light, Jane Comfort,Romana Soutus , Theodora Skipitares and more. For more information about La MaMa's 56th season, visit lamama.org.
La MaMa continues its popular Experimental Theatre Club Memberships, offering $10 Tickets to all shows and other perks to members for the full season. Memberships start at $56.
La MaMa is dedicated to the artist and all aspects of the theatre. The organization has a worldwide reputation for producing daring performance works that defy form and transcend barriers of ethnic and cultural identity. Founded in 1961 by award-winning theatre pioneer Ellen Stewart, La MaMa has presented more than 5,000 productions by 150,000 artists from more than 70 nations. A recipient of more than 30 Obie Awards and dozens of Drama Desk, Bessie, and Villager Awards, La MaMa has helped launch the careers of countless artists, many of whom have made important contributions to American and international arts milieus.
Our 56th season reflects the urgency of reaffirming human interconnectedness. Our stages will embrace diversity in every form and present artists that persevere with bold self-expression despite social, economic, and political struggle.
For more, visit www.lamama.org.
Pictured: Burning Doors by Belarus Free Theatre. Photo by Nicolai Khalezin.