Photo Flash: New Images from Wakka Wakka's SAGA at Baruch Performing Arts Center
The Obie Award-winning and Drama Desk-nominated
Wakka Wakka Productions
presents the World Premiere of SAGA, written by
Kirjan Waage
and
Gwendolyn Warnock
, with assistance from the SAGA ensemble, and directed by
Kirjan Waage
and
Gwendolyn Warnock
. SAGA features original puppets by
Kirjan Waage
and original masks by
Gwendolyn Warnock
. BroadwayWorld has new photos from the production below!
Iceland. Family. Crisis... Gunnar Oddmunson's life is in ruins. He is standing alone with a shovel in his hands, wondering how it all went wrong. He was feeling lucky, successful, and had big dreams for the future before the Icelandic economy collapsed, setting a new world record in national bankruptcy. Now he dreams only of justice. When his family abandons him and the bank takes his house and car, Gunnar's ancient Norse desire for blood revenge awakens. The battle has begun...
Brought to you by the Obie Award-winning and Drama Desk-nominated company Wakka Wakka, SAGA, a modern Icelandic Epic, features 30 puppets, ranging from 3 inches to 10 feet, portrayed by an international cast of puppeteers from Iceland, Norway, Ireland and the USA.
The cast includes puppeteers Kirjan Waage (Norway), Andrea Ösp Karlsdóttir (Iceland), Andrew Manjuck (USA), Fergus J. Walsh (Ireland), Elizabeth Hara and Conan Magee (USA).
The creative team includes Kirjan Waage and Gwendolyn Warnock (Set Design), Jan Erik Skarby (Lighting Design), Gwendolyn Warnock (Costume Design) and Wakka Wakka (Sound Design). The Executive Producers are Gabrielle Brechner (USA) and Kirjan Waage (Norway).
Wakka Wakka Productions is a non-profit visual theatre company based in NYC. Their mission is to push the boundaries of the imagination by creating works that are bold, unique and unpredictable. Since 2001 Wakka Wakka has created and produced eight original works of theatre which have toured extensively throughout the U.S. and abroad. All of Wakka Wakka's productions have been highly physical, overlapping in a wide range of styles, including grotesque, absurd and clown, incorporating elements such as object manipulation, puppetry, masks and original music.
SAGA is co-produced by Nordland Visual Theatre, co-presented by the Baruch Performing Arts Center, and is funded in part by The Jim Henson Foundation, The NY State Council on the Arts and The Norwegian Arts Council.
SAGA runs Off-Broadway through April 14, 2013 in a limited 6-week engagement at the Baruch Performing Arts Center, located at 55 Lexington Avenue in New York City (enter on 25th Street between 3rd Avenue & Lexington Ave.). The show officially opened on March 14. Performances are Wednesdays - Saturdays at 8pm, and Sundays at 2pm and 7pm. Tickets are $35 and $30 for students/seniors and can be purchased online at www.WakkaWakka.org or by calling 1-866-811-4111. Tickets for previews are $20. The running time is 65 minutes. The show is appropriate for ages 16 and up. The theater is accessible from the #6 train to 23rd St., or the N or R train to 23rd St.
Photo Credit: Jim Baldassare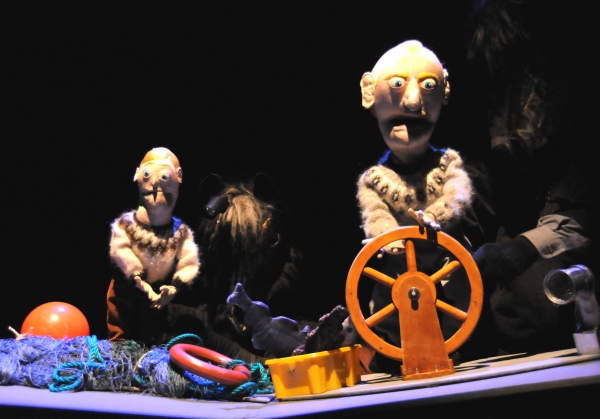 Puppets Oli Oddmunson (Gunnarâ€s son) and Gunnar Oddmunson

Puppets Helga Oddmunson (middle-Gunnarâ€s wife) and Gunnar Oddmunson (far right) sign for a loan.

Puppets Oli Oddmunson (Gunnarâ€s son), Helga Oddmunson (Gunnarâ€s wife) and Gunnar Oddmunson admire the new family car.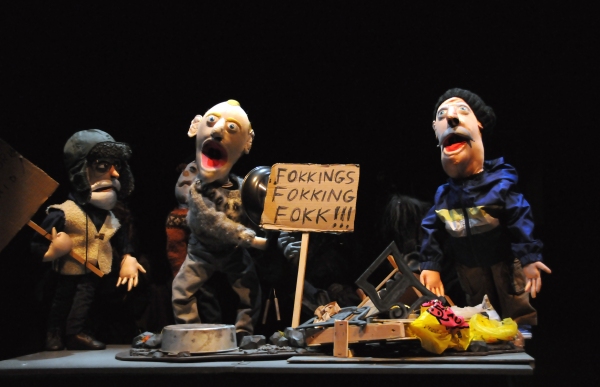 Puppet Gunnar Oddmunson (center) and fellow protesters.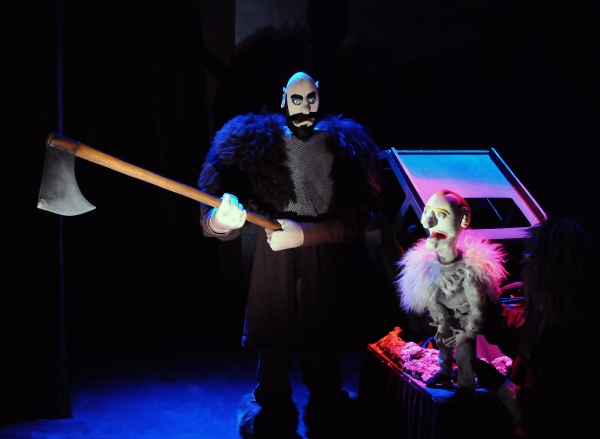 Viking and Gunnar Oddmunson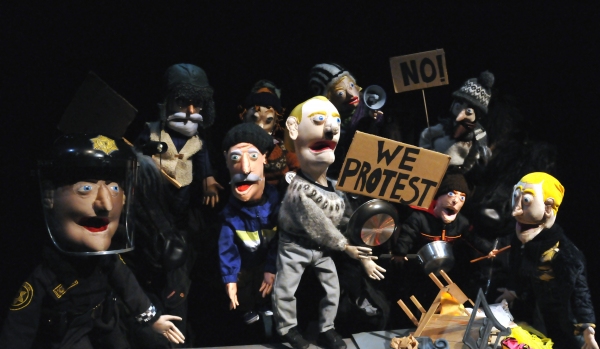 Puppet Gunnar Oddmunson (center) and fellow protesters