Photo Flash: First Look at New Off-Broadway Musical THE LOVE NOTE
THE LOVE NOTE, a spirited new musical with "the exuberance of Hairspray and the sweet innocence of Bye Bye Birdie"(Boston Theater Mirror), is set to officially open Off-Broadway Tuesday, November 11th. Performances are underway now at Actors Temple Theatre.
Book, music & lyrics for THE LOVE NOTE are by Gail Phaneuf. Russell Garrett directs a cast of 21 including Nick Anastasia, Blair Heather Anderson, Megan Beard, Mark Blowers, Kathleen Cameron, Adam Cavalieri, Grace Olson-Davidson, Jeff Deglow, Lauren DeFilippo, Jessie Fallow, Kelsey Flynn, Rosanne Gully, Sam Harvey, Katie Rose Ialacci, Kevin Ray Johnson, Bethany McCall, Katie Mebane, Jenna Perez, Courtney Rada, Justin Selig, and Ariella Serur.
THE LOVE NOTE finds young Jessie at a new school where she attempts to navigate the lunchroom bullies, tween fashionistas and a new crush. Jessie's lonely school lunches are heartened by the tiny pink love note her mother packs into her brown paper bag each day, but once chief-bully Brittany bites into her snatched sandwich, Jessie knows she's in trouble. Facing the challenge with her magical friend Airy, they concoct a spicy strategy to help Jessie stand up for herself. THE LOVE NOTE explores the trials of being the new kid, learning the ropes of self-reliance and survival techniques that carry into adulthood.
The creative team for THE LOVE NOTE includes Rachael Ziering (Musical Director), Josh Iocavelli (Set Designer), Carol Sherry (Costume Designer), Josh Danzig (Lighting Designer), and James Farrelly (Executive Producer).
The Love Note Project at www.TheLoveNote.com, redefines the power of a lunch "packed with love," by allowing parents to share their own love notes to spread their support and help stomp out teen bullying. Curriculum specialist Kelly Schell shares, "A love note provides a simple example of parental love and support through the tiny written gesture in a child's lunch, but the impact is so powerful ... not only for Jessie, who is only reaffirmed in the knowledge that she is loved and cared for, but also for Brittany and the 'mean girls' who desperately want that supportive love and family attention to be present in their own lives."
THE LOVE NOTE is the creation of Boston-based playwright, composer and Curry College Playwright-in-Residence Gail Phaneuf. She is an award-winning writer and director of numerous works including Monsters! The Musical.
THE LOVE NOTE plays Wednesdays at 11 AM and Sundays at 10 AM at Actors Temple Theatre, 339 West 47th Street (between Eighth & Ninth Ave.) There will be a special added performance this Monday, November 3rd at 7 PM. Tickets are $39.50 and are available through Telecharge.com 212-239-6200.

The Bullies in THE LOVE NOTE

The Bookworms in THE LOVE NOTE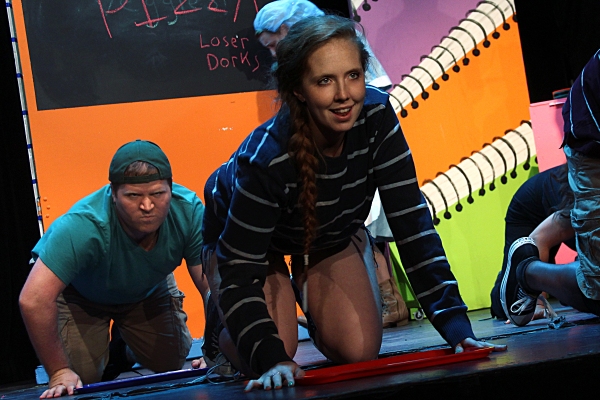 The Bullies in THE LOVE NOTE

LAUREN DeFILIPPO as Katty and Katie Mebane as Brittany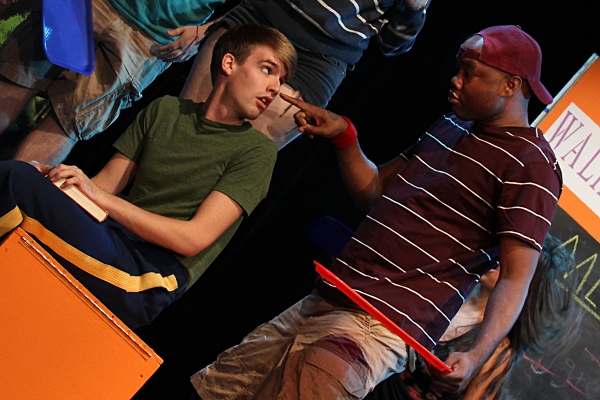 Mark Blowers and KEVIN Ray Johnson

Courtney Rada as Airy and BETHANY McCALL as Jessie

The Bookworms and the Bullies

SAM HARVEY as Peter and BETHANY McCALL as Jessie