Photos: THE VIEW UPSTAIRS Celebrates 100th Performance
The View UpStairs - the provocative new musical written by Max Vernon, directed by Scott Ebersold and choreographed by Al Blackstone - celebrated its 100th performance on Friday, May 19 at 8:00 PM. To celebrate this landmark, the show harnessed the power of community to benefit Point Foundation, the nation's largest scholarship-granting organization for lesbian, gay, bisexual, transgender and queer students of merit. For the 100th performance, The View UpStairs will donated 30% of proceeds from all full-priced ticket sales to Point Foundation.
The View UpStairs, presented by Invisible Wall Productions, is running Off-Broadway throughSunday, May 21 at The Lynn Redgrave Theater at Culture Project (45 Bleecker Street). James Dobinson serves as Music Supervisor and Orchestrator.
The View UpStairs "takes your breath away!" (Time Out New York). This provocative new musical pulls you inside the UpStairs Lounge, a vibrant '70s gay bar in the French Quarter of New Orleans. The forgotten community comes to life when a young fashion designer from 2017 buys the abandoned space, setting off an exhilarating journey of seduction and self-exploration that Entertainment Weekly calls "a moving homage to LGBT culture, past and present." Filled with "beautiful love songs performed by a soulful ensemble cast" (The New Yorker), it's "an eye-popping roller coaster for the visual senses" with "a jambalaya of sexed-up tunes! Sung by an outstanding cast, The View UpStairs has all of the ingredients for an iconic cult phenomenon!" (Edge Media Network).
Point Foundation is the nation's largest scholarship-granting organization for lesbian, gay, bisexual, transgender and queer (LGBTQ) students of merit. Point promotes change through scholarship funding, mentorship, leadership development, and community service training. Point's work is vital because one-third of LGBTQ students drop out of high school to escape violence, harassment, and isolation- a dropout rate nearly three times the national average. As a result, many LGBTQ students say they are not planning to apply to college. Point empowers promising LGBTQ students to achieve their full academic and leadership potential so that they can attain their higher education degrees, and make a significant impact on society. www.pointfoundation.org
The cast of The View UpStairs features Jeremy Pope (Invisible Thread, Choir Boy) as Wes, Taylor Frey (How to Succeed...,South Pacific) as Patrick, Nathan Lee Graham (Priscilla Queen of the Desert, Zoolander) as Willie, Frenchie Davis (Rent, "The Voice") as Henri, Benjamin Howes(Scandalous, Mary Poppins) as Buddy, Michael Longoria (Jersey Boys, Hairspray) as Freddy, Ben Mayne as Dale, Nancy Ticotin (Gotta Dance, Bernarda Alba) as Inez, and April Ortiz as Rita, in addition to Richard E. Waits and Anthony Alfaro.
Through its developmental history, selections from The View UpStairs have been performed at New York Stage and Film, Joe's Pub, Goodspeed Opera House, NYU, The Living Room, Two River Theater, The Dramatist Guild, Pride Films and Plays and the Rhinebeck Writers Retreat. A concert version was presented at Rattlestick Playwrights Theater in July to raise money for Equality Florida to benefit the victims of Pulse Orlando.
The View UpStairs will be performed on Tuesday, Wednesday and Thursday at 7:00 PM, Friday at 8:00 PM, Saturday at 6:00 PM and 10:00 PM and Sunday at 6:00 PM. The show is at The Lynn Redgrave Theater at Culture Project (45 Bleecker Street, New York, NY 10012). Tickets, which are available at www.TheViewUpStairs.com, are $45-79. Student Rush ($25) and General Rush ($30) tickets are available at the Box Office one hour prior to curtain, cash only
Photos courtesy of The View UpStairs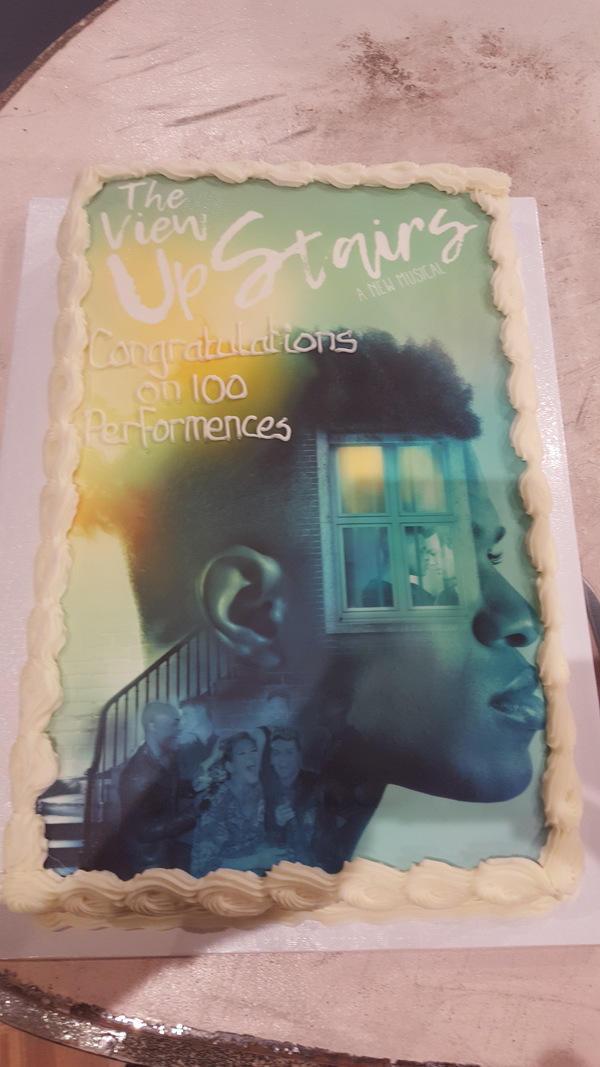 The Cake
Jeremy Pope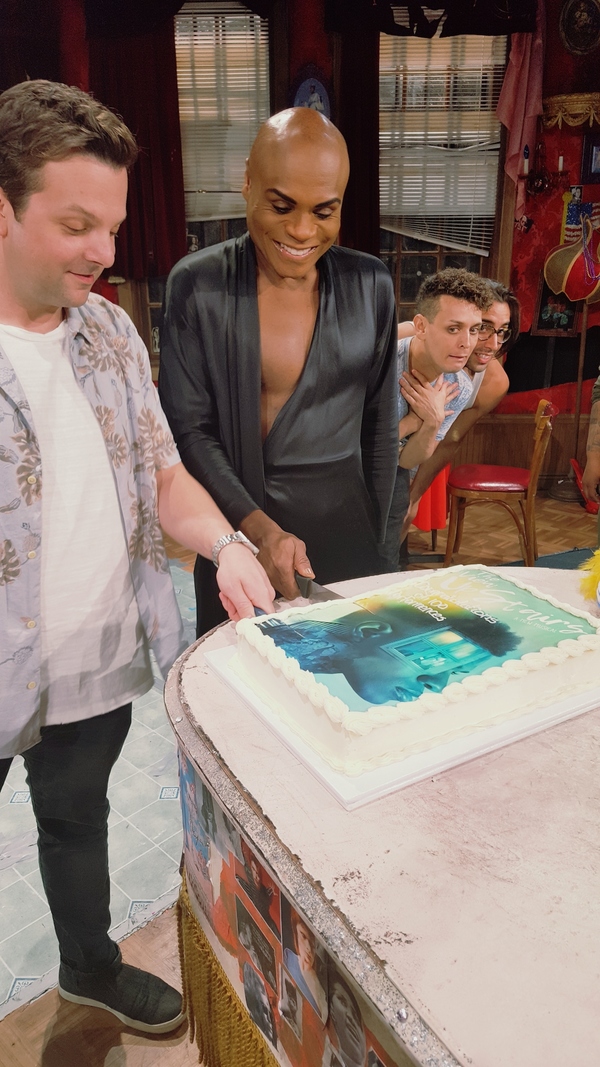 Cutting the cake with director
Scott Ebersold
, and cast members
Nathan
Lee Graham
,
Michael Long
oria and
Anthony Alfaro
.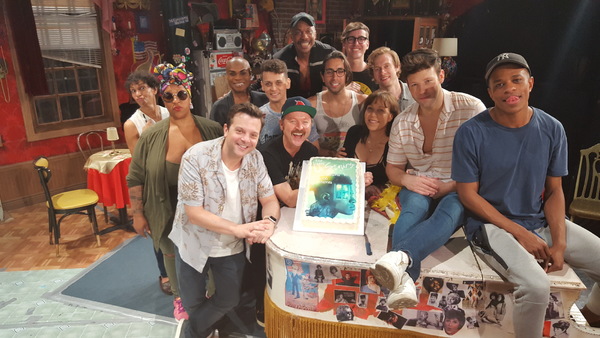 The cast of The View UpStairs: Front row: Director
Scott Ebersold
,
Benjamin Howes
,
April Ortiz
,
Taylor Frey
,
Jeremy Pope
Middle row:
Nancy Ticotin
,
Frenchie Davis
,
Nathan
Lee Graham
,
Michael Long
oria,
Anthony Alfaro
,
Ben Mayne
Back row:
Richard E. Waits
and Music Director
James Dobinson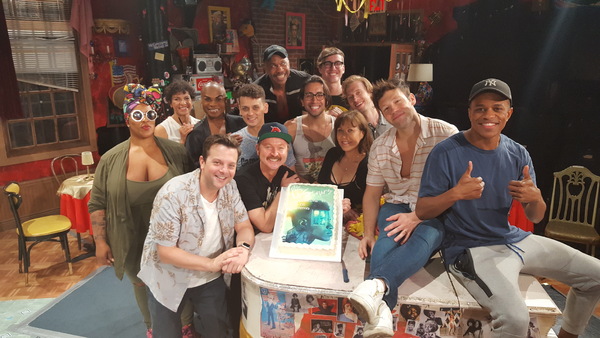 Front row: Director
Scott Ebersold
,
Benjamin Howes
,
April Ortiz
,
Taylor Frey
,
Jeremy Pope
Middle row:
Frenchie Davis
,
Nancy Ticotin
,
Nathan
Lee Graham
,
Michael Long
oria,
Anthony Alfaro
,
Ben Mayne
Back row:
Richard E. Waits
and Music Director
James Dobinson
The cast and crew of The View UpStairs
The cast and crew of The View UpStairs with producer Jenny Ainsworth