Review: VIVIAN'S MUSIC 1969 at 59E59 Is An Enthralling Two-Hander
"Maybe it's better there's just some things you never figure out."
By Vivian in Vivian's Music 1969
There's a distinctive play being performed at 59E59 Theaters. Vivian's Music, 1969 is a two-hander that tells a compelling story about the struggle of African Americans living in the segregated Midwest in the late '60's. Inspired by real events, the play is written by Monica Bauer, directed by Glory Kadigan, and stars Rusell Jordan and Kailah S. King.
Vivian is a young teen who has a love of jazz music as does Luigi, a black musician who has returned to town to revive the Dreamland Ballroom. When Vivian learns that Luigi could be her real father, she visits the Ballroom to listen to his music and wonders if they will every meet face to face. She tries to remain "invisible" but with racial tensions running high, events occur that are beyond anyone's control.
Kailah S. King as Vivian and Rusell Jordan as Luigi master their respective roles. They also portray other characters to round out their stories. King plays parts that include her activist boyfriend, Duane; her mother, Carol Lee; and her older sister. Jordan presents characters that include his mother; a local banker; the Polish musician, Old George; Old George's wife and his young music student, Mary Helen. The two actors' performances couldn't be better.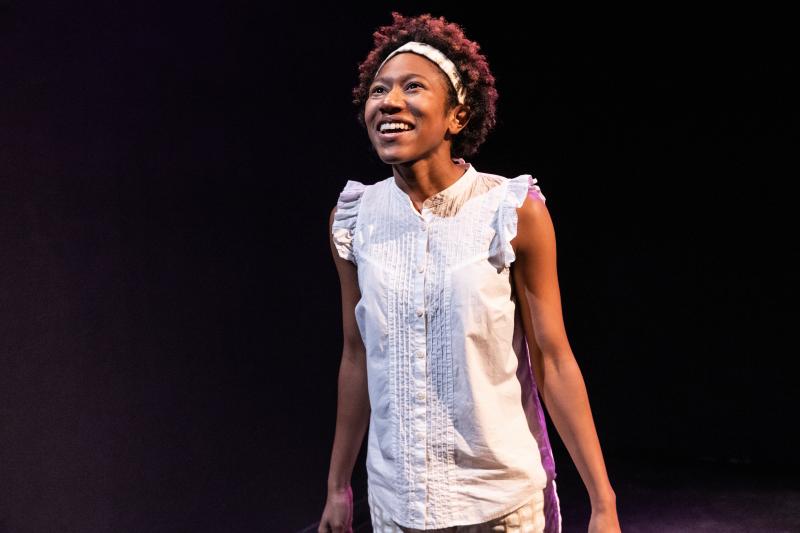 The Creative Team has done a top job of bringing the show to 59E59 Theaters' intimate space. They include costume design by Janet Mervin; lighting design by Benjamin Ehrenreich; and sound design by Andy Evan Cohen. The Production Stage Manager is Maxwell Waters.
Vivian's Music 1969 is depicts moments that are heartrending, insightful and at times, very humorous. Monica Bauer's superbly written play paints a vivid picture that is absolutely enthralling. See it while it is on the Upper East Side stage.
Vivian's Music 1969 will be performed through Sunday, December 2 in Theater B. 59E59 Theaters is located at 59 East 59th Street (between Park and Madison Avenues). For more information, call the Box Office at 646-892-7999 or visit https://www.59e59.org/.
Photo Credit: Al Foote III