French Quarter Festival Presented By Chevron Music Announces 2019 Lineup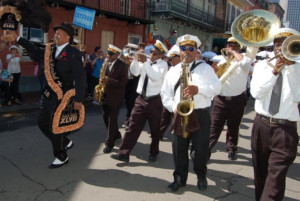 The months of January and February is one for the record books. We are already in March in preparation for March Madness. Take heart, Spring is just around the corner.
This is good news for the global music and food aficionados gearing up for their annual trek to the Crescent City of New Orleans in the upcoming months.
The City of New Orleans has a plethora of cultural events planned to welcome the throngs of visitors.
French Quarter Festival, Inc. proudly announces the highly anticipated music line-up for the French Quarter Festival presented by Chevron, which takes place April 11-14, 2019.
It comes as no surprise that the French Quarter Festival is consistently voted 'local favorite' while attracting a tremendous out of town audience. The real draw and appeal are the authenticity: festival goers can experience a broad range of Louisiana artists from a variety of genres. In 2019 the free festival will feature music from more than 250 acts on 23 stages throughout the historic French Quarter. The Chevron Stage, a longtime Cajun/Zydeco destination, will expand its Evening Concert Series programming to showcase more genres with headliners George Porter, Jr. & the Running Partners, Jon Cleary, Flow Tribe and Rockin' Dopsie.
2019 French Quarter Festival will feature additional headliners debuts, Galactic, Bill Summers & Jazalsa, Brass-A-Holics, Big Chief Bo Dollis, Jr. & The Wild Magnolias, Grammy winner Irma Thomas, Cyril Neville, Erica Falls, Little Freddie King and Grammy nominated and Billboard Top 20 Recording Group Water Seed and more.
In addition to showcasing Louisiana legends, French Quarter Festival embraces emerging talent and is proud of the countless musicians who have achieved international fame since their festival debut. In that spirit, dozens of new artists are included in the line-up. In addition to Galactic, 2019 brings 43 debuts including Big 6 Brass Band, Keith Burnstein's Kettle Black, Lil' Glen & Buckatown, The Royal teeth and Magnolia Sisters. The line-up also includes many musicians and debuts whose performances were cancelled due to inclement weather during the 2018 festival; these artists were rebooked if possible.
French Quarter Festival presented by Chevron is produced by French Quarter Festival, Inc. (FQFI) the 501(c)3 nonprofit organization, which also produces Satchmo SummerFest in August and Christmas New Orleans Style in December. FQFI's mission is to promote the Vieux Carre and the City of New Orleans through high quality special events and activities that showcases the culture and heritage of this unique city, contribute to the economic well being of the community and instill increased pride in the people of New Orleans.
Please visit www.fqfi.org for more information about the French Quarter Festival schedule (release March 22nd), special events as well as Food vendors.
More Hot Stories For You