This Black Today, Party Like It's 1977 with Disco Inferno at White Eagle Hall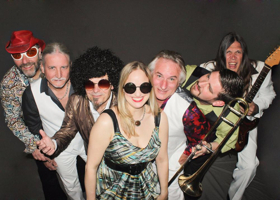 This Black Friday Party like it's 1977 with Disco Inferno at White Eagle Hall.
Everyone can catch Saturday Night Fever again with Disco Inferno, the wildest retro dance party in the Northeast. It's time to squeeze back into those bell bottom jeans. Guys grab your widest collars, put on your platform shoes and ladies make sure your hair is big and feathered just right, it's time to party like it's 1977!
The Golden Age of Disco returns with Disco Inferno - a live music dance party, complimented by a DJ - that promises to be a non-stop boogie down affair. Disco Inferno features New Jersey's favorite disco/funk dance band Bonefide, and DJ Sal Principato spinning hits in between sets and all night afterwards. Disco Inferno starts on Friday, November 24th and lasts until Saturday morning, and is hosted by White Eagle Hall in Jersey City
The dance extravaganza is headlined by Bonefide, the high-energy disco/funk dance band from New Jersey who claims they were "formed just for the funk of it." The band will perform interpretations everybody's favorite disco classics along with soulful selections of R&B, Funk and Rock Classics. This is one Jersey band who knows how to keep the dancers dancing.
Bonefide is fronted by John Donadeo who shares lead vocals with Alyssa Beckerman, a veteran of the Asbury Park music scene and Ernie Muhlback on guitar, a North Jersey pro. It also includes a three-piece rhythm section consisting of Kevin Smith on vocals and percussion, Skip Hopkins, a Florida club regular, on drums and Mike Soga, a member of many a New Brunswick band on bass. Bonafide's newest member is Lauren Lastimosa on keyboard and vocals. The band also features a three piece horn section comprised of some of the best horn players in the Garden State.
During their years together, Bonefide have twice appeared at the Bourbon Street Blues Festival, won the Surf City battle of the Bands and have been featured at clubs and bars from South Jersey to North Jersey They are currently a regular act at the Old Bay in New Brunswick. When Bonefide plays the dance floor isn't empty for long!
Disco Inferno festivities will be led by DJ Sal Principato, a long time veteran of the NYC music scene - he was a founding member of the seminal punk funk outfit Liquid Liquid. Principato will be spinning underground as well as new disco nuggets.
What better way to spend Black Friday by dancing the night away?
Originally constructed in 1910, the newly restored White Eagle Hall is an impressive new venue for arts and entertainment, including concerts, theater, performances and other events in the New York/New Jersey Metropolitan area. White Eagle Hall features complete food & beverage service, with two bars on the mezzanine level and one on the balcony level. The restoration enhanced the intimacy and charm of this historic venue while adding the latest in sound and lighting technology, creating a distinctive and memorable audience experience.
IF YOU GO:
DISCO INFERNO: LIVE MUSIC DANCE PARTY!
w/ Bonefide & DJ Sal Principato
Friday Nov 24
Doors: 8:00/Show: 9:00
At White Eagle Hall, 335-337 Newark Avenue, Jersey City, NJ 03720
To purchase tickets, visit www.WhiteEagleHallJC.com.
More Hot Stories For You