The Performing Arts School At BergenPAC Presents BEAUTY AND THE BEAST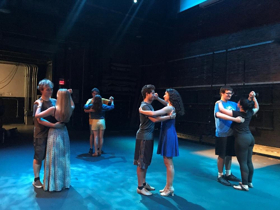 Get ready to "Be Our Guest" as The Performing Arts School at bergenPAC (PAS) presents Disney's Beauty and The Beast, through special arrangement with Music Theatre International. The production is directed by Alexander Diaz with choreography by Rebecca Sonia and music direction by Glenn Gordon. Show times are Aug. 2-3 at 8 p.m.; Aug. 4-5 at 3 & 8 p.m.
Performances will feature two casts of talented teens from around North Jersey, with just two roles played by the same actors. Gianna Grosso, of Park Ridge, will star as Belle. A musical theatre major at Montclair State University, Grosso shined in last summer's production of West Side Story as Anita. Patrick Mullen, of Cedar Grove, will play Belle's father, Maurice, with both casts as well.
Grosso was excited for the chance to play Belle.
"I love that she's a kind and understanding person, yet also strong and independent," Grosso said. "She shows that it's OK to be different from other people and thrives on that instead of letting it bring her down."
Nick Halecki of Secaucus, who's also studying musical theater at Montclair State, plays Lumiere in one of the casts.
"Lumiere is just a fun character. I'm portraying him as a father figure for the Beast," Halecki said. "He's the fun dad."
Joe Baez of Ridgefield Park, who will study musical theater at Montclair State in the fall, is looking forward to playing the Beast because it lets him try something different than his usual comedic roles.
"I always wanted to play a romantic role," he said. "I really feel the sadness in the Beast's song 'If I Can't Love Her.' That's something I really wanted to feel as an actor."
Damon Vincenty of Westwood, who will study musical theater at Rider University in the fall, previously played Gaston in his high school's production and is also the Beast.
"I can show more depth in this character," Vincenty said. "He starts as a monster and then has a softer side, showing he's a more caring person deep down."
Students also serve in production roles. Elmer Cruz of Fairview, who's also in Montclair State's theater program, is the Assistant Director after performing in the last two PAS musicals.
"I was at all the auditions and call backs and production meetings. It's giving me more information on the business side of theater and not just the performing," Cruz said. "This helps me grow because I see what they look for in auditions so that can help with my acting too."
The PAS doesn't charge tuition for its musicals, but everyone sells ads for the show program to help fund the production. The students work several hours a day to prepare. Grosso says the professionalism of the rehearsal schedule really stands out at the PAS musicals, but also the warmth and support from the cast, crew and professional teaching staff.
"We're coming back a year later and haven't seen each other in what seems like so long and you feel the love so much and come together so quickly," Grosso said. "There's an overwhelming love that people have for each other here."
Vincenty agrees and says the welcoming tone is felt throughout the process.
"This program is so accepting. There's a lot of diversity so it's not just a certain type of people that get casted for parts," he says.
Baez said one of the best things about bergenPAC is that the tuition is through selling program ads instead of them charging like $800 like other programs.
"But my favorite thing about this experience is the friendships I made here," he said.
That camaraderie will be on full display when everyone takes the stage to present this classic Disney tale.
FULL CAST LIST
BELLE: Gianna Grosso, Park Ridge
BEAST: Damon Vincenty, Westwood; Joe Baez, Ridgefield Park
GASTON: Gabe Borges, Cliffside Park; Matt Rella, Hasbrouck Heights
LEFOU: Colton Maurer, Mahwah; Nicholas Ducusin, Secaucus
LUMIERE: Nick Halecki, Secaucus; Andre Aultmon, Hackensack
COGSWORTH: Mike Digangi, Morris Plains; Adam Halecki, Secaucus
MRS. POTTS: Emily Decker, Annandale; Sara Bartoszek, Hoboken
MADAME GRAND LA BOUCHE: Reilly Wilmit, Tenafly; Alyxandria Batty, Guttenberg
BABETTE: Candice Belina, Paramus; Hailey Karlich, Paramus
CHIP: Tomer Ophir, Tenafly; Anna Calev, Dumont
D'ARQUE: Nick Gallucci, Paramus; Dylan Lynch, Dumont
MAURICE: Patrick Mullen, Cedar Grove
SILLY GIRLS: Reilly Sylvester, Carlstadt, Brielle Raddi, Cedar Grove Carleigh Boyle, Hillsdale, Marina Robles, Westwood, Evelyn Gonzalez, Jersey City
WOMEN IN ENSEMBLES: Kelly King, Teaneck, Cassie Skinner, River Edge, Marley Franklin, Ridgefield, Eva Luna Taveras, Teaneck, Maria Rivera, Paramus, Delia Stiles, Hillsdale, Reilly Sylvester, Carlstadt, Evelyn Gonzalez, Jersey City, Sarah Bartoszek, Hoboken
ENCHANTED OBJECT ENSEMBLE: Emilee Rodriguez, Bloomfield, Isabella Urdaneta, Cliffside Park, Sarah Villarini, Hackensack, Amanda Chaplain, New Milford, Reilly Hacker, Saddle Brook, Josephine Dipietra, Dumont, Yurianna Botero, Dumont, Bonnie Sue Godoy, Englewood, Marina Robles, Westwood
Olivia Ventura, Secaucus, Lauren Miglietta, Cresskill, Emily Marquez, Bergenfield, Christina Scanlon, Rutherford, Rachel Squitieri, Elyse Rosario, Closter, Brielle Raddi, Cedar Grove
Tickets available at: www.ticketmaster.com or Box Office (201) 227-1030