The Middletown Arts Center Presents SEUSSICAL, Produced By The MAC Players
Fun for the whole family, Seussical creates the witty, wild and whimsical world of Dr. Seuss as it has never been seen before.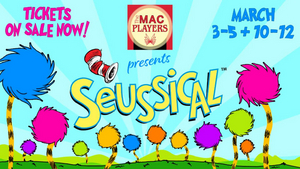 The MAC PLAYERS, Middletown Arts Center's community theater group, kicks off its 2023 season with Seussical, a fantastical, magical, musical extravaganza!
Fun for the whole family, Seussical creates the witty, wild and whimsical world of Dr. Seuss as it has never been seen before. When chaos erupts in the Jungle of Nool, it will take The Cat in the Hat, Horton the Elephant, Gertrude McFuzz and a gaggle of characters to bring harmony back to their world. The production runs over two weekends at the Middletown Arts Center, March 3-5 and March 10-12, and offers new reserved seating.
Ticket prices are $25 for adults and $17.50 for students/seniors with new reserved seating. Purchase tickets online at middletownarts.org or call the MAC Box Office at 732.706.4110. The Middletown Arts Center is located at 36 Church Street in Middletown, NJ (next to the Middletown train station). Free parking is available onsite with additional free parking available in the station-metered lot on weekday evenings after 6 p.m. and on weekends.
Based on the book by Lynn Ahrens and Stephen Flaherty, Seussical features music by Stephen Flaherty and lyrics by Lynn Ahrens and is co-conceived by Eric Idle. Seussical's colorful Dr. Seuss characters transport us from the Jungle of Nool to the Circus McGurkus to the invisible world of the Whos. The Cat in the Hat tells the story of Horton, an elephant who discovers a speck of dust that contains the Whos, including Jojo, a Who child sent off to military school for thinking too many "thinks." Horton faces a double challenge: not only must he protect the Whos from a world of naysayers and dangers, but he must guard an abandoned egg, left in his care by the irresponsible Mayzie La Bird. Although Horton faces ridicule, danger, kidnapping and a trial, the intrepid Gertrude McFuzz never loses faith in him. Ultimately, the powers of friendship, loyalty, family and community are challenged and emerge triumphant.
The MAC Players' production of Seussical is directed by Kathy Connolly with musical direction by Nicholas Jupinka and choreography direction by Samantha Amaral. The play features Ronda Christie (Cat in the Hat), Justin Jajalla (Horton the Elephant), Colleen Gilgan (Gertrude McFuzz), Victoria Keiser (Mayzie Labird) and Charlie Costa (Jojo).
Director Kathy Connolly is an award-winning actor, director, choreographer and teaching artist. She has performed extensively in productions on and off-Broadway and in regional and national tours. Most recently, Kathy was the Artistic Director at Holmdel Theater Company and was awarded "Best Director of a Musical" by Broadway World as part of its 2019 Regional Theater Awards.
The Middletown Arts Center (MAC) is an award-winning, state-of-the-art facility in Middletown, New Jersey that offers performances, exhibits, classes, demonstrations and camps centering on the arts. Its convenient location across from the Middletown train station on Church Street enables easy access and its expanded MAC Annex is minutes away at the Middletown Reformed Church's Education Building. The MAC is operated by a non-profit 501c3, the Middletown Township Cultural and Arts Council which is dedicated to bringing quality arts programming and events to Middletown and surrounding communities. Visit middletownarts.org for more information and to join our mailing list for updates on classes, camps and activities at the Middletown Arts Center.!