JCTC Launches Stories Website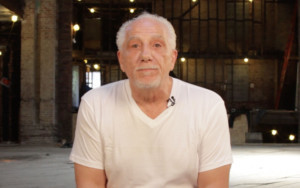 Since its 2017 reopening, White Eagle Hall soon became known throughout the region for its concerts, theater, dance, film and other performances. This restored Jersey City stage is now a favorite destination for audiences and artists alike.
Pre-restoration, for generations of Hudson County residents and families, White Eagle Hall had long been the setting for thousands personal milestones and memories from dances, concerts, dinners, weddings to the practice court of the championship Saint Anthony Friar's high school basketball team. Now that the physical building has been saved, "Stories of White Eagle Hall" seeks to preserve the personal experiences of White Eagle Hall.
"Stories of White Eagle Hall" is an ongoing project by Jersey City Theater Center (JCTC) documenting the history of White Eagle Hall through personal stories. Made possible in part through a grant from the Hudson County History Partnership Program, "Stories of White Eagle Hall" seeks to tell the history of a building and a city by real people telling their personal stories. 'Preserving History, Celebrating Community' is the promotional tagline for this community-oriented, oral history project.
"From the time the restoration project was announced, we started hearing from people who had memories to share about the time they spent at White Eagle Hall," said Olga Levina, Artistic Director, JCTC. " "Stories of White Eagle Hall" explores what a very significant building has meant to Jersey City, but it does so by listening to the actual voices from our community."
The first phases of the project was the launch of - www.wehstories.org - featuring stories, pictures and videos of these true stories that may be set in a theater and public assembly facility, but also tell the story of how life was lived.
"Stories of White Eagle Hall" has completed several "Stories" - filmed interviews with people who went to White Eagle Hall back in the day. The first to tell their stories include:
Bob Hurley - famed coach of the Saint Anthony Friars, who used the facility for practices.

John Cupo - now a real estate professional in Bayonne, back in the day tried to make White Eagle Hall the Fillmore of Hudson County.

Jerry Walker - founder of Team Walker and Hudson County Freeholder, was a star Friar.

Mary Harnett - a lifelong Jersey City resident who vividly remembers her brother's "football wedding" at the venue.

Nick Ballesterri - who attended dances and Battle of the Bands concerts at White Eagle Hall and remembers seeing Frank Infante -former Blondie guitarist - play in his early Jersey City band, World War III.
Videos of the stories will be rolled out throughout 2019, JCTC will be soliciting new interviewees and working with local filmmakers to produce new stories. The project has a Stories of White Eagle Hall Facebook page and the website features an easy to use contact page.
The initial phase of the project is to collect as many interviews as possible - as well as memorabilia and any other White Eagle Hall related material. While this content will be featured on the www.wehstories.org, the long term goal is to use the collected stories for a book and/or documentary based on these collected recollections and memories.
"We want to hear from everyone and anyone who has a White Eagle Hall story," said Timothy Herrick, Communications Director, JCTC, who is coordinating the project. "With Jersey City going through such rapid and amazing changes, it's important to preserve what has gone before. "Stories of White Eagle Hall" is a fun and community-based project, but it also use personal stories and real experience to tell the history of a city."
| | | |
| --- | --- | --- |
| | Donations | Arts Orgs |
Related Articles View More New Jersey

Stories

Shows
More Hot Stories For You