Get on Board for Laughs as Theater To Go Presents TWENTIETH CENTURY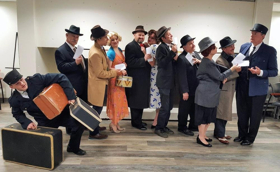 It's time to travel back to the 1930s for a rollicking good time on the rails as Theater To Go presents Ken Ludwig's "Twentieth Century" at Mercer County Community College's (MCCC's) Kelsey Theatre. A train trip from Chicago to New York City has lots riding on it - including the future of a legendary producer and his Broadway show. Show times for this comedy classic are Fridays, Jan. 26 and Feb. 2 at 8 p.m.; Saturdays, Jan. 27 and Feb. 3 at 8 p.m.; and Sundays, Jan. 28 and Feb. 4 at 2 p.m.
Kelsey Theatre is located on the college's West Windsor Campus, 1200 Old Trenton Road. A reception with the cast and crew follows the opening night performance on Jan. 26.
The year is 1932 and Oscar Jaffe, an egocentric and eccentric Broadway producer, is in desperate need of a hit. Traveling with his entourage aboard the Twentieth Century Limited, he plots to entice his former lover and protégé, Lily Garland, a now famous Hollywood actress, to star in his next play. Jaffe has less than 24 hours to persuade Lily to return to Broadway, with failure meaning game over for Jaffe. The twisting, turning story plays out at breakneck speed as oddball characters get entangled in his scheme and add to the chaos.
The original "Twentieth Century," by Ben Hecht and Charles McArthur, was made into a blockbuster Hollywood film in 1934 starring John Barrymore and Carol Lombard. It has had several stage revivals, including a 1978 musical called "On The Twentieth Century." This latest adaptation by Ken Ludwig (of "Lend me a Tenor" and "Moon over Buffalo" fame) ran on Broadway in 2004 starring Alec Baldwin and Anne Heche.
The cast features Tom Chiola of Trenton as Oscar Jaffe; Erin Leder of Bordentown as Lily Garland; Joyce Porter of Piscataway as Ida Webb; Barry Leonard of Monroe as Owen O'Malley; Stan Karuzis of Lawrenceville as the Conductor; Dan River of Philadelphia, Pa., as the Porter; Jack Bathke of Robbinsville as Dr. Lockwood; Kate Blazo of North Brunswick as Anita; Jake Zillioux of North Brunswick as Mr. Clark; Jeffrey Milstein of East Windsor as Max Jacobs; and Charles Acosta of Langhorne, Pa., as George Smith.
The production team includes Director Ruth Markoe, Stage Manager Melissa Rittmann, Costumer Ruth Rittmann, Lighting Designer M. Kitty Getlik, Sound Designer Eric Collins, Set Designer John Russell and Set Decorator Amy Bessellieu.
Tickets are $18 for adults, $16 for seniors, and $14 for students and children. Tickets may be purchased online at www.kelseytheatre.net or by calling the Kelsey Box Office at 609-570-3333. Kelsey Theatre is wheelchair accessible, with free parking next to the theater. For a complete listing of adult and children's events, visit the Kelsey website or call the box office for a brochure.
Photo: All aboard for Broadway, from left, Dan River, Jeffrey Millstein, Charles Acosta, Erin Leder, Jack Bathke, Kate Blazo, Jake Zillioux, Barry Leonard, Joyce Porter, Tom Chiola, and Stan Karuzis. Ken Ludwig's "Twentieth Century" is presented by Theater To Go at MCCC's Kelsey Theatre Jan. 26-Feb. 4. Tickets are available by calling the Kelsey Box Office at 609-570-3333 or online at www.kelseytheatre.net. Photo by Ruth Markoe.