BWW Review: ROAN @ THE GATES at Luna Stage is an Intriguing Two-Hander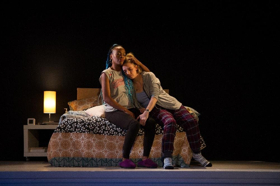 Luna Stage is now presenting the world premiere of Christina Gorman's gripping story of cyber security and romance, Roan @ The Gates. The two-hander is adeptly directed by Michelle Tattenbaum and features the talents of Aaliyah Habeeb and Mel House. This timely, thought-provoking play will intrigue metro area audiences. It will be on the West Orange stage through Sunday, February 24.
Roan @ The Gates is a fictional story, yet it feels as though it could be happening in real time. Roan, who is employed as a data analyst for the National Security Agency (NSA), cannot tell her wife, Nat anything about her projects or travels. But soon, Roan puts herself in great peril when she reveals evidence to the press that the NSA is harvesting personal data. Nat, a human rights lawyer, is desperate to help Roan who is being sheltered in Russia as she seeks asylum. But the complex situation is well beyond the couple's control. This captivating show portrays the moral, professional and personal dilemmas that a whistleblower faces.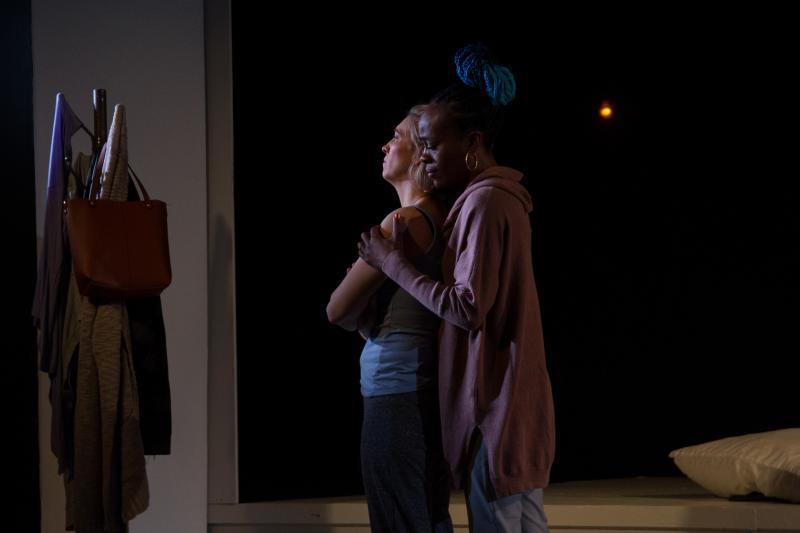 Aaliyah Habeeb as Nat and Mel House as Roan capture the drama, mystery, tension, and romance of Roan @ The Gates. The actors deftly depict a loving relationship, one that is in the throws of great stress.
The Creative Team has done an excellent job of bringing the show to the intimate setting of Luna Stage. They include set design by Christopher and Justin Swader; lighting design by Marika Kent; costume design by Deborah Caney; sound design by Megan Culley. The Stage Manager is Amy Fisk and the Production Manager is Liz Cesario.
Roan @ The Gates is an important play. It reflects the times we live in while offering thoughtful insights. With the proliferation of social media, electronic communication, and access to information on the internet, the story challenges our ideas about privacy. The production will give theatergoers a chance to consider and discuss the engaging topic. We applaud Artistic Director, Ari Laura Kreith and Managing Director, Miriam Gardin for making it available to metro area audiences.
Roan @ The Gates runs for 80 minutes with no intermission. It is the third play in Luna's 2019-2020 season, which centers around the question of how we bridge cultural divides. Tickets for the show are $16-39, and are available at https://www.lunastage.org/ or by calling 973 395 5551. The theatre is located at 555 Valley Road, West Orange, NJ 07052.
Photo credit: Jody Christopherson
Related Articles View More New Jersey

Stories

Shows