BWW Interview: Andrea Syglowski and THEO at Two River Theater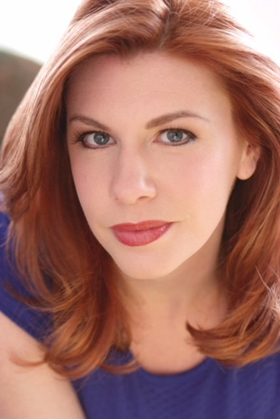 This winter, Two River continues its 25th Anniversary Season with the commissioned world premiere of Theo, a new play written by Obie Award winner Martin Moran and directed by Carolyn Cantor. The show will be performed on the Red Bank Stage from February 23 to March 24.
In this five-character play, Moran renders the complexity of living with humor and truth. When a family's matriarch, Margaret, is forced to acknowledge that her health is deteriorating, her son Theodore returns to their Catskills home after many years away. There, he reconnects with Abe, an acquaintance from his youth who is now his mother's home aide, and with his sister Beth, a single mother struggling to understand her teenaged child, Maddy. A warm look at the far-reaching ties of love, this new play is a moving portrait of kinship, faith, and the pursuit of one's true self.
The cast of Theo includes Zachary Booth as Theo; Jesse James Keitel as Maddy; Jon-Michael Reese as Abe; Andrea Syglowski as Beth; and Brenda Wehle as Margaret.
Broadwayworld.com had the pleasure of interviewing Andrea Syglowski about her career and the upcoming show at Two River Theater.
Syglowski's recent credits include queens (Lincoln Center, LCT3), The Understudy (Westport Country Playhouse), Cry It Out (Dorset Theatre Festival/Humana, world premiere), A Doll's House (Huntington, IRNE Award nomination, Best Actress), The May Queen (Playmakers), Dear Elizabeth (Dorset Theatre Festival), The Nest (Denver Center), Of Good Stock (South Coast Rep), Venus in Fur (Huntington, winner of the 2014 Elliot Norton Award and 2015 IRNE Award for Best Actress), A Flea in Her Ear, Bully to You, Schmoozy Togetherness, White Trash Anthem (Williamstown Theatre Festival), Three Sisters, Love's Labour's Lost, Elijah, Carve(Chautauqua Theater Company), Much Ado About Nothing, Midsummer Night's Dream (Shakespeare at the Manor), Asking for Trouble (Ensemble Studio Theatre), The Walk Through (Slant Theatre Company). TV: Blue Bloods, New Amsterdam, How to Get Away with Murder, Elementary, The Good Wife. New Play Development at: Roundabout, NYTW, EST, The O'Neill, and many, many more. Training: USC and The Juilliard School, recipient of the Robin Williams Scholarship.
When did you first know you wanted to be an actor?
I've always had a feeling that this was what I wanted to do. But I remember very vividly seeing a production of "Our Town" in a small theatre called 'Hedgerow Theatre' in Media Pennsylvania, not far from where I grew up. I was maybe twelve or thirteen and I was so moved and in awe of what the actors were doing. In High School I had many opportunities to play great roles because I had a stellar theatre teacher, Rob Henry. I was playing Rachel in 'Reckless' by Craig Lucas, my senior year of High School, and I remember after our first show thinking, "Oh, I hope I get to do this for the rest of my life."
Tell us a little about your theatrical training.
I trained for so long. I did my undergrad at the University of Southern California where teachers like Lora Zane and Brent Blair opened up my heart and imagination. I learned so much about myself in those four years. And THEN I went to Juilliard for Grad School. It was rigorous and challenging. I feel like I lived ten lives in those four years. I practiced ten hours a day, every day. It gave me the stamina to take on the meaty roles in the theatre and prepared me for an eight show a week schedule, but more importantly Juilliard introduced me to my friends and allies, and I was lucky enough to be mentored by the late, great, Jim Houghton.
What have been some of the challenges of your career?
There are many, but mainly, trusting in my own very special path. Not looking to the right or the left for guidance, but reaching within my own heart. And in the theatre, unfortunately, making a living. I have been fortunate enough to work very consistently- and I can assure you, there is work to be done here. I am proud of our Union, Actors Equity, and my friends who are working hard for a "Fair Wage on Stage."
We'd love to know a little about your character in Theo.
Beth Flynn is a single mom and recovering addict, grappling with the impending death of her mother, with whom she's had a complicated relationship. She's struggling for closure, acceptance, and peace. Sounds like a knee-slapper, right? I assure you, 'Theo', is filled with truth and beauty, and I believe anyone who has ever had a family, which is most of us, will be able to relate to this story.
How do you like working at Two River Theater and spending some time in Red Bank?
Everyone at Two River is so kind and so hard-working and supportive! It's an optimal place to birth a new play. And Red Bank is so charming. I love waking up every morning before rehearsal and sipping my coffee while looking out at the river, which is in clear view from my Actor Housing.
What would you like audiences to know about the show?
It's true. It's very personal and very true. When a writer, in this case, Martin Moran, is writing from personal experience, you can feel it, and it's special and very brave.
Anything else, absolutely anything you want BWW readers to know.
Oh no, not much. Just that I'm grateful for you! Anyone who is in the business of story-telling, or has a passion for theatre, it's a saving grace in our world.
Our readers can follow Andrea on twitter: @AndreaSyglowski
Ticket prices for Theo range from $50 to $70, with discounts available for groups, seniors, and U.S. military personnel, their families, and veterans. A limited number of $20 tickets are available for every performance; $20 tickets may be partial view. Tickets for patrons under 30 are $20 and include the best available seats at every performance. Tickets are available from https://tworivertheater.org/ or 732.345.1400.
Photo Credit: Courtesy of Andrea Syglowski