Andrea McArdle and Rex Smith Star In I DO! I DO! At Hunterdon Hills Playhouse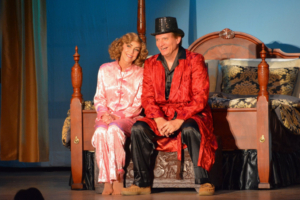 Broadway legend Andrea McArdle, who originated the title role in the mega musical "Annie," along with platinum recording artist and Broadway star Rex Smith, whose Broadway credits include "Grease" and "Kiss Me Kate," currently star in Hunterdon Hills Playhouse's summer musical, I Do! I Do! onstage through August.
The story of a marriage and the bond of love is at the center of Tom Jones' Tony Award winning Musical, a sweet and funny work by the authors of The Fantastiks. This heartwarming musical delights audiences as they trace the life of a married couple from their wedding night jitters, to raising a family, negotiating mid-life crises, and beyond. Set to the strains of a tuneful score, this ode to marriage is aptly performed by McArdle and Smith, whose strong voices and genuine stage chemistry charmingly portray his sentimental journey of love.
I Do! I Do! is Directed by Ken Schwarz, with musical direction by Mark Baron, and choreography by Alanna Barbone Van Kampen.
With spectacular shows, delicious table-served entrees, and professional talent, Hunterdon Hills Playhouse is New Jersey's premier dinner theatre. You can purchase tickets to I Do! I Do! online at www.hhplayhouse.com or by calling the box office at 908-730-8007.
Onstage July 16 through August 17, 2019
Matinee shows: Monday thru Saturday 11:30 am - 3:30 pm
Saturday Evening show: 6:30 pm - 10:30 pm
Sunday Afternoon show: 2:30 pm - 6:30 pm