10 Year Old Eva Zazzali Helps to Promote Anti-Bullying in IT'S EASY at Irvington Town Hall Theater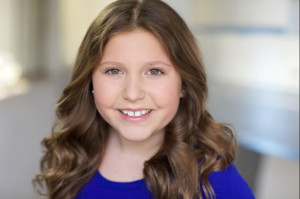 10 Year Old Singer/Actress, and Granddaughter of Mario Perillo, Eva Zazzali will perform in Debut of the anti-bullying show, "It's Easy" in the role of Debra Martino, and also covering other roles in the show as a swing!
For more information visit www.irvingtontheater.com.

Eva loves to use her talents to help other kids. The show is Produced by See The Wish Onstage, in collaboration with the Be-A-Friend Project, bringing letters of peer support to severely bullied youths across the country. The show will be performed at Irvington Town Hall Theater, 85 Main Street, Irvington, N.Y. and will be Directed by January Akselrad and Music and Lyrics by January Akselrad. www.seethewish.com

Eva started her dance career at age 3 and became a member of her company dance team in jazz, and ballet when she was 8. She coupled that skill with voice lessons and immersed herself in the stage and musicals in several junior theater companies. Her favorite dance is tap.

Eva's dream roles in any production is a toss up between Annie in "Annie" and young Fiona in "Shrek", which won her a platinum trophy and second place all around singer/dancer at a recent vocal competition. She most recently performed in a cabaret honoring the music of Jeanine Tesori, singing "I Know It's Today" with her sister, Valentina and Broadway's Rozi Baker at Feinstein's/54 Below in NYC.

She is well traveled domestically and internationally. Her grandfather, the late Mario Perillo of Perillo Tours would be very, very proud!
Please visit Eva's website for more info and upcoming performances.
http://www.evazazzali.com/
.

More about the show "It's Easy"
Performances:
Sept. 16, 7:30PM Sept. 17, 2PM Sept. 23, 7:30PM Sept. 24, 2PM Oct. 1, 2PM & 7PM Oct. 4, 9:30AM Oct. 7, 7:30PM Oct. 8, 2PM.

"It's Easy" A NEW FAMILY MUSICAL DELIVERS A FRIEND-STRONG PUNCH!

"The Friend Strong Musical, IT'S EASY!" debuts on September 16th for a ten-show run through October 8th at the Irvington Town Hall Theater, Irvington, NY. This NEW family musical produced by See The Wish/Onstage is about the power of friendship, what to do about bullying, and how, in every moment, the choices we make can change the future and the lives of others. Targeted especially for kids in grades 4-8, the show takes place in one day in the life of 6th grade classmates at Goodwin Middle School where bullies make life miserable, bystanders stay quiet and victims are many. A frequent victim, 6th Grader Jed Travis only wants to know if his life will get better. With help from a futuristic cell phone app, a wise custodian shows Jed and one unwitting bully how what they say and do changes the course of their futures and the lives of others... is it too late to change the heartbreaking fate of another bullied classmate?
More Hot Stories For You