New London Barn Playhouse Announces Disney's NEWSIES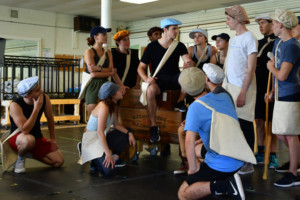 Leave those dancing feet on 42nd street behind as the New London Barn Playhouse invites you to watch what happens when the 86th Summer Season takes us to the old Bowery to meet The Kings Of New York with the smash Disney musical Newsies, running August 8 - August 19, 7:30PM with Wednesday and Friday matinee performances at 2:00PM and Sunday performances at 5:00PM.
Based on the classic 1992 film from Walt Disney Pictures, Newsies finds Jack Kelly, a lovable scamp of a newspaper delivery boy, his friend Crutchie, and a slew of other "Newsies" selling papers in 1899 Manhattan to get by as best they can. When the owner of the paper, Joseph Pulitzer, increases the supply cost of the paper to the newsboys, Jack and the Newsies start a protest movement that captures the hearts of the City, a young reporter, a vaudeville performer and more as they duck the villainous Warden Snyder. With an original score from acclaimed Disney composer Alan Menken (The Little Mermaid, Tangled) Lyrics from Jack Feldman (Oliver & Company, Thumbelina) and book from classic wit Harvey Fierstein (Torch Song Trilogy, Kinky Boots) this Tony award-winning masterpiece is guaranteed to seize the day.
Starring in this production is another marvelous assembly of Barnies from past seasons and welcome new talent. Jace Reinhard*, playing Jack Kelly, is new to the Barn but a favorite of many regional theaters, having performed in The Buddy Holly Story, Legally Blonde, Parade, and the Broadway National Tour of Kinky Boots. Playing vaudevillian Medda Larkin is Barn favorite Nichole Turner*, star of the Barn's 2017 production of All Shook Up, and alum of both the Broadway and National Tour productions of The Book of Mormon. Michael Padgett*, who Barn fans will recognize from 2017's The Secret Garden, will play stern lover of the bottom line Joseph Pulitzer. Debra Buckley (The Secret Garden, 2017) features as Snyder, Christopher Rex Jacobs (All Shook Up, 2017) features as Nunzio/Guard/Mayor, Allsun O'Malley (2016 Acting Intern) returns as budding journalist Katherine Plumber, Jaclyn Pageau (42nd Street, 2018) features as Jo Jo, Chris Paul (Barn debut) as Morris Delancey/Darcy/Seitz, Ian Shain (2015 Acting Intern) features as Oscar Delancey/Bill/Bunsen/Stage Manager, Jake Vedova (Gypsy, Shrek the Musical) features as Les, and Scott Sweatt (42nd Street, 2018; On Golden Pond, 2017) features as Wiesel/Mr. Jacobi/Policeman/Roosevelt.
Carrying the banner as always is The 2018 Acting Intern Company! Newsies features Jake Pedersen as Crutchie, Dean Marchant as Davey, Caroline Didelot as Mush, Gabriel Florentino as Finch/Goon 1, Justine M. Goggin as Sniper/Hannah/Nun 2/Goon 3, Graham Hancock as Specs, Francesca Mancuso as Buttons/Spot Conlon, Andrew Nelin as Race, Monica Owen as Nibs/Nun 1/Woman/Bowery Beauty 2/Scab 1, Sam Pearson as Tommi Girl, Alexander Robertson as Romeo/Scab 3, Sara Sargent as Elma/Scab 2, Daniel Teixeira as Albert and Carly Valancy as Henry/Goon 2/Bowery Beauty 1/Nun 3.
The Barn is also proud to have Producing Artistic Director Keith Coughlin, whose most recent directorial credits include the award-winning productions of West Side Story and Crazy For You, helming Newsies as director. Coughlin's direction is supported by dazzling original choreography by Roy Lightner++ (Ithaca College's A Chorus Line, Legally Blonde) and thrilling musical direction from Robbie Cowan (Little Women, 2018; The Secret Garden, 2017). Completing the production will be exciting sets from Jordan Janota+ (On Golden Pond, 2017) mesmerizing lights from Keith Truax (2017's Souvenir, Godspell) and intricate costumes from Emily Kimball (Camelot and Little Women, 2018; Godspell and The Secret Garden, 2017), will be bringing us a Newsies that will inspire even the most stoic heart to embrace joy and fellowship.
Tickets start at $20 for adults and are available at nlbarn.org/tickets, by phone at 603-526-6710 or at the New London Barn Playhouse box office every day from 11AM - 6PM.
*Appears courtesy of Actors' Equity Association ++Denotes membership in Stage Directors and Choreographers Society +Denotes membership in United Scenic Artists