Northrop Presents David Roussève/REALITY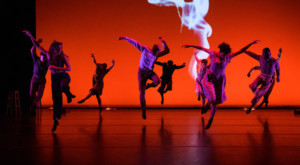 The life and times of African-American jazz composer Billy Strayhorn will be examined in choreographer David Roussève's Halfway to Dawn performance Sat, Apr 13 at Northrop. Written, choreographed, and directed by Roussève and performed by his company, REALITY, this vibrant dance-theatre work shines light on the many aspects of Strayhorn, who worked as a collaborative arranger/writing partner to Duke Ellington and was instrumental to the creation of a vastly important body of work in American music history. Roussève explores the contrast between the half-hidden quality of Strayhorn's public career and his private existence as an openly gay man.
The core of Halfway to Dawn is famous recordings of Billy Strayhorn's music, interpreted through dance vocabulary melding jazz, modern/postmodern, and social dance forms. Gay, out, and living in Harlem in the 1940s-60s, Strayhorn led a remarkably private life, allowing Ellington to take the spotlight and much of the credit for their joint oeuvre. The arranger/composer was also a passionate activist in civil rights causes (and a committed friend of Dr. Martin Luther King Jr). Halfway to Dawn creates an abstract portrait by layering video-projected text, abstract video art, and expressionistic physical theater.
It is Roussève's third project with Cari Ann Shim Sham (video), Chris Kuhl (lighting), and Leah Piehl (costumes); his second with Lucy Burns (dramaturgy) and d. Sabela grimes (sound design) and his debut on Northrop's stage.
A magna cum laude graduate of Princeton and a Guggenheim Fellow, Roussève has written, directed, and choreographed 14 full evening works for David Roussève/REALITY, including three commissions for the Next Wave Festival at the Brooklyn Academy Of Music. Commissions for other companies include Houston Ballet, Ballet Hispánico, Cleo Parker Robinson Dance Theater, Dancing Wheels, Dance Alloy, and Ilkhom Theater Company. Roussève has created three short films and has been published as a writer in collections by Bantam Press and Rutledge Press. Currently, he is a Professor of Choreography in the department of Word Arts and Cultures/Dance at UCLA.
REALITY was founded in 1988 and has performed throughout the United States, Europe, and South America. "My work for REALITY addresses a myriad of social issues from AIDS, to racism, to sexism, to homophobia, to transnationalism but does so with an avant-garde context," Roussève explains. "And as a gay citizen of color who grew up at the apex of the civil rights movement, above all else my work hopes to create an empathetic conversation that transcends the boundaries of difference to communicate on the level of the heart."
Northrop Presents
David Roussève/REALITY
Halfway to Dawn
Sat, Apr 13, 7:30 pm
Carlson Family Stage