Photo Flash: Meet the Cast of THE FOX ON THE FAIRWAY at Actors' Playhouse
Filled with mistaken identities and over-the-top romances, Actors' Playhouse presents the hilarious comedy The Fox on the Fairway from May 8 - June 2, 2013 at the Miracle Theatre. BroadwayWorld has a first look at the cast below!
The Fox on the Fairway is a charming screwball adventure about love, life, and man's eternal love affair with ... golf. Written by Ken Ludwig (Lend Me a Tenor, Moon Over Buffalo, Crazy For You), the author hits a hole-in-one with his tribute to the great English farces of the 1930s and 1940s. Two rival country clubs, Quail Valley and Crouching Squirrel, prepare for their annual grudge match. A massive private wager is made between the two CEOs just before the best player switches teams. The Fox on the Fairway is a "tour-de-course" of rapid-fire chip shots and frenzied miscommunications.
Director David Arisco will lead the cast through the water hazards and sand traps of The Fox on the Fairway.
Ken Clement plays Henry Bingham, the agitated CEO of Quail Valley. An Actors' Playhouse fan favorite, Ken is a recipient of the Carbonell Award, Silver Palm Award and the Miami New Times 'Best of...' Award. Actors' Playhouse credits include Jacob Marley's Christmas Carol, 1776, House and Garden, Johnny Guitar, Sherlock's Last Case, One Flew Over the Cuckoo's Nest, The Big Bang, Another Night Before Christmas, Floyd Collins, Oliver!, Urinetown, and most recently Becky's New Car. TV and film credits include I Love You Phillip Morris, Sex Drive, "Burn Notice", "The Glades", "Magic City" and Pain and Gain.
Clay Cartland plays Justin, the highly excitable new male assistant on whom Henry leans to save the day. Clay's South Florida credits include Godspell, Joseph... Dreamcoat (Actors' Playhouse), Deathtrap, Lend me a Tenor (Stage Door), Rock Odyssey (Arsht Center), The Whole Caboodle (Parade Productions), Twentieth Century Way (Carbonell Nomination: Best Ensemble), Body Awareness (Island City Stage), and Song of the Living Dead (Carbonell Nomination: Best Supporting Actor/Silver Palm Award: Outstanding New Talent).
Betsy Graver makes her Actors' Playhouse debut as Louise, Justin's bubble-headed girlfriend who is studying Greek. Graver was most recently seen as W in Lungs at The Theatre at Arts Garage in Delray Beach. Other South Florida credits include "Vanda" in Gablestage's production of Venus in Fur, for which she received a Carbonell nomination for Best Actress, All New People with Zoetic Stage at The Adrienne Arsht Center for the Performing Arts, Time Stands Still, Motherf**ker With the Hat, Blasted and Farragut North at Gablestage. TV credits include the pilot of Charlie's Angels on ABC and "Magic City" on STARZ.
Todd Allen Durkin plays the rival club president, Dickie, who places the shifty bet for Crouching Squirrel. Durkin can be seen as Doug Feehan in "Magic City" seasons 1 and 2 on STARZ. Other TV credits include: "Burn Notice," "The Glades" and USA's new show "Graceland." Theater credits include A Steady Rain, Bug, Blasted, The Lieutenant of Inishmore, Reasons To Be Pretty, Captiva, Death of a Salesman, Lenny Bruce in Lenny and many more. Todd has been nominated nine times and once awarded the "Best Supporting Actor" Carbonell Award and four times named "Best Actor" by Miami New Times.
Tensions fly when Henry Bingham's wife, learns the massive bet not only involves cash, but her beloved antique shop. Muriel Bingham is played by Actors' Playhouse veteran Margot Moreland who just returned from the California tour of Menopause the Musical, and is excited to be back at AP having performed in numerous productions for the company including her Carbonell Award-winning performances in Ruthless!, Tomfoolery, Heartbeats, and Annie.
Amy McKenna plays Pamela, an overzealous club member that Henry has a crush on. McKenna returns to Actors' Playhouse, having previously appeared in August: Osage County. Other regional credits include Zoetic Stage (All New People, Captiva, and South Beach Babylon), South Beach Comedy Festival (Mad Cat's Shepherd's Pie), The Promethean Theater (A Report on the Banality of Love), and Gulfshore Playhouse (Tartuffe). McKenna will appear as Helen Klein on STARZ's "Magic City" and played Tiffany Ward on "Burn Notice".
The creative team for The Fox on the Fairway includes Set Designer Gene Seyffer, Costume Designer Ellis Tillman, Lighting Designer Patrick Tennent and Sound Designer Alexander Herrin.
Preview performances of The Fox on the Fairway will be held Wednesday and Thursday, May 8 and 9 at 8 p.m. The show will open on Friday, May 10 at 8 p.m. and play through June 2, 2013. Evening performances will be held Wednesday through Saturday at 8 p.m., with afternoon matinees on Sunday at 2 p.m.
Preview night tickets on the first Wednesday and Thursday are $35. Tickets for weeknights and matinees are $40, and on Friday and Saturday evenings $48. The theatre offers a 10 percent senior discount rate the day of performance and $15 student rush tickets 15 minutes prior to curtain with identification. Discounts are based on availability and exclude Saturday and Sunday.
Group discounted rates are offered for 15 or more through our group sales department. Single tickets may be purchased through the box office at 305-444-9293 or online at www.actorsplayhouse.org.
Actors' Playhouse is the nonprofit resident theatre company and managing agent of the historic Miracle Theatre on Miracle Mile in Coral Gables. Actors' Playhouse, which has brought home 75 regional Carbonell Awards for artistic excellence, is a Florida Presenting Cultural Organization and one of 22 major cultural institutions in Miami-Dade County. In addition to its Mainstage season, Actors' Playhouse offers a year-round season of Musical Theatre for Young Audiences, a National Children's Theatre Festival, a Theatre Conservatory and Summer Camp Program, as well as educational arts outreach programs for underserved youth, and has initiated a Young Talent Big Dreams contest for children in partnership with The Children's Trust.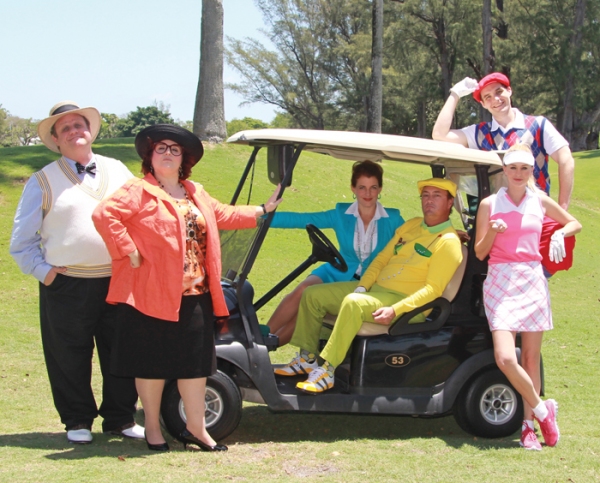 The cast of The Fox on the Fairway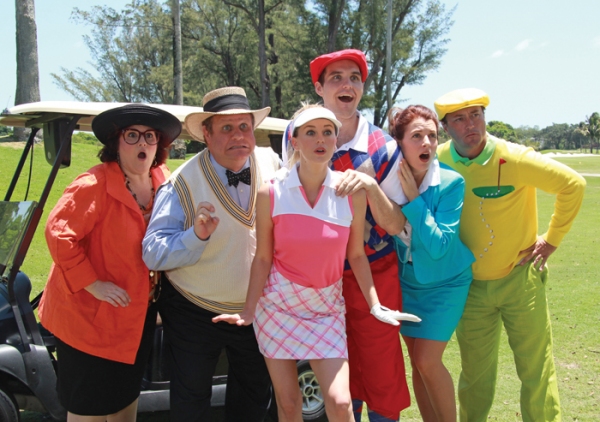 The cast of The Fox on the Fairway

Ken Clement, Clay Cartland and Todd Allen Durkin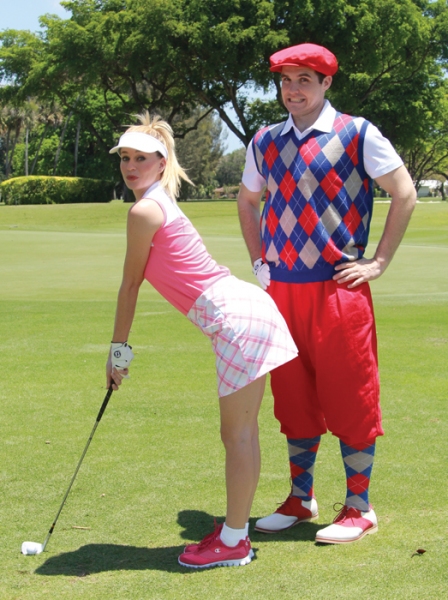 Betsy Graver and Clay Cartland

Margot Moreland, Ken Clement and Amy McKenna