Photo Flash: MNM Raises Over $3K for LGBTQ Churches with THE WORLD GOES 'ROUND
Marcie Gorman-Althof and Michael Lifshitz, the producing partners behind MNM Productions, today announced that the preview performance of THE WORLD GOES 'ROUND, a musical revue showcasing the music of legendary Broadway songwriters John Kander and Fred Ebb, raised $2,280 to benefit the Metropolitan Community Church of the Palm Beach Gardens (MCCPB) and Joy MCC in Orlando. Both faith communities are dedicated to serving their local LGBTQ communities, which is particularly important since the horrific massacre last June in Orlando. Scroll down for photos!
More than 40 friends and supporters of MCCPB attended the critically acclaimed production, which is packed with popular songs from both Broadway (Cabaret, Chicago, Kiss of the Spider Woman and 70, Girls, 70) and Hollywood (Funny Lady and New York, New York), THE WORLD GOES 'ROUND is running thoughAugust 21 at the Kravis Center's Rinker Playhouse in West Palm Beach.
"In addition to the funds raised at the preview performance, cast members of THE WORLD GOES 'ROUND are collecting donations for both MCCPB and Joy MCC following each performance, which brings the total amount raised so far to $3,200," says co-producer Michael Lifshitz.
"We are so very grateful to MNM Productions for their incredibly generous support of MCCPB and Joy MCC in Orlando," says Rev. Dr. Lea Brown, Senior Pastor of Metropolitan Community Church of the Palm Beaches, which is celebrating its 35th anniversary this year.
"MCCPB is at the very center of providing hope and healing for the LGBTQ community following the devastation of the Pulse massacre; the financial support from this benefit performance will help us to stay strong for those who need us now more than ever," she adds.
This Production Company is the latest venture by two experienced theatrical producers and arts consultants: Marcie Gorman-Althof and Michael Lifshitz. THE WORLD GOES 'ROUND is the fourth major musical produced by MNM Productions over the last two years, following A Chorus Line, Side By Side By Sondheim and HAIR.
Now celebrating its 35th anniversary, the Metropolitan Community Church of the Palm Beaches is the largest faith-based community in Palm Beach County dedicated to serving the local LGBT community and its family members and friends. According to the church's mission statement, "MCC of the Palm Beaches is a joy-filled, justice-centered Christian community of love, vibrant worship and spiritual discovery where all God's people are supported as we become fully alive."
To celebrate its 35th anniversary, MCCPB is presenting a series of special events throughout the year including the church's 15th annual Rainbow Ball fundraiser onOctober 29 at the Abacoa Golf Club in Jupiter. This will be followed by MCCPB's biennial three-day revival Awakening! (November 18-20), featuring special guest preacher Bishop Yvette Flunder, the Presiding Bishop of The Fellowship and founding pastor of City of Refuge United Church of Christ in Oakland, CA. Guest musicians for the whole weekend will be Jason and deMarco.
"For 35 years now, the Metropolitan Community Church of the Palm Beaches has been both a bulwark of strength and a source of solace and support for South Florida's lesbian, gay, bisexual, transgendered and questioning communities," says DR. Brown, who recently celebrated her fifth anniversary at the church.
"We are on a bold mission to transform hearts, lives and history," she adds. "Just as Jesus did, we take very seriously our calling to do justice, show kindness and live humbly with God."
Located since 2000 at 4857 Northlake Blvd. in Palm Beach Gardens, MCCPB offers two worship services every Sunday at 9 and 11 am, with childcare provided for children 5 and under along with Children's Church for ages 6 - 10 during the second service. Because the church is made up of people from both Protestant and Catholic backgrounds, elements of the services reflect both traditions, including scripture readings, hymns and contemporary music, prayer and a communion table that is open to everyone.
For more information about the Metropolitan Community Church, which is located at 4857 Northlake Blvd. in Palm Beach Gardens, call 561-775-5900 or visit www.mccpalmbeach.org.
Photo Credit: Gary Heil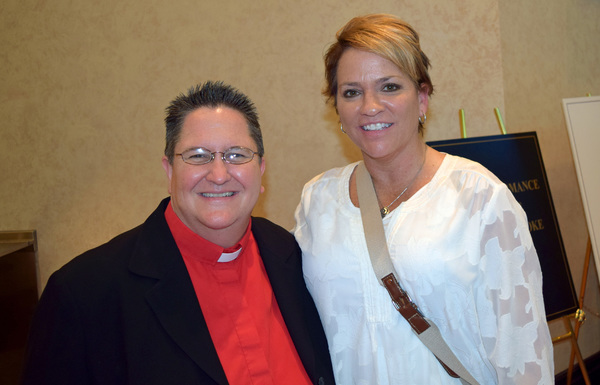 Rev. Dr. Lea Brown, Sr. Pastor MCC of the Palm Beaches; Rev. Terri SteEd Pierce, Sr. Pastor of Joy MCC in Orlando

Marcie Gorman-Althof, Michael Lifshitz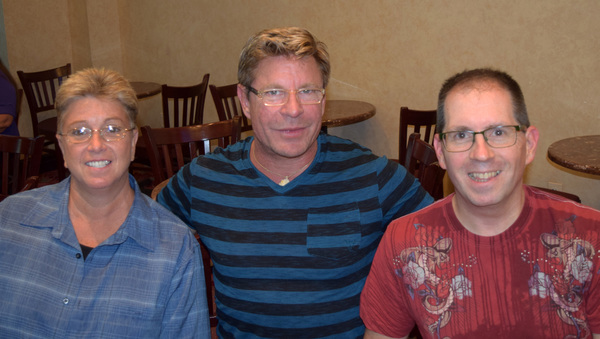 Linda Reichers, George Ryan, Russell Gnann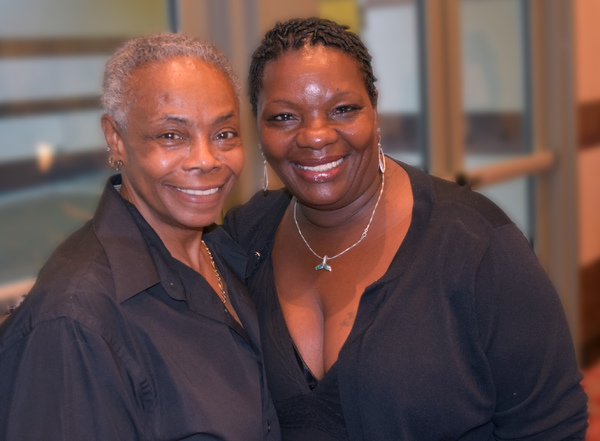 BeLinda James, Delores Rivers